Apple Unveils iPhone 5C, iPhone 5S
IOS7 updates for 700 million users at the end of September
September 10, 2013 5:28 pm Last Updated: September 10, 2013 6:30 pm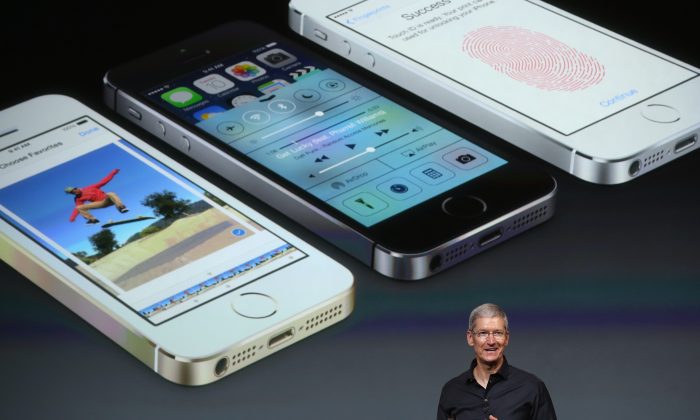 As usual, the event was shrouded in mystery. But by now the tech community knows what to expect when Apple invites them around to its headquarters in September. The company didn't disappoint and unveiled new, gold and sapphire plastic iPhones at an event in Cupertino, Calif., Tuesday.
"In the past, when we introduced a new iPhone, we lowered the price of the old iPhone," said Apple CEO Tim Cook. "This year we're not going to do that. We're going to replace iPhone 5 with not one, but two new designs."
The iPhone 5C and iPhone 5S are available for pre-order Sept.13 and in-store Sept. 20.
iPhone 5C
The iPhone 5C design is made of seamless plastic in five colors—white, blue, pink, green, and yellow. It has all the technology of the iPhone 5, plus an improved Facetime camera, and is priced at $99 for 16GB or $199 for 32GB on two-year contracts. Without a contract, the iPhone 5C starts at $550.
"IPhone 5C is beautifully, unapologetically plastic," says Jony Ive, Apple's senior vice president of design. The phone also comes with colored soft-silicone cases, with circular holes to display the iPhone's original color, a design, which most reviewers don't like.
The strategy of a lower-priced iPhone has much to do with catching up with the market in China, where many companies are offering smartphones closer to $100. This is also the first year Apple releases an iPhone in China at launch. 
China is Apple's second largest market, but Apple is only the sixth biggest smartphone vendor in China.
According to market research firm Canalys, China's smartphone market will grow from 191.5 million units to 450.5 million units by 2017. John Sculley, former Apple executive, told Bloomberg Businessweek half the market in China is comprised of small companies controlling 1 percent or less, but Apple still needs to price more aggressively to compete.
The strategy has its critics as well. 
"No doubt Apple's premium image will take a hit by offering a lower priced cellphone but it really has no choice," says Tom Agan, managing partner at tech brand consultancy Rivia. 
Cutting prices means cutting costs, Agan stated, and Apple has not been doing a good job at that. "Their new corporate headquarters was supposed to cost $3 billion now it looks like it is $2 billion over budget. And earlier this year they tried to cut staffing costs in their stores and failed miserably."
History is also working against Apple, Agan says. Other industry leaders who have lost their dominant position never regained their market share. Apple needs to "take dramatic steps," not to end up like Motorola, Blackberry, and Nokia.
As Agan predicted, Apple has very different marketing campaigns for the iPhone 5C and its high-end product, the iPhone 5S.

IPhone 5S
At the same time as this introduction of a cheaper iPhone, Apple is launching the iPhone 5S, which comes in gold, silver, and "space gray."
Phil Schiller, senior vice president of marketing, calls it "perhaps the most forward thinking phone anyone has ever made."
The iPhone 5S starts at $199 16GB, $299 for 32GB, $399 for 64GB, or without a contract for $649, $749, and $849 respectively.
The phone is 40 times faster than the first iPhone, now running on a 64-bit chip named A7; has a motion sensor, and reads your fingerprint in place of a password.
The "TouchID" is built into the home button of the iPhone 5S under a stainless steel detection ring and sapphire layer, which won't scratch.
Fingerprint-authentication has been done by Samsung already, but "not the way this is done," Tim Barajin, president of Creative Strategies Inc., a Silicon Valley industry analysis firm told Epoch Times. 
"Apple bought a company called AuthenTec, which [has] the best technology for fingerprint readers, period," Barajin said. Apple made the purchase last year, and owns most of the top-level patents from AuthenTec. "This one has the highest level of security for fingerprints."
Besides replacing your lock screen passcode, TouchID can be used to make purchases in iTunes. The sensor can read the fingerprint from any angle.
M7, a motion co-processor, identifies movement from the user and will work with fitness apps like Nike+ Move to track your activity.
Apple chose very specific features to improve, Cook says. "We don't just pack in feature after feature."
They chose to improve the camera, but aren't adding any pixels. 
Instead, features like image stabilization and burst mode will take multiple photos, combine them, and pick out the sharpest one. The new camera has a larger sensor area, which automatically focuses and white balances. It also has two LED lights, one warm, one cool, which combine in different ways for a better-looking flash.
iOS7
Both devices run on iOS7, as will every other iOS device. Updates for older models are available from Sept. 18.
"IOS 7 will quickly become the world's most popular operating system," Cook said. It'll run older 32-bit apps, but has been re-engineered for 64-bit as well. 
It features a pull-down search from anywhere, similar to Google Now, allowing tweet search, inline Web search, photo search, and a male version Siri. It also includes a multitasking features, cited as a possible concern for battery life.
IOS7 also includes new native and free apps. IWork is a productivity suite that includes apps like Keynote, Pages, and Numbers. IPhoto and iMovie are "incredible for creating content," Cook says.
Flora Qu contributed to this report