Apple Smashes Record With 9 Million iPhones Sold
Last weekend marked the best iPhone launch ever
September 23, 2013 5:32 pm Last Updated: September 24, 2013 6:25 pm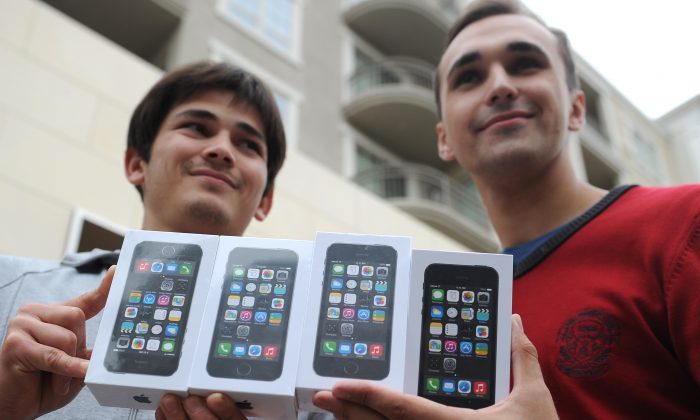 Apple Inc. set new records, selling 9 million iPhone 5C and 5S phones during the weekend ending Sunday, Sept. 22.
"This is our best iPhone launch yet," Apple CEO Tim Cook stated as Apple shares rose 4.97 percent to close at $490.64 in New York Monday. 
Despite the criticism Apple received for the new iPhone 5C and 5S designs, lines were longer than ever around the world. 
Piper Jaffray analyst Gene Munster wrote in a note that 1,417 customers were waiting in line at Apple's Manhattan flagship store on 5th Avenue. That's close to twice as many as last year's 775 waiting for the iPhone 5.
Suppliers around the world have reported a shortage, which is common with Apple launches. 
"The demand for the new iPhones has been incredible, and while we've sold out of our initial supply of iPhone 5s, stores continue to receive new iPhone shipments regularly," Cook stated. 
iPhone 5C was available for presale starting Sept. 13, though Apple had not released numbers like previous years. Nor did it release 24-hour sales numbers as usual. 
Analysts from Citigroup Research had estimated presales to be over 2 million for the 5C. The 5S was not available for preorder, so many buyers thought it was in short supply.
Brian Ceballo, the first person in line at the 5th Avenue store, had been waiting for 15 days. He purchased one gold and one gray iPhone 5S. Initially, Ceballo told CNET, he was told the store did not have any 64 gigabyte gold 5S phones in stock, but eventually they did find one for him. Soon after the launch, auction sites like ebay listed the 5S in various configurations for around $1500. The 64 gigabyte 5S normally costs $849 in the store.
Article Continues after the discussion. Vote and comment
[tok id=6258db88654d6cdfac4b78af307c0f12 partner=1966]
However, it is currently sold out, and new units won't arrive until October if you buy online. To make the wait shorter for some people, Apple has extended the personal pickup option to 5C and 5S phones. Rather than waiting until October for the phone to be shipped to you, stores with stock will let buyers pick up their phones before then, depending on availability. 
Aside from a bigger battery, plastic casing, and a better Facetime camera, the 5C is similar to and will be replacing the iPhone 5. The 5S includes additional features like the A7 chip with 64 bits, iSight camera, and TouchID fingerprint recognition.
"This is our most forward-thinking phone yet," said Phil Schiller, Apple's head of worldwide marketing at the 5S's unveiling in Cupertino, Calif., last week.
Technology like the new A7 64-bit chip, display, and camera are meant to give the user a better visual experience in watching, filming, or editing photos or video. The fingerprint recognition is meant to provide a simpler way to protect your phone.
The fingerprint sensor should help the over 50 percent of smartphone users that, according to Apple, are not using a passcode. The TouchID reads fingerprints from any angle and can store multiple fingerprints to replace your passcode and iTunes password. However, there are security concerns with this technique as well.
TouchID was hacked the day after its release by the Chaos Computer Club in Europe. CCC uploaded a how-to video Saturday, detailing how a high resolution print of the phone owner's fingerprint could be used to trick the sensor.
It was previously reported TouchID was a "living fingerprint" sensor, which used a radio frequency scanner to read the living layer of skin underneath your outer layer of dead skin cells. However, CCC hacker Starbug said Apple's sensor merely has a higher resolution than sensors that have been used so far.
To fool the sensor, CCC took a high-resolution image of the logged fingerprint—found all over the user's phone—and printed it onto a latex sheet. To make it seem like a living finger, they breathed on the latex to make it warm and a bit moist. They then applied it to the sensor.
"As we have said now for [many] years, fingerprints should not be used to secure anything. You leave them everywhere, and it is far too easy to make fake fingers out of lifted prints," Starbug stated. 
@IsTouchIDHacked has crowdfunded over $71,000 in bounty for successfully unlocking an iPhone 5S with a reproduced print. 
Despite its success, it's a time-consuming method. Fingerprint replication of this sort would therefore be targeted, so it is unlikely something the average iPhone owner would need to worry about. And with the sensor, iPhone 5S users are guaranteed to be using at least one layer of security.