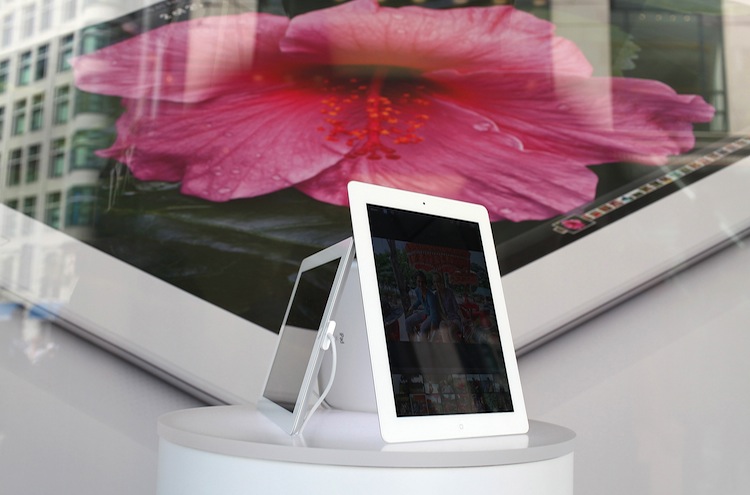 The Cupertino, Calif., company and maker of the famous iPhone and iPad only passed the $600 billion market capitalization mark last Friday and did not stop setting an all-time record for the most valuable nongovernmental enterprise at $623 billion Tuesday before trading down a trifle Wednesday. 
The previous record had been held by Microsoft, which peaked in 1999 valued at $621 billion. Factoring in the 2.44 percent annual price inflation in the CPI, however, it would put Microsoft ahead at an inflation adjusted $850 billion.
Most people cannot imagine such a gigantic number in either and even relative comparisons are staggering. Apple is worth 50 percent more than the company with the second largest market capitalization, ExxonMobil at $404 billion. According to blogger John Aziz, it is now worth more than the sum of its tech competitors Dell, HP, Google, Facebook, and Microsoft combined. According to Bloomberg Data, it is also worth more than the entire S&P 500 retailing sector.
Aziz, whose blog is called Azizonomics, points out that the valuation of Apple (AAPL on NASDAQ) implies that the company must be doing much better than the other five tech giants, but it is not. The five other companies taken together have a much higher book value, revenue and earnings before interest, taxes, depreciation, and amortization than Apple. 
"The data suggests that relative to other tech companies AAPL is significantly overvalued. And going forward there is no guarantee that AAPL can justify today's value by keeping up its dominance of the sector," says Aziz on his blog.
One Year After Steve Job Resigned the Future Looks Bright
Despite the reservations about valuation, the company seems to be in great shape almost one year since Steve Jobs resigned on Aug. 25, 2011 (he died Oct. 5, 2011, aged 56). Apple managed to generate $8.8 billion in net profit for the third quarter 2012 on revenues of $35 billion. Sales of iPhones and iPods in that quarter lagged a bit behind expectations, but the company managed to boost its cash hoard to $117 billion.
These figures are long gone history, however, as the investing public is getting excited about the release of the new iPhone 5 allegedly on Sept. 12, and there is speculation that Apple will also release a mini version of the successful iPad tablet the same day. The company could also prove that it can consistently open new markets if it follows through on speculation and enters the U.S. cable market through the offering of a receiver box. 
It is this potential that attracts speculators: The latest "Hedge Fund Trend Monitor" released by Goldman Sachs, Apple is the No. 1 favorite among the hedge fund industry. A total of 230 hedge funds (also a record) owned the stock as of June 30—owning roughly 3 percent of its market cap—113 of these funds rank it as one of their top-10 holdings. 
One of these managers is David Einhorn of Greenlight Capital, who as of the end of Q2 owned $850 million worth of apple shares, according to his company's 13F SEC filing. "AAPL shares are not priced for growth. Its current valuation is justified without it," says his latest report to investors from May 29. He also says that many people misunderstand Apple and should view it more like a software company as opposed to a hardware company. 
According to Einhorn, this will protect it from the destiny that hardware companies like Research in Motion, Nokia, and Motorola had to face: "Despite its size, AAPL remains one of the most misunderstood stocks in the market. AAPL is a software company. The value comes from iOS, the App store, iTunes, and iCloud. A Motorola RAZR phone was a one-time winner because when someone else made a phone that was just a little better, RAZR sales stopped. In contrast, a consumer with one AAPL product tends to want more AAPL products."
Foxconn, Samsung, and the Environment
Despite the optimism, Apple will also have to grapple with several issues. The first issue is a dispute over patents, which finished closing arguments on Tuesday. Jurors in San Jose, Calif., have been asked to decide whether Samsung copied Apple's design or Apple was infringing on Samsung's patents. 
According to the Washington Post, Apple would "only" face $422 million in damages claims if proved guilty, but that such a verdict would severely damage the company's reputation. If Apple wins, Samsung might have to pay $2.5 billion. 
Another issue is the continuing problems at Foxconn, the Taiwanese company that manufactures most of Apple's (and other company's) products in mainland China. Due to poor work conditions, another worker killed himself in June and thousands went on strike earlier this year.
Lastly, a recent article in The Epoch Times suggested that Apple is reducing its environmental standards, as its newest computer the Retina MacBook Pro is very difficult to repair and recycle. 
If one were to take Microsoft as an example, then caution is warranted. After peaking at $621 billion in 1999, the company lost two-thirds of its value and never fully recovered. 
The Epoch Times publishes in 35 countries and in 19 languages. Subscribe to our e-newsletter.