Apple iTunes Blocked for Tibet Songs
August 23, 2008 1:58 am Last Updated: October 1, 2015 10:52 pm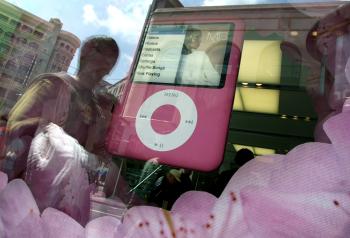 Apple's massive music download site iTunes has been blocked in China since August 18, presumably because athletes in Beijing have been downloading pro-Tibet songs.
Over 40 Olympic athletes in Beijing had downloaded the Tibet solidarity album Songs for Tibet, a project initiated by the Art of Peace Foundation, according to International Campaign for Tibet (ICT). The athletes had been contacted by ICT, Students for a Free Tibet, and Team Darfur.
"Athletes downloaded the album as an act of solidarity with Tibet," stated an August 18 release posted on the ICT's website. "Twenty artists, including Sting, Alanis Morissette, Dave Matthews, John Mayer and Moby contributed songs for the release."
But according to London's Telegraph, starting Monday web users in China began complaining of being blocked from accessing iTunes Store. Apples' iTunes is one of the Web's biggest music stores.
Postings criticizing Apple for having allowed the pro-Tibet album on to iTunes in the first place have appeared in the often-nationalistic Chinese blogosphere.
"Steve Jobs is better to block off any Tibetan propaganda. Otherwise, his company will face the boycott. As a result, the Apple stock will go down," read a posting on IT World.
"China is best! Everyone who likes Apple is very stupid! Tibet is terrorists!" stated another.
A phone call to Apple was not immediately returned.
 
Tsepak Rigzen of the Emory University-based Drepung Loseling Institute in Atlanta took a very different approach. He thinks the communist regime's closed approach ultimately helps both Tibetans and Chinese.
"It kind of boomerangs on them," Rigzen said. "Every freedom-loving people will say it's wrong. The more they block the more they help us."