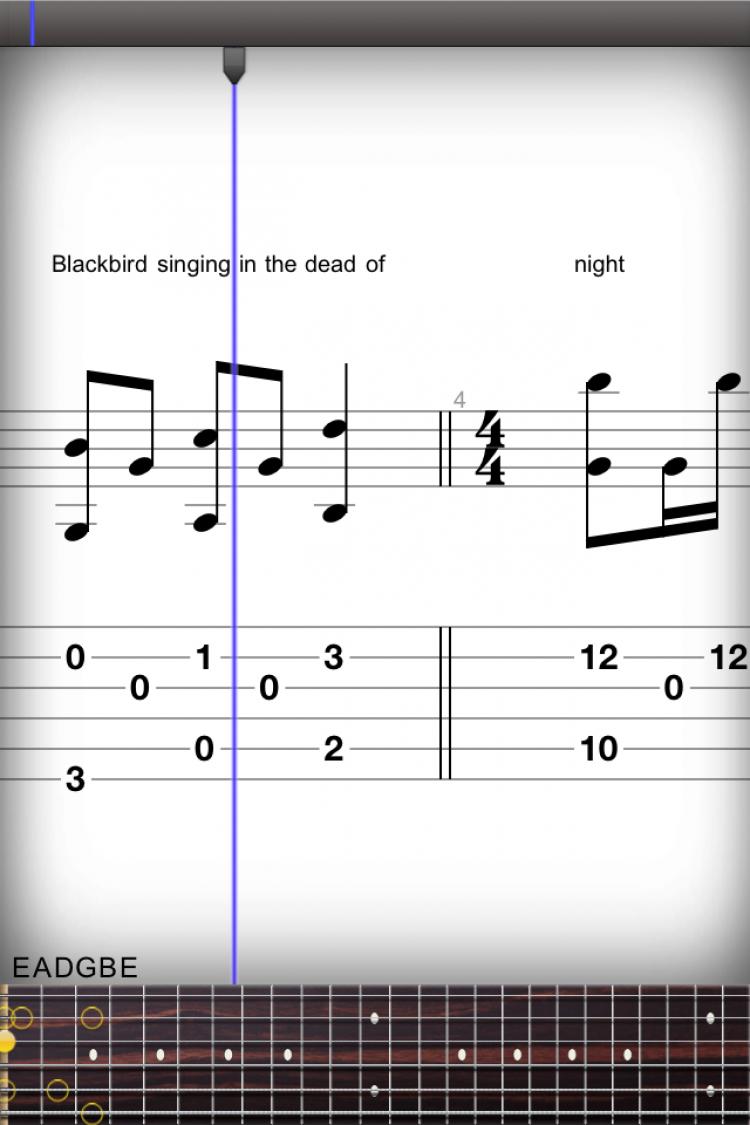 For many amateur guitar players, guitar tablature or "tabs" are a primary source for learning new songs. Although traditionally these tabs were obtained from brick and mortar stores, in the digital age, many tabs can be easily obtained online and often for free. The quality of free tabs can be quite varied, but the developers of Guitar Pro help facilitate the creation of very high quality tabs that include standard music notation as well as several styles of tab notation.
The iOS version of Guitar Pro is a playback-only version of the desktop product and is mostly intended to be used as a tool for learning new songs or as a portable cheat sheet. In this respect, it executes very well.
The graphics are clear and sharp and the presentation uses standards that would be familiar to any musician. In the upper half of the screen is standard musical notation that may include lyrics or instructional notations. Immediately below that is the guitar tab showing string and fret position as well as other tablature notations. Finally, at the bottom is a representation of a guitar fretboard that lights up the positions that need to be pressed as the notes above scroll through. All three presentations are useful and complement one another harmoniously.
Like its desktop counterpart, the Guitar Pro app not only plays the notes of the guitar track but also plays bass guitar, keyboard, and percussions if the tracks are present. Its playback capability is similar to that of any MIDI playback engine, complete with dozens of instruments. Of course, since this is a learning tool, you can adjust the volume of the supporting tracks or mute them altogether. For the guitar track, you have a choice of three styles of acoustic guitars and several more styles of electric guitars. Most people would have no problem finding a guitar sound that is appropriate for the song they want to learn.
You can even make adjustments to the instrument voices without needing to stop the music. In fact, you can transpose the pitch or adjust the tempo and the changes will happen in real time—the app doesn't even skip beat. The immediacy of these changes is very helpful and saves a lot of time, which in turn, takes some of the frustration out of learning something difficult.
As you are learning a song, no doubt you will probably be starting and stopping dozens if not hundreds of times, but to start or stop you need to tap once to bring up the playback controls and then tap once more to make your selection. This seems to be a throwback to the mouse-based interface of their desktop app. It works, but it does not take into full consideration how the touch-based interface is different.
One useful feature is the ability to select sections to repeat, but the app does not include any documentation so users simply need to figure that out on their own. Although that is not difficult to figure out, it points back to an interface that needs some refinement. Along those lines, there is a tiny timeline at the very top of the screen that looks like a status bar but is really a representation of the entire length of a song. You can point to any part of the timeline to go to the corresponding part of a song, but there are hardly any intuitive visual cues that would suggest that you could do that.
Aside from these minor shortcomings, Guitar Pro performs most of its functions quite well and any intermediate or advanced guitarist should consider getting this app.
Guitar Pro is available for $4.99.