Superstar wide receiver Antonio Brown, who recently reportedly signed with the New England Patriots, might face up to a year in jail for allegedly recording his former coach, Jon Gruden, without consent.
TMZ reported on Sept. 9 that Brown, who included a snippet of a conversation Brown had with Gruden in a viral YouTube video, may have committed a misdemeanor crime.
"It seems obvious Gruden didn't know he was being recorded at the time of the call—and if Antonio was in California (a 2-party consent state) when he pressed 'record,' he committed a misdemeanor crime," the report said.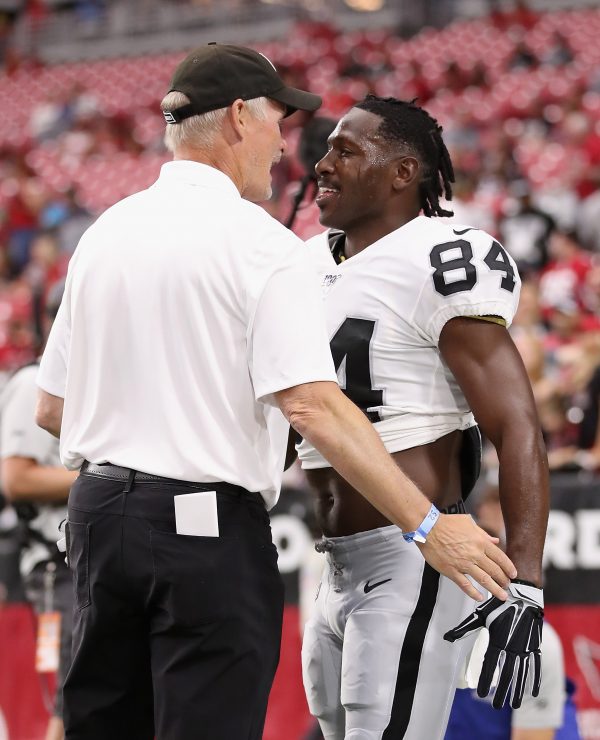 A representative for Brown later suggested to the news outlet that Gruden gave Brown consent for him to post a video of the call after the conversation was recorded.
The NFL player's producer, Alejandro Narciso, called into the Dan Le Batard show and said he sent the edited footage to Gruden, who apparently approved of the video.
"My whole thing the entire time when we were waiting for Gruden's response was that Gruden's gonna be like, 'Listen, AB, I love you, man. But that's disrespectful. I can't be having you post our own conversations.' Which is the response that I think anyone would think was gonna happen. And then, he responds like 15 minutes later. Three texts. He goes, 'Wow. I love it! Loved it! I love it!'" he said on the show. "And I was like, 'What?!' And we were like, 'All right. There's our consent.'"

However, if there was no consent, Brown technically could have violated California Penal Code 632, which forbids the recording of a conversation without consent or knowledge of both parties.
The report also noted that if Brown wasn't penalized, the NFL would possibly take action against the receiver.
Over the weekend, in a stunning move, Brown was released by the Oakland Raiders and was snapped up by the Patriots, NFL.com reported.
According to NFL.com, the Patriots waived safety Obi Melifonwu and released tight end Lance Kendricks to make room for Brown.
After Brown was cut by the Raiders, New England reportedly offered him a one-year contract worth $15 million.