Antique Motorcycles Hog Attention at Queens Farm Park
September 16, 2013 6:18 am Last Updated: September 18, 2013 11:56 am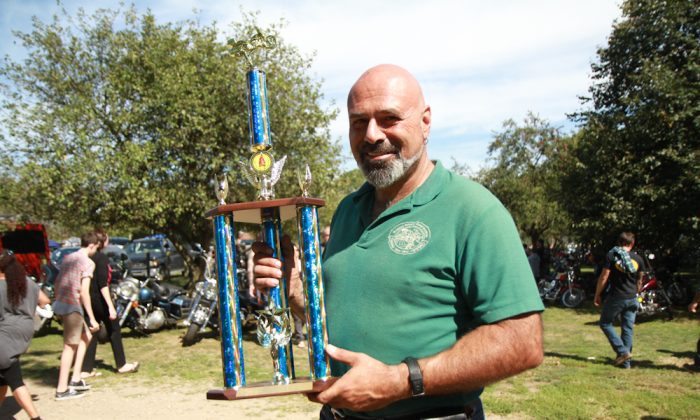 LONG ISLAND, N.Y.—Walking down Little Neck Parkway this Sunday afternoon you could hear the deafening roar of the Harley motorcycles.
The bikes were rolling into parking spaces at Queens Farm Park, adding to the 100 others on the grass and dirt lot—belonging to the visitors of the 32nd Annual Antique Motorcycle Show.
Bikers are the some of the nicest people you'll ever meet, said Steve Eftimiades, the show's organizer.
Eftimiades said when you see motorcyclists together in groups of 20 to 30 out riding, they are often out fundraising.
Over the 20 years that he has hosted the annual event, Eftimiades said there's never been any problems or complaints.
Eftimiades does some carpentry for the farm and lives there. He owns motorcycles and knows many of the collectors who visit the show every year, like Pip Sarser, whom Eftimiades referred to as "Mr. BMW."
"That's the bike I started with in high school," Sarser said about his collection of 15 BMW motorcycles. He said they were reliable, so he stuck with them. Sarser is a mechanic by trade and has always enjoyed the camaraderie of being with other bikers in the area.
Sarser is a board member of the Big Sandbar Chapter, based on Long Island, which is part of the Antique Motorcycle Club of America (AMCA).
He has a BMW motorcycle from every decade—from the 1930s to the present. He bought some of them in pieces and completely restored them. He takes all of them out for rides when he can.
"Like cars and like people, they want to get up and be used every day," he said. He rode his 1951 BMW model to the show and put it on display. Just yesterday he was on the 1971 BMW.
At the age of 50, Sarser is still collecting, and is not thinking of selling his bikes. "I'm always looking. … My friends and I have always said the fun is more in the hunt."
Sarsar was asked to judge some of the bikes at the show for awards in categories including antique, vintage, classic, sidecars/trike, scooter, and custom built.
An example of a custom-built bike was perfectly encapsulated by one motorcycle that drew attention from many visitors.
The bike had a 1949 Crosley car engine in a 1947 Kawasaki frame. Some pieces in the back of the bike came from a tractor. The hood of the gas tank featured artwork done by a one-armed artist from Texas who used charcoal to draw pictures, with a clear glaze finish.
Collecting bikes is like a "disease," said Joe Clancy, a visitor to the show who has owned eight motorcycles in his life. Clancy was trying to find buyers for three of his bikes, because he said he has no room for them.
Eftimiades said it's rare to see people in their 20s at the show, because antique bikes are not attractive to young people.
"They're not fast," he said.
To see full photo gallery of the event check out EpochSnaps Galleries: Antique Motorcycle Show 2013.