'Antipodes' Wins San Fernando Yacht Race
April 3, 2013 6:20 am Last Updated: April 4, 2013 2:13 am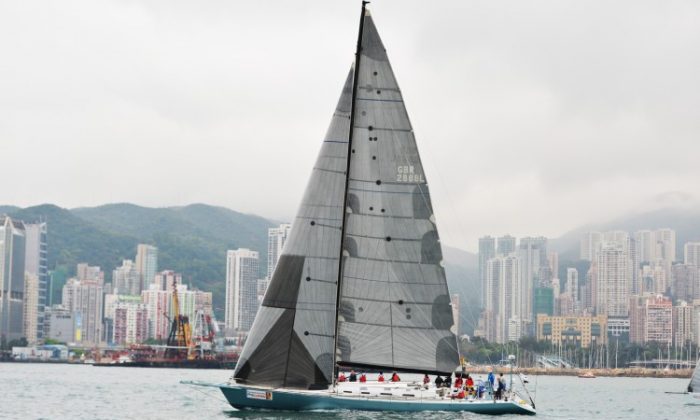 Geoff Hill's Antipodes had an almost perfect run in the bi-annual 480 Nm 19th RHKYC San Fernando Race 2013 from Hong Kong to Philippines last weekend (March 27 to March 29) to take line honours and the IRC trophy.
 With the exception of a slow patch on the way out of Hong Kong's Victoria Harbour, Antipodes maintained a steady 10 kts for virtually the entire race. Her elapsed time of 51.20.17, while not a record, was a good, solid performance. The record of 49 hours 55 minutes and 12 seconds was set by Sam Chan's FreeFire in 2001.
Antipodes tracked just south of the rhumb line all of the way. Navigator Alan Tillyer put their success down to the consistent breeze.
"The second night the moon was out and we had a terrific sail," said Tillyer in a media release from RHKYC. "In spite of the forecast, the wind was much better and we came in much quicker than expected – it's been an awesome sail."
Standard Insurance Centennia III, Skippered by Ernest Echauz and with a full Filipino crew, had a superb start and led the 24-boat fleet out of Hong Kong harbour. She took a line a little further north and crossed the finish line in second place in 54.57.09.
Jamie McWilliam, co-owner of Peninsula Signal 8 came in fifth overall behind Premier Cruisers category boats Moonblue 2 and Shahtoosh. Penninsula Signal 8 was first in her IRC-1 category.
McWilliam said in a RHKYC media release that a wind shift at midnight allowed their boat to reach a good top speed.
"We thought we were doing 9 or 10 kts all the way home, then all of a sudden at midnight, we had 15, 16, 17 kts and then the breeze clocked round to the north," McWilliam said. "It was awesome, just brilliant. We had a brilliant full moon, pointing exactly where we were pointing … 15.7 kts was the top [boat speed] that we got".
EFG Bank Mandrake was second in IRC-1 followed by Orient Express, Sell Side Dream and Krampus.
The good wind conditions for the leaders did not continue for the slower boats who had a more gentle finish to their race. Anthony Root's Red Kite II crossed the line first for the IRC-2 followed by Whiskey Jack and Talkinghead.
In IRC, Cruising Class boats crossed the line in the following order: Hedonist, Crystal, Dearg Doom, Kei Lun and Allegro.
The boats arrived in Philippines just in time to take part in the 4-day Subic Bay Commodore's Cup.