'Anti-SARS Hero' Confesses to Embezzling Millions of Dollars
August 14, 2006 12:00 am Last Updated: August 14, 2006 12:00 am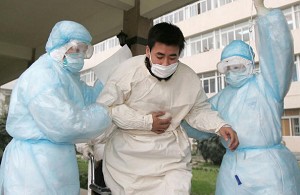 CHINA—Luo Yaoxing, the "Anti-SARS hero" of Guangdong Province in 2003—a key figure in the fight against SARS—was among a group of seven who accepted a total of 14.479 million yuan (about US$1.8 million) in bribes from vaccine producers over the past five years, according to The New Express and other Chinese media.
Between 2001 and 2006, Luo, the former director of the Guangdong Province Disease Control Center Immunization Planning Institute, Cai Hangang, and five others received bribes 69 times from various vaccine producers. Luo alone received 11.185 million yuan, and Cai received 2 million yuan. Luo received so much money in cash that he needed to rent an apartment to store the money.
In court, Luo did not deny he had received the bribes. He said that he had received commissions for helping the vaccine producers market their products. The producers involved said Luo controlled the vaccine purchasing for the whole province. Their products could not enter the market if they did not give money to Luo. One producer disclosed that the market "commission" for each chicken pox vaccine was 5 yuan (about US$0.63) and for each flu vaccine, it was 2 yuan.
Luo said that at first he stored the cash he received in a safe at home, but as the amount of cash he received grew, his home became too small to store all of it. He didn't dare to deposit the money into banks, so he rented an apartment at Xinhong Garden to store the money.
He never ventured to spend the money and didn't even know how much cash he had in the apartment. The more money he accumulated, the more nervous he got, and in April 2006, he confessed his crime to the Zhuhai District Procuratorate.
Luo said, "I don't know how much money I received." He also admitted that he never discussed how to split the money with Cai Hangang and the others. He said he did not care about the exact amount as long as he knew he had a lot.
It was reported that the staff of Zhuhai District Procuratorate found cash amounting to 12.5 million yuan in the apartment at Xinhong Garden.
Luo was in court on August 2 at Guangzhou City People's Court. Analysts expect the trial will unveil a series of bribery cases involving the Disease Control Center. It is reported that the courts will reach a decision on this case soon.