Disturbing footage has emerged in Australia showing an individual repeatedly slamming a policeman's head into the concrete.
Victoria Police in a statement described the incident as a "brawl and subsequent assault on police members."
Law enforcement officials stated that "while a 26-year-old man was being arrested, several people attacked the officers and started violently assaulting them."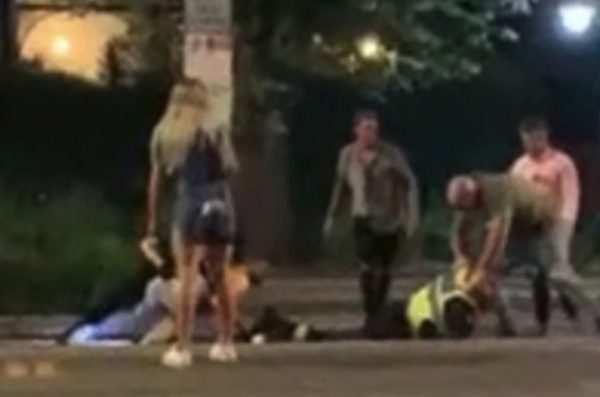 Australia's Nine News reported that the attack occurred after emergency services were called to a disturbance in the country's second most populous city Melbourne at about 3 a.m. on Sunday, Feb. 24.
A taxi driver who witnessed the incident recorded the footage, which shows a man wearing a grey shirt and light-colored pants hold the head of a policeman in his hands and bring it down hard onto the pavement several times.
**Warning: Graphic Footage
Disturbing footage has been released of a Melbourne thug savagely beating a police officer during a brawl in St Kilda. #7News pic.twitter.com/2iUtKumLIQ

— 7 News Brisbane (@7NewsBrisbane) February 24, 2019
'Rag Dolling' the Victim
Officers responding to what local media described as a brawl in Melbourne's St. Kilda area took off in pursuit of a male suspect. When they caught up with the man—described as Caucasian and in his 20's—they were surrounded by an angry mob of six or seven revelers and viciously assaulted.
Victoria Police Superintendent Tony Silva said the attack was one of the worst he had ever encountered, calling it "animalistic."
"I would describe it as rag dolling him, smashing his head into the concrete roadway," he told Nine News.
GRAPHIC WARNING: Vicious thugs have smashed a police officer's head into the ground, and brutally beaten another in St Kilda. @LanaMurphy #9News pic.twitter.com/K9DPh1nCif

— Nine News Melbourne (@9NewsMelb) February 24, 2019
The alleged attackers dispersed only after officers used pepper spray.
The policemen were immediately taken to an area hospital.
According to a report by The Age, the officer whose head was smashed against the pavement was in his 50s. He was treated and subsequently released with facial swelling, cuts, and bruising to his forehead.
The other officer was also attacked and received serious injuries to his arm. The news outlet reported the injured officer would require surgery.
'Worst of Society'
Victoria Police were cited by the news outlet as saying that the attackers had a pack mentality and pounced on the unsuspecting officer as he was arresting one of their group.
"This is the worst of society… they will find the full force of the law is their future," Silva said.
Police have described the group of suspects as consisting of five men and a woman in their 20s.
Police Association Victoria secretary Wayne Gatt was cited by The Age as saying this was "one of the most horrific assaults on a police officer I've seen."
He said he hoped for swift justice to meet the perpetrators.
"What we have to hope is that our court system does its job in bringing these people to justice as they indeed deserve."
Gatt urged witnesses and people with knowledge in the case to come forward.
"We shouldn't accept this. Anyone who knows who these people are should dob them in."
Hit With Rock, Shot With Own Gun
In July, a Massachusetts police officer died after a man attacked him with a rock before stealing his gun and shooting him several times, according to officials. Reports said that a woman was also killed in the shooting.
Weymouth police officer Michael Chesna was identified as the officer who was gunned down, MassLive.com reported.
Our thoughts and prayers are with the family of Michael Chesna, who leaves behind a wife and two children. He was a 6-year veteran of the #Weymouth Police Department. #EndOfWatch https://t.co/D8EFUGWVWW pic.twitter.com/9325PAq4jr

— WCVB-TV Boston (@WCVB) July 15, 2018
Chesna, 42, was rushed to the hospital with life-threatening injuries, and later succumbed to his wounds. He was an Army veteran who had a wife and two children.
Police sources told WCVB that the suspect, identified as Emmanuel Lopes, hit Chesna with a rock in the head before taking his gun and opening fire.
Officers ran after Lopes, and he fired several shots with Chesna's gun, hitting a woman who was inside her house, killing her, according to the station's report. NBC Boston also reported on the woman's death. She was not identified in the reports, but the report described her as elderly.
"I opened up the back door and instantly there was an officer there and then more came running out behind all those houses," a witness told CBS Boston, adding that the shots took place at around 7:30 a.m. local time. "I did hear the cops telling him 'put the gun down, put the gun down.'"
Epoch Times staff writer Jack Phillips contributed to this report.