Victorian Premier Daniel Andrews has hinted that falling COVID-19 cases may see border restrictions with New South Wales begin to ease next week allowing thousands of stranded people to return home.
Andrews said a recent mystery case in Victoria and cross-state vacations had prevented borders opening up sooner.
"[I]f it weren't for that case then maybe we would be further along in terms in getting the borders open," Andrews said on Friday. He added that it wasn't for people taking trips to "regional parts to New South Wales; we would be further along."
The Victorian government suddenly enacted a hard border to NSW on New Years Day in response to increasing CCP virus, commonly known as novel coronavirus cases in Syndey's Northern Beaches area.
In the week leading up to Jan. 1 over 40 positive cases were recorded in NSW, which then led to outbreaks in Victoria, breaking the state's 60 days without community transmission.
But now, for the second day in a row, no locally acquired virus cases were recorded in Victoria. At the same time, NSW had four new cases on Friday after also registering zero on Thursday. There have been no reports of deaths or people in ICU.
When asked when borders will open, Andrews said border rules are dependent on community transmission.
"I'm working towards and what I absolutely want to be able to do some time next week is to say that people can come home and they can come home soon, and not in a few weeks later, but as soon as possible," Andrews said.
This is the second time in as many days Andrews has hinted that the state government would ease the border restrictions, contradicting comments made earlier this week by Victorian Health Minister, Martin Foley who said it would be "unlikely the border will be removed before the end of January."
The Victorian government have granted over 570 exemptions to people to return home from NSW for medical or hardship reasons. It is estimated thousands more await permission to enter Victoria.
Andrews also acknowledge that the delay in allowing people to return was frustrating many Victorians who are stranded in New South Wales.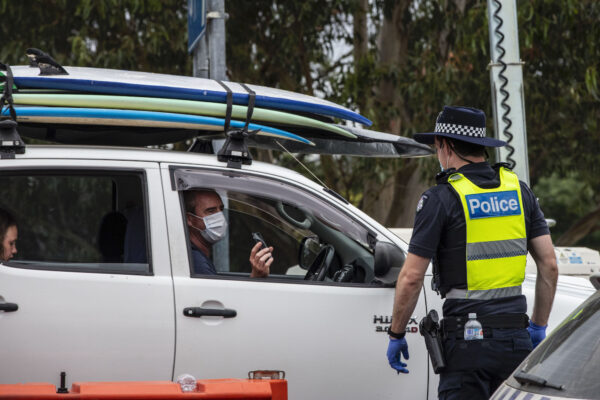 "I know that's deeply frustrating for those caught on the other side of the border. We get that. We understand that, that's why we're working night and day to bring under control cases in Victoria," Andrews said.
UK Strain Causing Increasing Concerns For Authorities
An outbreak of the highly-infectious mutation of SARS-CoV-2 from the United Kingdom in Queensland, is also raising concerns with the state government.
Andrews will attend a special national cabinet meeting today to discuss Australia's measures against the spread of the UK COVID-19 mutation, as well as the tightening of testing for aircrew.
"The most recent UK strain which is just wreaking havoc … we don't want that here, it's new, and we have an opportunity to keep it out, and we must all play our part to do that," Andrews said.