Andre Dickens, who has spent the past eight years as a City Council member, won a runoff election Tuesday night and will become Atlanta's next mayor in January.
Dickens beat Felicia Moore, the current City Council president, by 63.7 to 36.3 percent. However, in the Nov. 2 general election, Dickens was behind Moore by 17 percentage points. A runoff election was required because Moore didn't win over 50 percent of the vote. Since then, Dickens has quickly gained momentum and won some big-name endorsements.
Both candidates are Democrats. Mayors in Atlanta have traditionally been Democrats. No Republicans have gained office since 1879.
The current mayor Keisha Lance Bottoms announced in May that she wouldn't seek a second term.
"Atlanta influences everything," Dickens said during his victory speech Tuesday night. "And it's time that we use that influence to make some real change. Atlanta needs to show the world that we are leading, that we are leading on public safety, on criminal justice reform, that we are leading on affordable housing and eliminating the inequality that we have."
Dickens has pledged to counter a spike in crime by hiring more police officers, arresting gang leaders, and implementing community policing. "We cannot have a prosperous Atlanta unless it is a uniformly safe place to live, work and raise a family," Dickens stated on his campaign website.
In her concession speech, Moore called her voters to support Dickens, saying "there's no division tonight between the Dickens and the Moore camp because we're all camp Atlanta."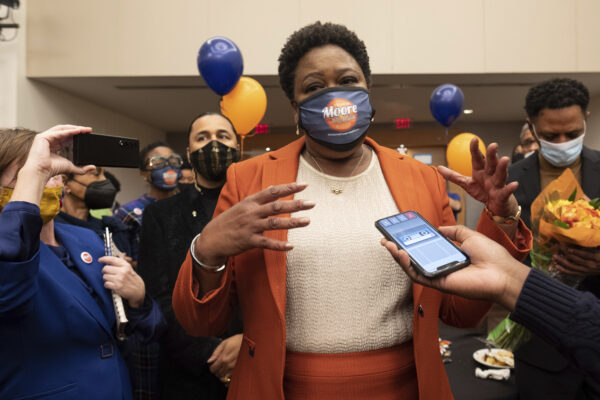 The two candidates' policies share a lot of similarities.
Both labeled themselves as progressive leaders. Both pledged to hire more police officers, provide more jobs, and increase affordable housing. Both opposed the separation of Buckhead from the city.
Buckhead is the wealthiest neighborhood in the city and contributes a considerable amount of tax revenue. Some in the upscale neighborhood view Atlanta's crime as out of control and proposed secession.
As of Nov. 13, there were 141 murders so far this year in the city, a 10 percent raise over the same period last year and a 57 percent increase compared with 2019, Atlanta police data show.
Gov. Brian Kemp congratulated Dickens on social media, saying he "look[s] forward to working with him to combat crime, spur economic development, and ensure a brighter future for our capital city and state."
Dickens, 47, is an Atlanta native and engineer by training. He was the chief development officer for TechBridge, a nonprofit that tries to use technology to aid other charitable groups. Dickens also founded a program to train people for technology work, trying to broaden access to high-paying jobs in Atlanta.
The Associated Press contributed to this report.