ANAHEIM, Calif.—The Honda Center, an indoor arena used by the Anaheim Ducks professional hockey team, will transform its facility into a major Orange County polling location for the upcoming presidential election.
Orange County Registrar of Voters Neal Kelley demonstrated the center's versatility at a Sept. 16 press conference, where he presented the different options that voters will have beginning Oct. 30 and running through the Nov. 3 election day.
Kelley called the chance to use the Honda Center for voting a "fantastic" opportunity.
"It's an iconic Orange County location, easy off the freeway, has great parking, and we're going to do something here that we're not doing at any other vote center—and that's drive-thru voting," Kelley told the audience.
"Voters will have an opportunity to pull up, check in, get their ballot, vote, and be on their way."
A voter who has already completed their ballot will have the ability to drive through and drop it off, Kelley added.
The county registrar said safety from COVID-19 was at the forefront of his team's decision to convert the arena into a polling place.
"The Honda Center is a fantastic location for a vote center because we're able to physically distance under COVID requirements in there, in a large space, and to put a lot more voting opportunities in there for in person voting," Kelley said.
He said the site "will be about 10 times the size of a regular vote center," offering greater opportunities for voters.
County residents will be able to vote in-person, register to vote, or update their registrations inside the building.
Tim Ryan, CEO of the Honda Center, said he was excited about using the center as a mass voting platform.
Ryan emphasized that extraordinary precautions have been taken to ensure the facility is "safe" and "sanitized."
"If anyone feels uncomfortable about coming to the Honda Center, I can assure you that every precaution is being taken," Ryan said.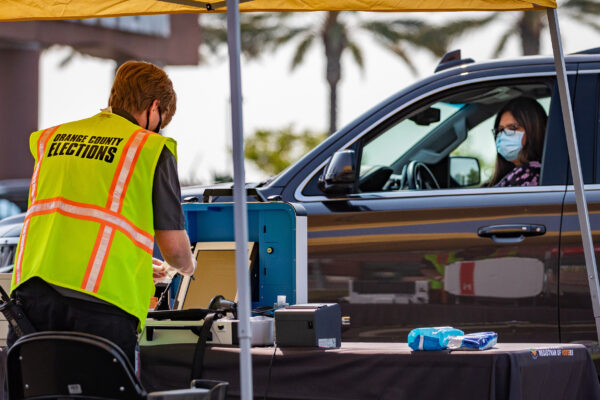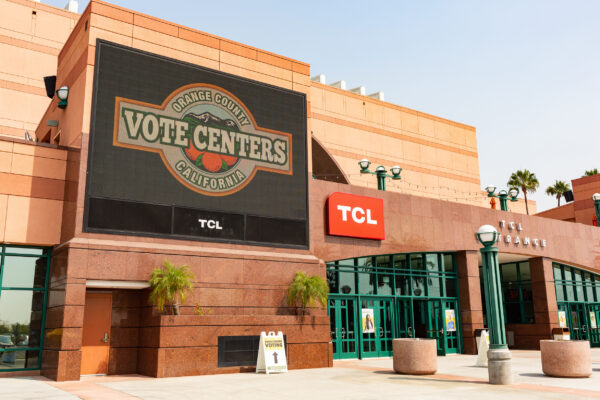 Electronic Voting: 'Like Boarding an Aircraft'
Kelley addressed the integrity of the election and ballot security on a Sept. 17 Zoom call sponsored by the Newport Beach Chamber of Commerce.
He compared the county's new electronic voting system to checking in for a flight at the airport.
"In the past, you would go into a polling place and you would sign your name on the roster. And you would get your ballot now if you went to vote," Kelley said.
"In this environment, we have an electronic checking system. It's very much like boarding an aircraft. And when you show up with your boarding pass, we have all your voter records and information at our fingertips."
Kelley said the new system allows for corrections and adjustments "in real time."
"We can verify information if we need to. If there's an issue that comes up, we can handle your voter registration on the spot," he said.
The electronic checking system allows election officials to see if a person tries to vote for a second time because it is part of the statewide voter database, Kelley said—so even if someone votes first in a different county and then tries to come vote again in Orange County, they would be denied a ballot.
"Orange County is the only county in the country that does everything end-to-end on the voting system," Kelley said.
"And that means that we take raw paper stock from a mill. We turn it into ballots, we print them, we turn paper into packets, and we insert those. And we conduct the entire process from end to end. We don't send it out to any vendors."
The subject of ballot drop boxes was also brought up by Kelly, who admitted that many citizens were not happy with the concept due to concerns over security. But he guaranteed their integrity.
"There's 116 [drop boxes] throughout Orange County," he said.
"They're a thousand pounds, they're bolted into the ground, they're under surveillance cams in almost every situation.
"We collect them [ballots] daily—radio dispatch, satellite track—from individuals that go through criminal background checks."
Kelley said that for people who are wary of putting their ballot through the United States Postal Service, the drop boxes are a great option.
The drop boxes are numbered, he said. Once a voter's ballot has been picked up, the voter will get a text message saying when it was picked up, from what number drop box, when the ballot was opened, when it was scanned, and if the vote counted or not.
For added security, Kelley's team will be comparing signatures on ballots to database signatures of voters, reducing the risk of people signing ballots that are not their own.
Since almost everything in the vote-counting process is automated, humans will almost never touch ballots received from voters, Kelley said, except for when large batches of them are taken into storage.