The magical world premiere exhibit of over 130 ensembles produced over five decades by the world renowned fashion designer Oscar de la Renta is glamorous and mesmerizing. The display illuminates thematic sections of de la Renta's early work; Spanish, Eastern, Russian, and garden influences; day wear and evening wear; and glamorous ball and red carpet gowns.

This is the first major exhibition celebrating the life and career of one of the most influential designers in the history of fashion. It traces his career from Spain at the House of Balenciaga and follows him to the world's most iconic fashion houses. De la Renta was the preferred designer for the movie stars and the First Ladies of the White House.
Who could forget Sarah Jessica Parker, the star of the TV hit "Sex and the City" wearing de la Renta's signature gown at the 2014 Met Gala in New York? Parker, who was one of the designer's close friends, admitted that stitching the famed designer's name across the train of her dress was something de la Renta would never in a million years have done himself; he's far too modest. In a Vanity Fair interview, she recounted how she pleaded to stitch his name in scarlet embroidery across the back.
Yes, this dress is featured in the de Young Museum's exhibit.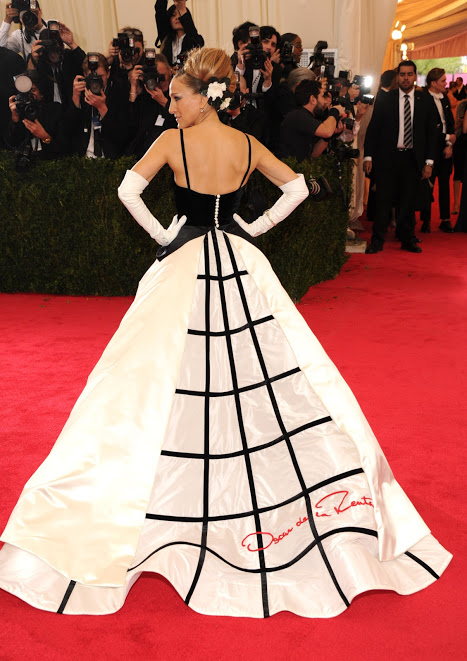 Ensembles in the exhibition are drawn from the designer's personal collection, the archives of the House of Balmain, public and private collections that include former First Lady Laura Bush, former Secretary of State Hillary Clinton, Taylor Swift, Karlie Kloss, Nicki Minaj, Jessica Chastain, Penelope Cruz, Rihanna, and Amy Adams.




I was very fortunate to have met Oscar de la Renta at the magnificent annual Keep Lake Tahoe Blue fashion show, which he presented in partnership with Saks 5th Avenue in a benefit to save Lake Tahoe on the picturesque shore of Lake Tahoe.
Overwhelmed by the self-imposed intimidation not only by my shines, but also by the very un-designer outfit I wore at this meeting, I finally did get enough courage to chat with the famed designer and express my admiration for his work. The elegantly attired (in a green sports jacket and wearing a Panama-style hat) debonair gentleman smiled, shook my hand, thanked me, and said that these afternoons at Lake Tahoe are his life's favorite events each year.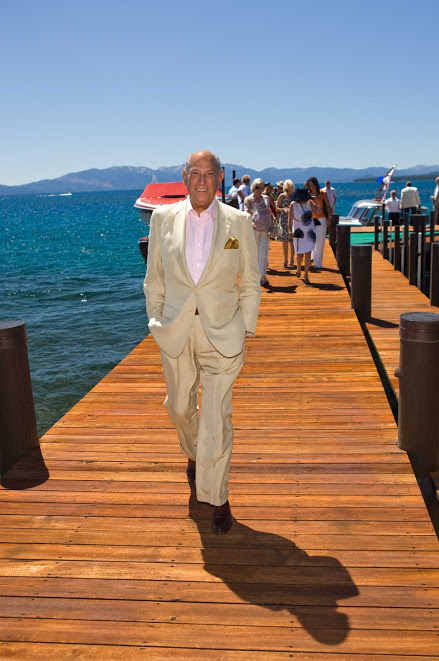 And maybe due to my encounter with this amazingly charming and talented man, and the fact that he was an avid gardener, who annually gave tours of his private garden in New York, I made the impossible choice of selecting the garden segment as my favorite, nostalgic centerpiece of this Oscar de la Renta: Retrospective exhibit.




The Artist
Oscar de la Renta (1932–2014) left his native Dominican Republic at the age of 18 to study painting at the Academy of San Fernando in Madrid. While living in Spain, he became interested in the world of design and began sketching for leading Spanish fashion couturier Cristóbal Balenciaga. Later he left Spain for a couture assistant job at the house of Lanvin in Paris. In 1963, he came to New York to design the couture collection for Elizabeth Arden. In 1965, Oscar de la Renta founded his signature ready-to-wear label, which became one the world's most prestigious fashion brands.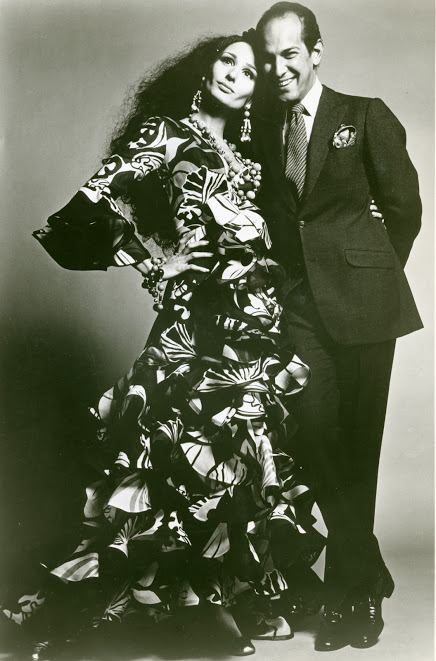 This exhibition is organized in close collaboration with the House of Oscar de la Renta and the designer's family, and is curated by Andre Leon Talley, former editor-at-large for Vogue and a lifelong friend of de la Renta. Asked at the press event what his favorite dress in this collection at de Young was, Talley selected the gorgeous pink gown worn by Taylor Swift at the 2014 New York Met's Gala.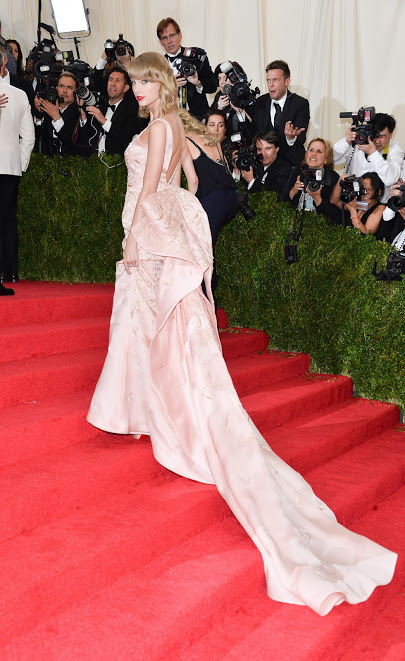 Thank you Diane B. Wilsey, president of the Board of Trustees of the Fine Arts Museums of San Francisco, for your "labor of love" in orchestrating this stunning collection for de Young. Wilsey, who was a personal friend of de la Renta since the age of 5, had approached the famed designer at one of the Lake Tahoe fashion show gatherings with the idea of premiering this exhibit at de Young.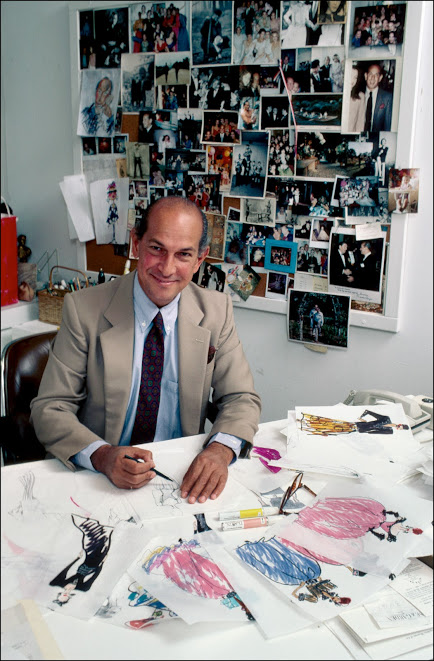 The exhibition is on view through May 30: deyoungmuseum.org/delarenta
Lina Broydo writes about travel, art, entertainment, style, and sports. She worked for 22 years as director of public relations at a luxury hotel in San Jose, California, and is currently the president of STAR PR, Public Relations and Marketing Company. She lives in Los Altos Hills, California.