Therese Tucker, founder and CEO of software company BlackLine Inc., grew up working on a farm—then went on to create a billion-dollar tech company.
Some people hesitate to start a company because it seems like too much work, said the 55-year-old entrepreneur. That has never been an issue for Tucker. She learned from a very early age how to work exceptionally hard.
"When you grow up on a farm, you are always working. There are always chores to be done, animals to be fed, barns to be cleaned, cows to be herded," she said.
Tucker founded BlackLine in 2001. And in 15 years, the company reached a valuation of $1 billion at an initial public offering on the Nasdaq Stock Market in October this year. It was named one of the fastest-growing women-owned companies in 2016.
Headquartered in Los Angeles, BlackLine offers a cloud-based accounting software. 
"A client asked us to build a software for balance sheet reconciliations because they could not find it on the market. And that is how we started in this particular area," Tucker said.
Leaving the Farm Life
Tucker grew up in Illinois as the youngest of four girls. Her parents did not have much money.
She was the first in her family to go to a four-year college. Most of the girls in her hometown were getting engaged and working in local department stores after high school.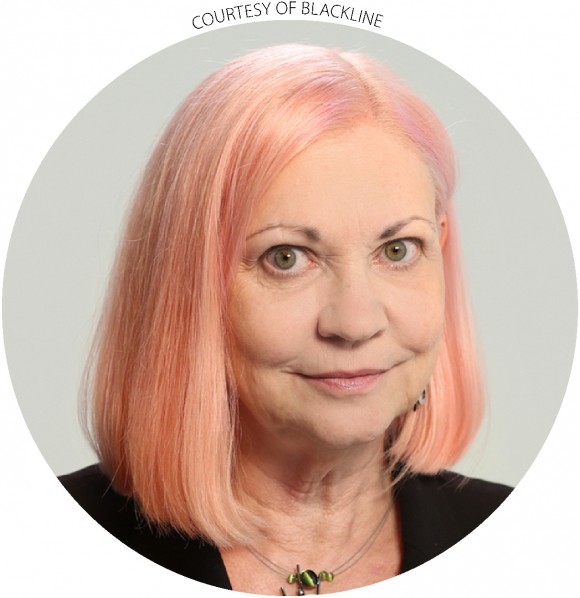 I did not want to get married and settle in a farm town for the rest of my life. College seemed like a way out.
, founder and CEO of BlackLine Inc.
"I did not want to get married and settle in a farm town for the rest of my life. College seemed like a way out," she said.
She first went to Illinois Wesleyan University to study business and French. 
"I took my first accounting class and I could not stay awake because it was so boring. Then I took a computer programming class, and I thought, 'I could do this for the rest of my life,'" she said.
So she transferred to the University of Illinois to study math and computer science. The first computer program she wrote was a blinking Christmas tree with asterisks.
After graduation, she had a crack at founding her own business, programming for various small businesses, at the age of 23, but it was not a success.
She was shy at first about asking for compensation. "When you do things that provide value, it is appropriate to ask to be paid for those things. And if you don't ask, people don't pay you," she said.
She had a hard time earning a basic living. So she decided to give up and join a small software company, which was later sold to the large software firm SunGard.
Starting BlackLine
After she'd been at SunGard for 11 years, Tucker and her husband both went through midlife crises and ended up divorcing in 2000. Tucker quit her job and took a year off after the divorce.
"I started BlackLine while I was divorced from my husband. So I was a single mom with two kids," she said. Her son was eleven and her daughter was six then.
Both kids were very supportive during her initial years at BlackLine, she said.
"When I started the company, my son was in middle school. During our rides to his school, I was telling him about all the problems in the business and asking his advice. He would listen very seriously and tell me what I should do. He actually had very good advice," said Tucker.
After setting up the company, she ended up remarrying her husband in 2005.
For Tucker, entrepreneurship was easier than having a nine-to-five job. "You have the maximum flexibility [for your family] and I loved that," she said.

However, running her own company was not all smooth sailing. In 2004, she almost went out of business. And all her savings had gone into the company.
"I remember thinking it would be nice to have a paycheck. … But once you get this bug about being an entrepreneur, you will never be happy in a job again," she said.
Tucker feels grateful for having support from her mentors.
"There would be times when I was waiting for checks from customers and it would be used to pay the salaries. I would call my mentor and ask him to lend me some money," she said.
"It is that kind of support that makes you not give up."
She also finally managed to pay herself.
"I paid myself $30,000 a year. It was less than what I was making before. But I was so thankful for it. It seemed like an amazing win," she said.
Tucker also managed to retain talented and creative staff at her company by making them stakeholders.
"Before we did the private equity deal, I had given away about half of the company to employees," Tucker said.
"If you want to have people who work their hearts out and build a company to be successful, you want to keep them and reward them. They are stakeholders."