Amnesty International has warned of an "alarming pattern" of violence used by Hong Kong police in their handling of the ongoing pro-democracy protests, which has included officers beating protesters during arrests and reportedly torturing detained demonstrators.
In a Sept. 19 report based on 38 interviews with lawyers, medical professionals, and arrested activists, Amnesty International's East Asia Director Nicholas Bequelin said the rights group found that "time and again, police officers meted out violence prior to and during arrests, even when the individual had been restrained or detained," in breach of international human rights law.
"The evidence leaves little room for doubt—in an apparent thirst for retaliation, Hong Kong's security forces have engaged in a disturbing pattern of reckless and unlawful tactics against people during the protests," said Bequelin.
Protesters interviewed recounted severe beatings by police, delayed access to medical care and to legal counsel, and other forms of abuse even when they showed no resistance.
The rights group said that 18 out of the 21 arrested protesters interviewed were admitted to hospital for injuries or illnesses relating to their arrest or detention, which included fractures and head wounds.
One protester told Amnesty that police hit him from behind with batons while he was retreating at a protest in Tsian Sha Tsui in August.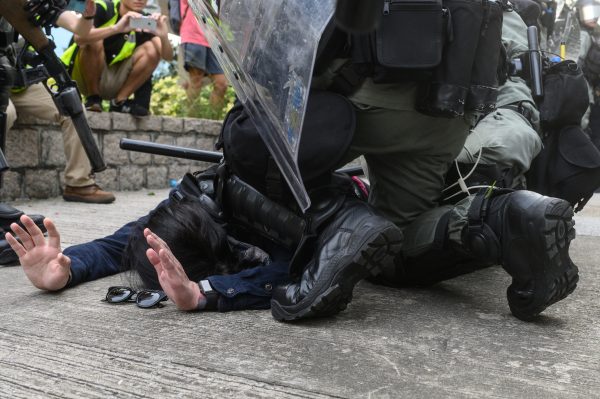 "I was beaten to the ground. Three of them got on me and pressed my face hard to the ground. A second later, they kicked my face," the protester said, adding that he then felt a sharp pain in his left chest and had trouble breathing.
The man spent two days in the hospital for a broken rib.
In another case, Amnesty said the police continued to beat a female protester after knocking her to the ground and zip-tying her hands.
The report also found that police meted out retaliatory violence against detained protesters, some of which amounted to torture.
One protester, who was detained at a police station after a protest in the New Territories in August, said that officers beat him severely and threatened to break his hands after he refused to answer a question.
"I felt my legs hit with something really hard. Then one flipped me over and put his knees on my chest," the man said. "I tried to shout but I couldn't breathe and couldn't talk."
An officer also forced his eye open while pinning him to the ground and shined a laser pen into it, in apparent retaliation of protesters' use of laser pointers during protests, he said. The man later suffered a bone fracture and internal bleeding.
Protesters have used laser pens during protests as a tactic to blind cameras and deter police.
The report also found injured protesters had been held in detention facilities for up to 10 hours without receiving medical attention. A man said that police zip-tied his hands to his back for hours even though he was suffering from multiple fractures.
"It was extremely painful," he said. "I told them I had broken my arm, but they didn't bother."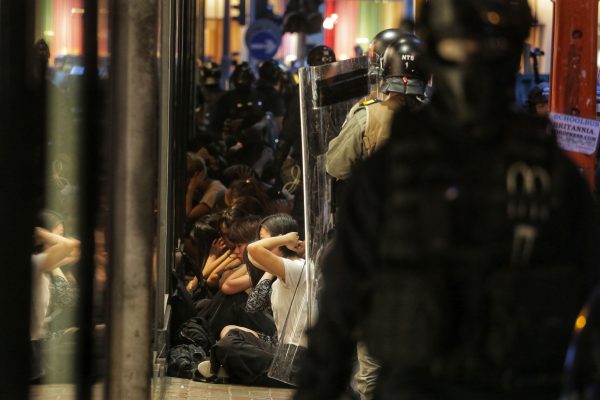 The findings directly contradicted the Hong Kong government's and police's claims that they have been showing "a high level of restraint" while dispersing protesters.
Demonstrators have consistently called for an independent probe into alleged police violence. The U.N. High Commissioner for Human Rights previously condemned Hong Kong police for violating international norms in their use of force, causing "considerable risk of death or serious injury."
Bequelin similarly said that the police use of force was "excessive, violating international human rights law."
Echoing protesters, he called for an independent investigation of the police force.
"Given the pervasiveness of the abuses we found, it is clear that the Hong Kong Police Force is no longer in a position to investigate itself and remedy the widespread unlawful suppression of protesters," said Bequelin.