Amidst Internal Crisis, China's President Visits Other Nations
September 5, 2005 12:00 am Last Updated: September 5, 2005 12:00 am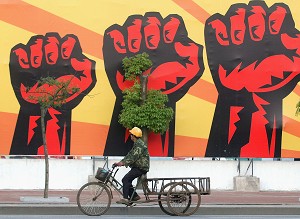 News Analysis
China's president Hu Jintao must have a lot on his mind these days. With a nation of 1.3 billion citizens stretching to see the fabled pot of gold at the end of the capitalist rainbow, it seems he is facing more than high expectations of economic benefit.
China is on the verge of enormous change–socially, economically, and most of all, politically. The nation with one-sixth of the world's population has seen millions of withdrawals recently from the ruling Chinese Communist Party (CCP), and is struggling under endemic corruption, environmental devastation, a financial system many experts expect to collapse, and 800 million living in poverty. A sign of the leadership's desperation: the terrifying public speeches some leaders have made, such as that given by Mr. Chi Haotian, China's Minister of Defense and vice-chairman of China's Central Military Commission, calling for the extermination of the population of the U.S. with biological weapons.
After a little over two years as president of China, Hu is facing the terrifying fact that the Chinese Communist Party is on the verge of collapse. The massive wave of withdrawals from the CCP in and outside of China were triggered by The Epoch Times publication of the Nine Commentaries on the Communist Party, in November 2004. The Nine Commentaries provides the Chinese people a first-ever look into the brutal rise and true nature of the CCP. The total number of withdrawals is now over four million. Although Beijing officially reports GDP growth in the range of eight percent to nine percent, economic analysts have debated those numbers. Some analysts argue that the GDP numbers are overstated. In any case, critics also say GDP numbers are not a good measure of an economy when taken in isolation from other factors, such as the costs to the economy of environmental devastation or of a development plan that depends on low margin, low technology, export industries.
Dr. Chang, Professor of economics at Taiwan University, and author of a best selling economics textbook in Taiwan says, "It does not make sense that China is said to be growing 9%, while the stock market there is so low." He adds, "Or how China can say, 'economics are booming' while 800,000,000 are currently suffering from poverty in China."
Protests in China are also raging out of control. Howard W. French reports in "Land of 74,000 Protests (But Little Is Ever Fixed)" (New York Times, August 24, 2005) that, "For reasons that range from rampant industrial pollution to widespread eviction and land seizures by corrupt local governments in cahoots with increasingly powerful property developers, ordinary Chinese seem to be saying they are fed up and won't take it any more."
China is also beset by political difficulties amidst its own ruling party, the CCP. A recent speech by Mr. Chi Haotian, Minister of Defense and vice-chairman of China's Central Military Commission, outlined a foreign policy strategy of global domination achieved by wiping out the U.S.
Chi said, "It is indeed brutal to kill one or two hundred million Americans. But that is the only path that will secure a Chinese century, a century in which the Chinese Communist Party leads the world." For Chi's speech, see: War Is Not Far from Us and Is the Midwife of the Chinese Century.
Despite pressure on all fronts, Hu Jintao is coming to talk with many leaders of the U.S. and Canada, and by doing so is taking a different path than General Chi, and at the same time giving us hope for the Chinese people.