In the wake of child abuse allegations surfacing at a RYB Education kindergarten in Beijing, public backlash has only intensified.
The company, which is listed on the New York Stock Exchange, runs a network of nearly 500 kindergartens for children up to age six, in addition to over 1,300 directly-owned and franchised play-and-learn centers, located in 300 Chinese cities and towns, according to its website.
On Nov. 28, New York-based law firm, Bragar Eagel & Squire, P.C., announced via a press release that it had filed a class action lawsuit on behalf of investors who purchased securities in RYB Education between Sept. 24 and Nov. 22.
Filed at a U.S. federal court in Manhattan, New York City, the complaint claimed that RYB Education failed to disclose information about RYB's failure to establish safety policies to prevent abuse, and also did not "remedy problems within its system exposed children to harm and unreasonable risk of harm while in the Company's care," according to the release. This led to securities being traded at artificially inflated prices and investors incurring "significant losses and damages."
After news of the allegations emerged last week, the price of RYB's shares fell $10.28 per share, or over 38 percent, on Nov. 24, according to the release.
The firm invited investors to join the class action lawsuit.
Silencing Parents
Back in the mainland, local Beijing police said it found no evidence for some of the alleged abuse, including children being fed pills and given "medical checkups" by naked men. They also said they recovered footage from the kindergarten's surveillance system but the hard drive storage was damaged, so they could not access it.
Parents, however, insisted that their children would not lie to them. Chinese authorities, meanwhile, have enacted a silencing campaign. Posts on Chinese social media about the RYB child abuse case are routinely deleted by internet censors. No Chinese media has reported updates either. On Nov. 24, a Twitter account belonging to a Chinese reporter surnamed Chen posted a message that his news organization received a notice from higher-ups that media are no longer allowed to cover this case.
The Epoch Times tried to reach several parents, but phone calls were dropped several times.
Netizens on China's equivalent of Twitter, Weibo, wrote posts that some parents have been invited to "chat" with authorities, implying that they were coerced into keeping silent.
More Abuse
News of abuse at other kindergartens in China also surfaced this past week. On Nov. 26, Chinese media Jiemian News reported that several parents at two other Beijing kindergartens, named Huanyu and Qihang International, recounted stories of their children having needle marks on their hands, legs, and arms. One parent brought their child to the hospital and showed the doctor's examination notes, which confirmed that the child's scabs are likely due to penetration by a foreign object.
On Nov. 29, several Chinese media reported that parents alleged abuse at a RYB kindergarten in Cangzhou City, Hebei Province (several hours drive from Beijing). One parent called police on Nov. 27 after discovering needle marks all over the child's body. The kindergarten was shut down as a result.
One parent whose child attends the RYB at Cangzhou posted photos on WeChat, a popular Chinese instant messaging service, of needle marks all over the child's body.
Around the same time, similar accounts of needle injections also surfaced at the Chunxiao Kindergarten in Langfang City, also in Hebei Province.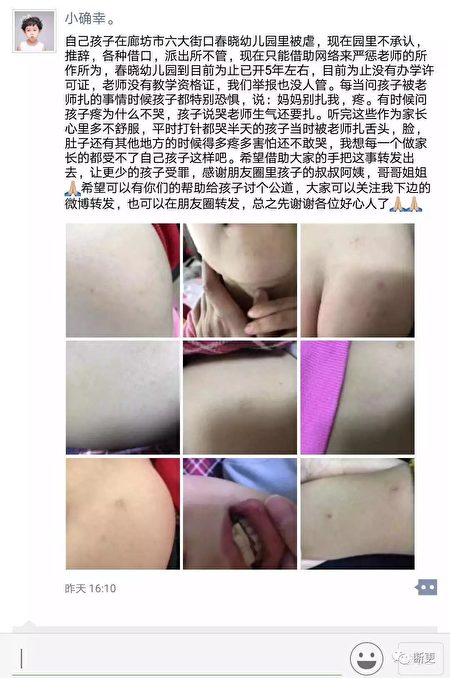 Meanwhile, parents at the Cangzhou Yanshan Beihuan Experimental Kindergarten reported their children being pricked with toothpicks. After requesting surveillance footage from the school, parents saw their children were beaten, pricked, and slapped on the buttocks as punishment.
Chen Han, Zhou Huixin, and Gao Yiqing contributed to this report.