California's State Water Resources Control Board will vote Tuesday on a proposed amendment (pdf) to current state policy on the use of coastal and estuarine waters for the 'once-through cooling' (OTC) of 4 gas-fired power plants due to be retired at the end of 2020.
The vote comes just days after the state was crippled by rolling blackouts amid a west-coast heatwave that saw wildfires spread across thousands of acres. According to California Gov. Gavin Newsom (pdf), "These blackouts, which occurred without prior warning or enough time for preparation, are unacceptable and unbefitting of the nation's largest and most innovative state."
Approval of the amendment (pdf) would allow 3 of the gas-fired power plants—Alamitos, Huntington Beach, and Ormond Beach—to continue to operate for another 3 years to December 31, 2023, while offering a one-year reprieve to the plant at Redondo Beach.
The amendment would also align the cooling water-withdrawal compliance dates of the Diablo Canyon nuclear power plant with its Nuclear Regulatory Commission operating license. The Pacific Gas & Electric Company plans to retire Reactor 1 at Diablo Canyon in November, 2024, while Reactor 2 is scheduled for retirement in August, 2025.
Once-Through Cooling
A once-through cooling (OTC) system allows a power plant to divert cooling water from oceans, estuaries, rivers, or lakes to cool steam from the plant's turbines. To do so, the water-intake systems use screens to filter out sea life and water-borne debris from the cooling system.
According to California's Energy Commission, however, OTC "water diversion entraps billions of aquatic organisms annually, including fish larvae and shellfish. It also removes water from habitats used by aquatic organisms and fauna." In some cases, the heat absorbed by the cooling water can also make the release area less habitable for certain aquatic species.
In 2010, California's State Water Resources Control Board (SWRCB) ordered the phasing out of OTC at 19 power plants in the state to tackle the issue of the withdrawal of 16 billion gallons of coastal and estuarine water daily for cooling purposes. Under the new policy, power plant operators were required to re-fit their systems with evaporative cooling plants to reduce OTC intakes.
According to the Energy Commission, "Safeguarding the state's critical energy needs is also integral to the policy focus."
However, a number of plant operators have since chosen to retire their facilities instead of upgrading their plants with non-water cooling equipment.
"All power plants in California are expected to comply with the policy by 2030," according to the California Energy Commission, though the body said in a statement that it expects renewable energy to make up for any energy capacity lost from retiring plants early.
The Role of Gas
According to the U.S. Energy Information Administration (EIA), natural gas provided 38 percent of the electricity consumed across the United States in 2019, with coal-fired plants providing 23 percent, nuclear power 20 percent, and renewable energy 17 percent.
In California, however, aggressive promotion of renewable energy and, in particular, wind and solar power, mean that the state relies more heavily on such sources of energy. According to the Energy Commission, the state's goal is to transition to 100 percent carbon-free electricity generation by 2045.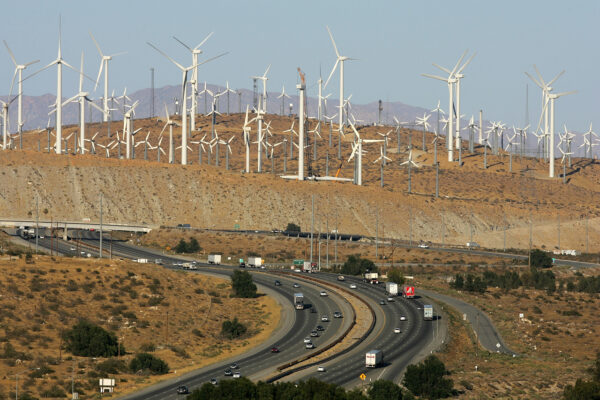 In 2018, for example, renewables including wind, solar photovoltaics, small hydro-electric plants, geothermal energy, and biomass made up over 32 percent of California's in-state electricity generation. However, natural gas accounted for over 46 percent and nuclear power over 9 percent of the state's electricity production.
In addition, the EIA says that California relies heavily on electricity imports from neighboring states, several of which did not have spare capacity during the recent heat wave due to their own escalated requirements. Newsom proclaimed a State of Emergency (pdf) due to the energy shortages and rolling blackouts on August 16.
Newsom said at the time that an "Extreme Heat Event has put a significant demand and strain on California's energy grid as well as limiting energy imports from surrounding states."
California Policy
A 2019 briefing (pdf) by Mark Rothleder at California Independent System Operator (ISO) states that rapid increases in demand, or ramps, are currently being met by imported electricity and natural gas generation, but that this runs counter to the state's low-carbon power grid plans.
A major concern for the state, Rothleder says, is multi-day cloudy or low-wind weather events, which are hard to forecast and plan for. To help prevent blackouts, the state intends to further diversify its resource mix, and to "[r]educe use of natural gas resources while strategically maintaining sufficient capacity for reliability."