NEW YORK—Optimism within the nation's business world is soaring—reaching its highest levels in years. Yet recovery from the 2008 financial crisis has been weaker than expected, with slow GDP growth. So what is making business owners so confident?
The answer is a heady combination of positive economic indicators that were already in motion at the end of last year, coupled with many business-friendly promises from the new president—including tax reform, regulatory relief, a new health care regime, and more infrastructure spending. Although President Donald Trump hasn't had time to show if he can deliver on those promises, confidence is certainly in the air.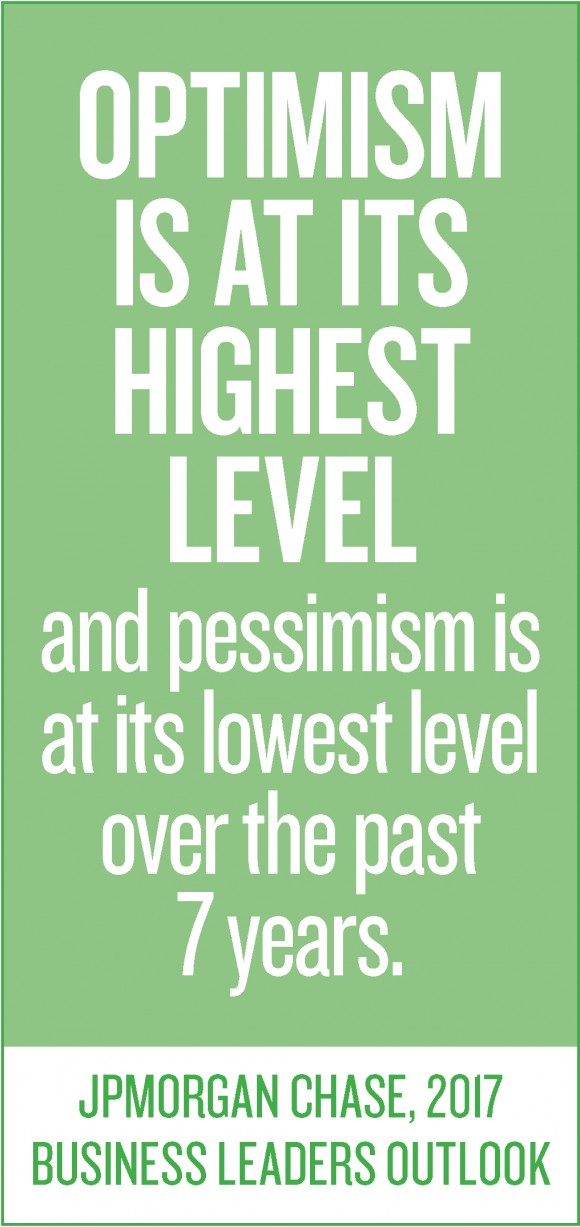 According to JPMorgan Chase's annual survey of business leaders, 76 percent of midsized company executives believe the new administration will have a positive impact on the economy and their businesses. The survey of 1,400 respondents closed the day of Trump's inauguration.
"Optimism is at its highest level—and pessimism is at its lowest level—over the past 7 years," states the report.
Small businesses are even more positive. In January and February, small business optimism reached its highest level in 43 years, according to the National Federation of Independent Business (NFIB).
"It is clear from our data that optimism skyrocketed after the election because small-business owners anticipated a change in policy," stated NFIB President and CEO Juanita Duggan, in a report.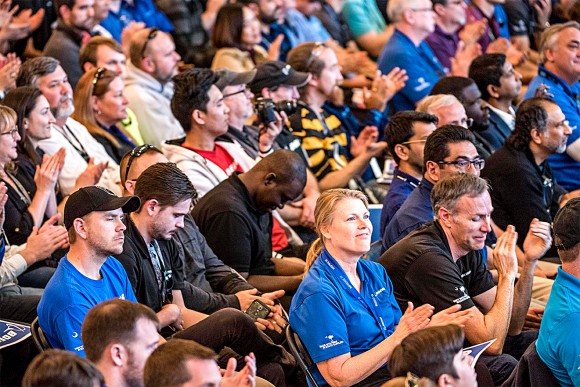 Strong job growth over the last few months is bolstering the trend. Employment increased by 235,000 in February, alongside a moderate increase in wage growth, which contributes to higher confidence in future consumer spending.
Jay Timmons, CEO of the National Association of Manufacturers, commented in a statement on the February job numbers: "Today's news is another strong indicator of the 'Trump bump' of positive economic activity. Across America, manufacturers' confidence is high, and business optimism continues to soar, because of President Donald Trump's laser focus on policies that will accelerate a jobs surge in America."
Small Business Looking Up
Increasing optimism among Main Street small businesses could be an important signal for economic growth in 2017, as many of them have been struggling to survive since the Great Recession.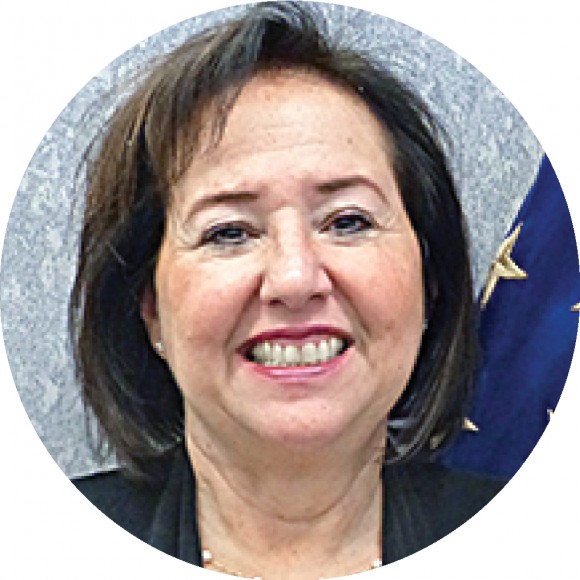 Small business lending is up 8.5 percent in the first five months of this fiscal year compared to the previous year, said Beth Goldberg, district director of the U.S. Small Business Administration (SBA) in New York.
"Those loans have supported the creation and retention of 5,500 jobs" in New York City, she said.
Businesses are using the financing to hire more people, purchase inventory, and invest in equipment with an eye to the future.
Optimism in the construction sector is also growing, according to a recent survey by Wells Fargo. Especially in nonresidential construction, industry executives expect growth driven by Trump's higher infrastructure spending and increased company profits.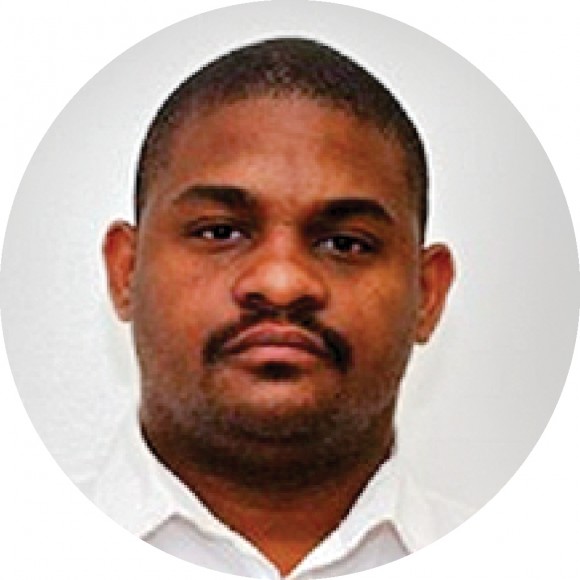 "I have not seen a direct increase [in business] as of yet. But I am sure it will increase. I hear a lot of investment opportunities going on, which means a year from now there will be more projects," said William Diaz, owner of ESC Cabling, a New York specialty contractor that designs and installs cabling systems and networks for construction projects.
"Typically, when the big businesses get busy, they cannot bid on the small projects, so they allow the specialty contractors to do the work. Right now, I am bidding for a job that I probably would not even have the chance to bid [on a year ago]. I am on a short list. I have a good chance of winning," Diaz said.
He invested in equipment worth $15,000 to $20,000 to prepare for new construction work he expects to start rolling in.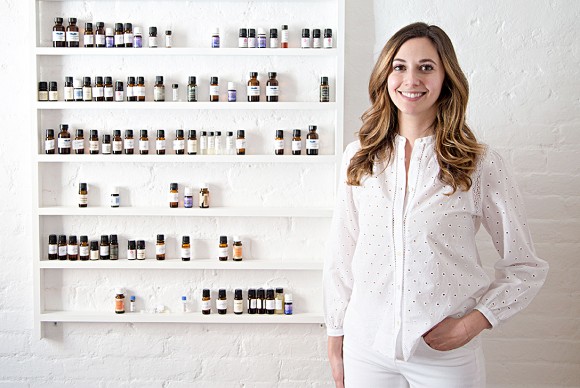 Rachel Beider, a massage therapist and owner of two clinical massage therapy studios in Brooklyn, also began the year with a more positive outlook. Her business started booming after the election.
"We did see an increase [in business] after the election. And after the inauguration, we had a very large increase in clients, and we have started to see them more frequently," Beider said.
She employs 48 massage therapists and plans to hire four more.
"Last year, we averaged 50 new clients a week. This year, we are averaging 70 new clients," she said.
Beider is confident she will break $1 million in sales this year.
Easy Access to Capital
The optimistic climate is also driven by easy access to capital thanks to lower interest rates in recent years and more creative financing options from financial technology (fintech) firms.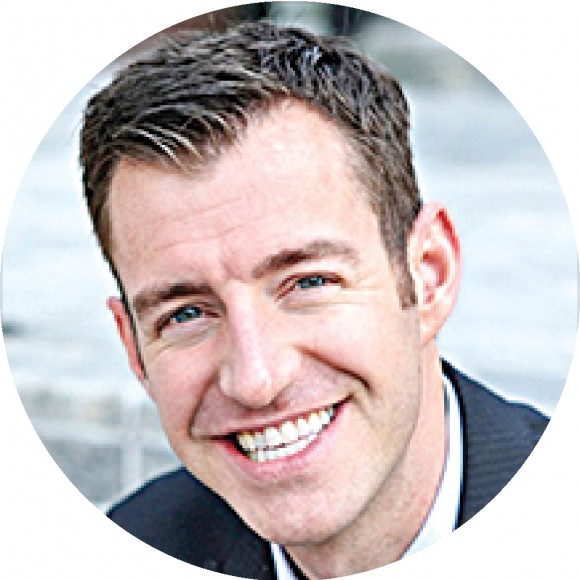 "We do see a lot of businesses thriving generally because of abundance or availability of capital," said Bryan Doxford, senior vice president at New York Business Development Corporation, which provides loans to small businesses.
Many online lenders popped up in recent years, ranging from merchant cash advance providers to services from companies like PayPal and Amazon.

"A lot of businesses are finding it easy because capital underwriting criteria are pretty loose for many of these lenders. Oftentimes, underwriting criteria are just based on the company's average daily balance—how much money they have in the bank," he said.
Doxford, however, is worried about the easy access to cash, since the online lending space is not regulated and some of these lenders are predatory.
"The interest rates that we tend to see on some of these online lenders are 30 to 40 percent," he said.
Not all sectors see a bright future, however. Some retailers and restaurants are struggling with disruptive changes from big companies like Amazon, which is growing its food delivery service.
The S&P Retail Select Industry index is down 13 percent since it peaked in December last year.
Restaurant business has tumbled in recent months, with store sales and traffic levels down for the four consecutive months through January, according to the National Restaurant Association.
Real Estate Honeymoon Is Back
For Bond Street Partners, a luxury real estate team based in Los Angeles, 2017 is already proving to be their best year to date, with over $200 million in sales in the first three months.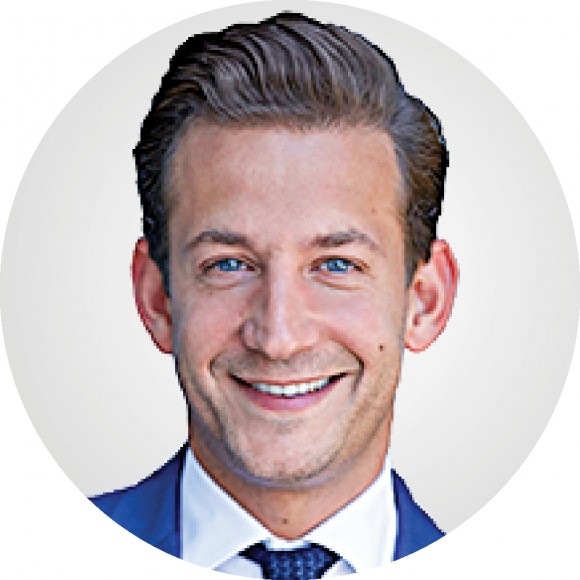 "There was an uncertainty leading up to the election in how the real estate market would be affected. However, we saw a definite increase in the luxury market at the end of the year that is still continuing," said James Harris, partner at Bond Street. Founded in 2011, the real estate team is positioned to break national sales records this year.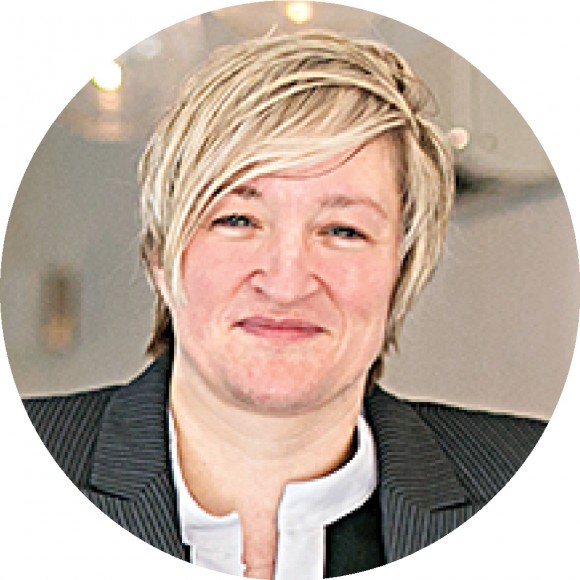 New York brokers are reporting the same trend. "We are definitely noticing business optimism on the rise. Whether it is attributable to the recent election or the weather change, there is an increased interest across the board," said Aleksandra Scepanovic, co-founder and managing director of Ideal Properties Group, a real estate firm in Brooklyn.
Activity, especially in commercial real estate leasing, picked up after the inauguration, she said.
Businesses hunting for space in Brooklyn are coffee shops, cafes, health and wellness centers, and gyms, according to Scepanovic.
And demand from movie production studios and shared office spaces is also on the rise, she said.
Banks Are Thriving
After years of underperforming, banking sector stocks rallied on the prospect of a strong economy and deregulation. The KBW Index, which serves as a banking industry benchmark, has climbed 20 percent since the election.
Related Coverage
The banks, especially small and midsized ones that depend on the interest rate spread, will thrive on the expected interest rate hikes this year.
Also, these banks are optimistic about changes Trump plans to make to the Dodd-Frank Act—legislation regulating banks passed by the Obama administration in 2010. Smaller banks have suffered much more than the larger ones from the law's increased regulatory costs. Many went out of business.
Community banks play a critical role in the development of small businesses.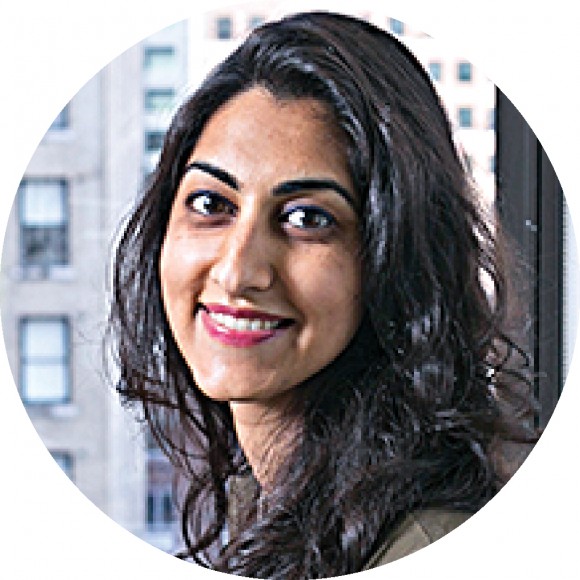 Luvleen Sidhu, president of BankMobile, a startup that provides fee-free banking services, says deregulation is the main reason people are excited about Trump.
"It provides banks with more opportunity going forward to be innovative and to continue to disrupt the space that is quite antiquated and partly being held back by regulators," she said.
Sidhu believes there will be many changes in the financial services sector under the Trump administration. Many fintech companies will have to form partnerships or merge with traditional banks, she said.
BankMobile, a division of Customers Bank, was recently sold to Florida-based Flagship Community Bank.
Bringing Back Manufacturing Jobs
The manufacturing sector added 28,000 jobs in February and 57,000 jobs over the past three months, according to Labor Department statistics.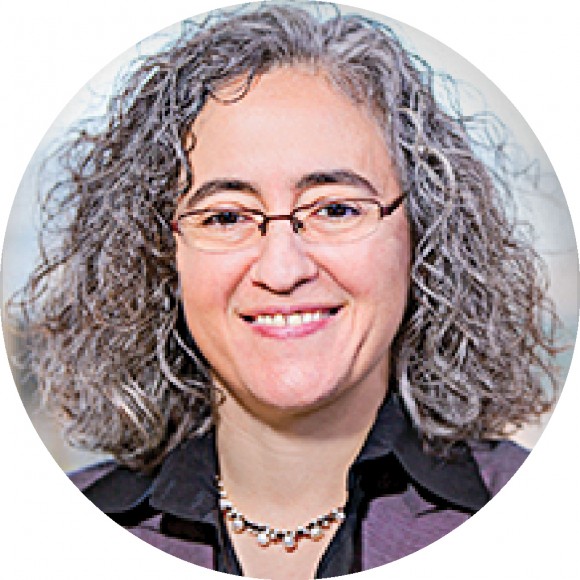 Not all of that can be attributed to Trump, though, says Elise Gould, senior economist at Economic Policy Institute, which focuses on conditions for low- and middle-income families.
"I am optimistic that the economy will continue to recover. … But it is also important to remember that the economy President Trump inherited was pretty strong," said Gould.
Nonetheless, the signs are good. "As employment continues at the rate it is now, more people will be pulled into the labor market. And eventually, unemployment rate will keep falling," she said.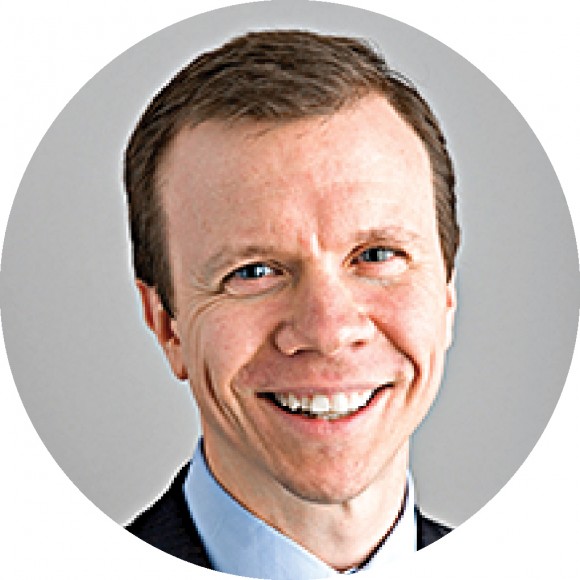 Scott Paul, president of the nonprofit Alliance for American Manufacturing, says there is a guarded sense of optimism among manufacturers.
"I think it's hard to tell whether this is an upswing in both overall job creation and manufacturing," he said. "But one thing that is pretty clear is that businesses and markets do seem more optimistic about what the future holds."
Manufacturers in some sectors are especially hopeful about Trump's proposed tariff and trade policies. Those in direct import competition with China, such as steel, aluminum, semiconductor, and other commodity manufacturers, feel they will be better off, said Paul.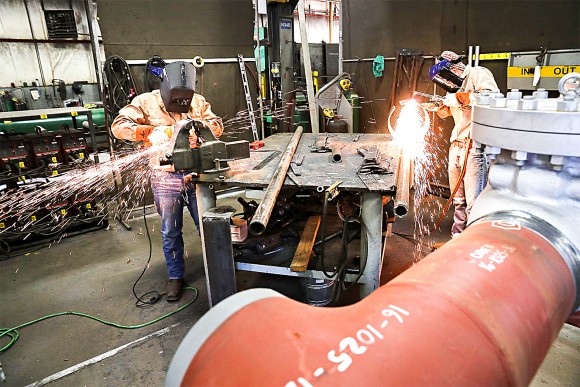 "In the steel sector in particular, over the last two years, there have been about 15,000 layoffs. The fact that some workers are returning to their jobs is certainly good news," he said.
But not all is rosy, according to labor unions.
Rexnord Corp. announced in December that it would close its plant in Indianapolis and move 300 union jobs to Mexico. The plant, which produces bearings, is close to the Carrier facility where Trump claimed credit for saving jobs the same month.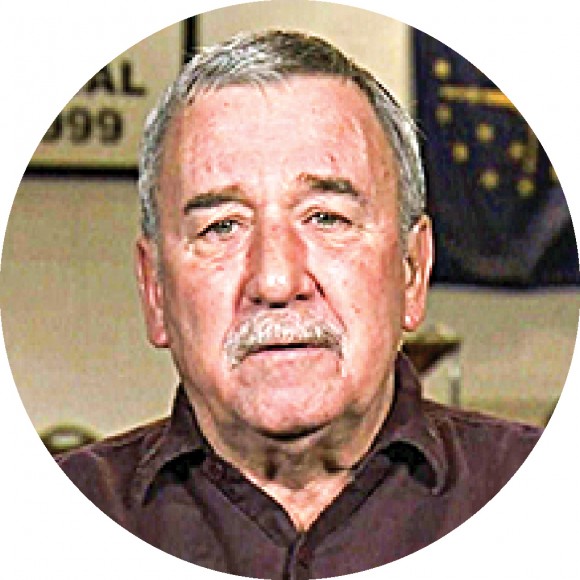 Workers are making $20 per hour in Rexnord's Indianapolis plant, said Chuck Jones, president of United Steelworkers Local 1999.
"We can't compete with $3 an hour wages in Mexico," he said.
Jones was criticized by Trump on Twitter in December, after he blamed the president for misrepresenting the saved job numbers.
"Maybe throughout the country, there's a reason for optimism, but we don't see it in Indianapolis," Jones said.
For Scott Paul, it remains to be seen if Trump can actually deliver on his promises, hence the business optimism may be premature.
"I'm not certain how Congress and the administration will reach a broad agreement on some of these issues. They might, but I don't think any of these will be particularly easy."
Macroeconomic Signs Boost Confidence
For the first time since the financial crisis, signs of positive economic growth are broadly based.
The Federal Reserve gave its vote of confidence on the global economy by raising interest rates this month. The Fed also laid the groundwork for two more rate increases this year, a sign that the central bank expects continued economic improvement.
There are many economic indicators pointing upward.
The gain of 235,000 jobs in February soared past Wall Street expectations and dropped the official unemployment rate to 4.7 percent. More importantly, hourly salaries and wages grew 2.8 percent year over year. The Consumer Price Index, a benchmark for inflation, gained 0.1 percent in February—a solid increase that was otherwise muted by a 1 percent decline in national gasoline prices.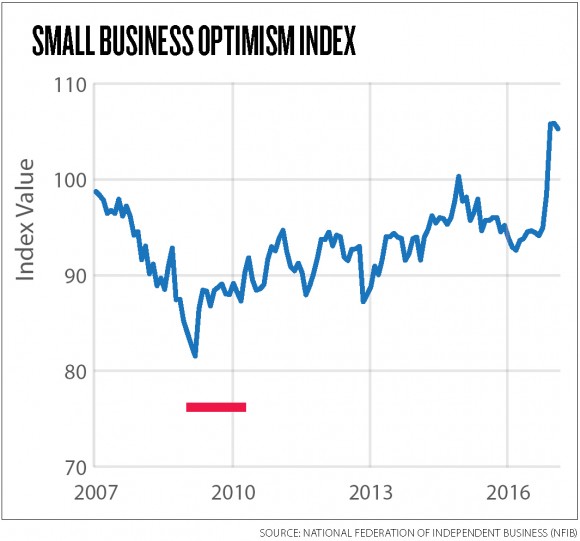 Leading economic indicators are also up. The ISM manufacturing index, which tracks U.S. aggregate manufacturing activity, rose to 57.7 in February from 56.0, exceeding analyst expectations. Increased manufacturing activity signals that producers expect a higher volume of orders and future sales. Despite expected interest rate hikes, housing starts—another precursor to economic expansion—increased 3.0 percent in February to an annual rate of 1.29 million units, the strongest reading in four months.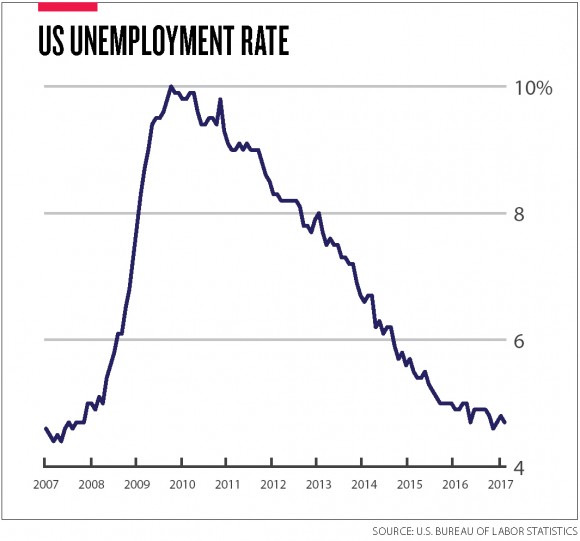 The Federal Reserve Bank of Atlanta estimates a GDP growth rate of 0.9 percent for the first quarter, according to the bank's March 16 GDPNow model.
Economic optimism isn't just confined to the United States. Global GDP grew 2.7 percent in the fourth quarter 2016. For the first quarter of 2017, moderate GDP growth is expected in the United States, the Eurozone, and Japan.
Then there's the stock market. The S&P 500 Index has added 9 percent since the election and 5 percent since Jan. 1.
Equity investors have cheered Trump's business-friendly promises to cut regulation and corporate taxes and to increase infrastructure spending.
Corporate earnings have also turned around. Companies within the S&P 500 reported a 4.9 percent average increase in fourth quarter 2016 earnings. It was the first time the S&P has seen earnings growth in back-to-back quarters since early 2015, according to FactSet.
Sixty-five percent of S&P 500 companies also beat their mean earnings-per-share estimates. While it's true that earnings have been boosted in recent years from cost cuts and stock buybacks, today's lean corporations are well-positioned to further augment economic and wage growth if demand picks up.
But there are uncertainties too that could dent investor enthusiasm. The ongoing debate in Congress surrounding the overhaul of the Affordable Care Act could drag on in 2017, potentially delaying implementation of other policy proposals—such as tax reform and infrastructure spending—to 2018.
A material delay could drain political capital for policy change, especially as midterm elections approach. There's also uncertainty about the effects of Trump's tax plan, specifically the border tax that pits importers against exporters.
"Without revenues from the border adjustment tax, corporate tax rate cuts are likely to be less aggressive than envisioned during the campaign," wrote Ulrik Bie, chief economist at the Institute of International Finance, in a recent analysis. Much of the recent stock market run-up has been driven by hope related to Trump's tax reform, but final details could differ from those fueling initial investor optimism.
Despite the bounty of positive economic indicators, for now the recent uptick in optimism remains just that—optimism.
While businesses gear up for increased production, consumers feel more confident, and the Fed believes rate hikes are justified, it remains to be seen whether optimism will translate into real economic expansion on the ground.