America's Got Talent concluded its 14th season on Wednesday night, crowning its most popular contestant Kodi Lee. Lee, the blind, autistic 22-year-old singer, and pianist is the first disabled person to win America's Got Talent (AGT).
"I feel so amazing," he told Terry Crews after winning. "Unbelievable!"
Lee's success was inevitable ever since he won a golden buzzer from judge Gabrielle Union after his first performance of Donny Hathaway's "A Song for You" broadcast on Tuesday, May 28, 2019.
Judge Julianne Hough was bewildered by Lee's first performance and could not stop crying.
"I'm going to remember this moment for the rest of my life," said judge Simon Cowell.
His mother explained on stage that music allowed Lee to overcome his struggles.
"Through music and performing he was able to withstand living in this world because when you're autistic it's really hard to do what everybody else does. It actually has saved his life, playing music."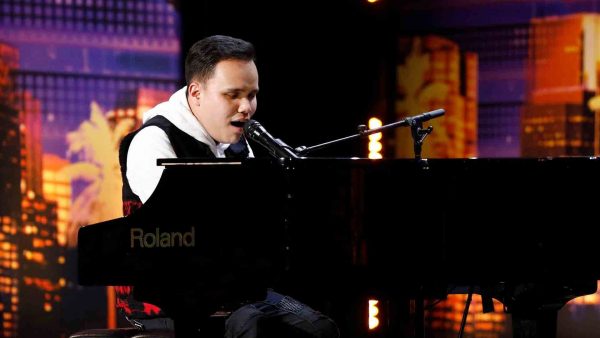 At last, judge Gabrielle Union slammed her first golden buzzer on AGT, creating one of the most emotional moments in the history of the show.
In the quarterfinals, Lee won praise for his performance of "Bridge Over Troubled Water." Audiences and judges were completely captivated by his voice.
The final contestants competing for the grand prize of $1 million and a show on the Las Vegas trip were; violinist Tyler Butler-Figueroa, acrobatic dance group V. Unbeatable, opera singer Emanne Beasha, Detroit Youth Choir, black light dance group—Light Balance Kids, Ndlovu Youth Choir, singer Benicio Bryant, Voices of Service quartet, and comedian Ryan Niemiller.
Lee was nervous but excited to perform. "I'm happy-nervous," Lee said. "But my family is always there for me. My mom is always there for me. Thank you, mom, for all the help. My dreams are coming true!"
Finally, Lee beat out all finalists with his song cover of Freya Ridings'"Lost Without You" and received a standing ovation from the audience. He and his mother Tina jumped for joy when the announcement was made.
When asked what he'll do with the 1 million dollar prize, he said, "I would buy lots of grand piano in every color."
Lee is not the only disabled performer celebrated in the finals but Comedian Ryan Niemiller, the self-proclaimed "Cripple Threat of Comedy" took third place according to The Mighty News.
Detroit Youth Choir finished second; acrobatic dance group V. Unbeatable finished fourth, and the Voices of Service quartet finished fifth.
Simon Cowell called the show the "best final we've ever had".
The L.A.'s Finest actress says, " The Kodi Lees of the world remind us that we have to look for talent everywhere because we're leaving a lot on the table. Kodi snatched everybody's things and showed just how amazing and talented and world-changing artists can be if they're given a chance and a platform."