America's 21st Century Student: Character, Courage, Community
October 15, 2015 1:32 pm Last Updated: January 1, 2016 7:47 pm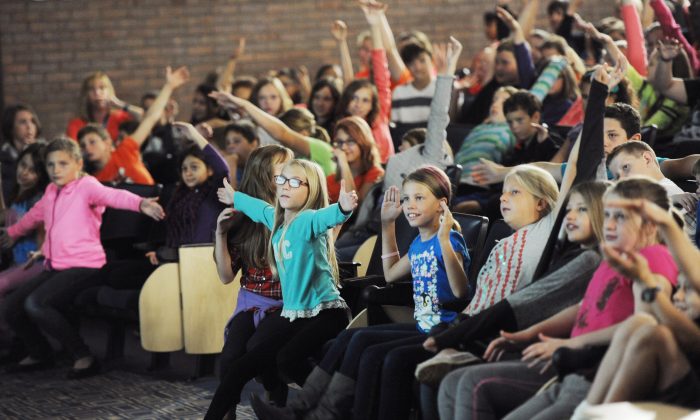 It has been my honor to conduct leadership initiatives for law enforcement, community leaders, parents, and government officials throughout my career.
But my character education programs for high school and college students are critical as America's youth are the future of the nation.
Each American student deserves example, encouragement, and empowerment to cultivate virtues critical to society: character, courage, and community.
Each American student deserves example, encouragement, and empowerment to cultivate virtues critical to society: character,
courage
, and community.
America must also have the character to make college costs reasonable so that students can avoid financial hardships, which are compounded by a lack of gainful employment after graduation.
Character: The Heart of Education
Character education must be inseparable from security protocols, academic development, and building connections with the community.
Be a Person of Character: Change the World has been my signature presentation for students. It is modified for each venue due to the different social, cultural, and emotional dynamics of each assembly.
Character education must be inseparable from
security
protocols, academic development, and building connections with the community.
Through an honest assessment of contemporary concerns in the nation—indicated by the realities of corruption, scandal, violence, broken families, alcohol/substance abuse, driving under the influence tragedies, and toxic relationships—this program challenges students to influence America, one person at a time, by living a life of character.
Tragic headlines, familiar to many of the students, are honestly presented and evaluated including the following:
The murder of Yale student Annie Le, whose body was found on what should have been her wedding day.
The suicide by bullying tragedy of Phoebe Prince from South Hadley, Massachusetts.
The sexting incident that led to the death of 18-year-old Jessie Logan from Cincinnati, Ohio.
Megan Meier's loss of life due to a cyberbullying online hoax. Megan committed suicide by hanging herself just prior to her 14th birthday.
Michael Brewer, 15, set on fire after been doused with rubbing alcohol by three teens, ages 13, 15, and 16 in Broward County, Florida, after a stolen bicycle incident. Over 65 percent of Michael's body was burned.
The shocking murder of lacrosse player Yeardley Love at the University of Virginia as a repercussion to missed warning signs of a toxic relationship.
The brutal text rage beating into a coma of teenager Josie Lou Ratley. Josie spent 41 days in the hospital in Fort Lauderdale, Florida, and had 3 surgeries.
In light of tragedies such as these, this presentation emphasizes that by living a life of character, people can be favorably influenced and communities transformed. This character education program encourages students to change the world by helping others do what is right.
Character: Transforming Lives and Communities
Being a person of character in all our actions, including the manner in which we express ourselves through online social networking is a necessity.
Positive contributions made throughout the country by young students, as documented in numerous published reports, are utilized as a call to action, including the following:
Elizabeth Torres—An accomplished speaker who encouraged students by saying, "We won't stumble. We've come to save the world."
Brittany Merrill—Started a nonprofit to help Uganda's poor, raising donations to build an orphanage, drill 23 clean water wells in displaced communities, and constructing 2 vocational training centers.
Aaron Fotheringham—Born with spina bifida but became an extreme sports competitor and champion.
Sadiya Buta—Came to the United States from war-torn Somalia and became a star tennis player with perfect GPA.
Taraje Williams Murray—A four time national judo champion who perfected his skills with grueling training programs.
Matt Cerner—Founded a sports clinic for children of special needs, working with 100 special needs children and their families.
Winnie Phan—Started a safe walk home and to school program with older students mentoring younger students afraid of walking in troubled neighborhoods.
The call to action is also inspired by the life of Rachel Scott, the first student killed at Columbine. Rachel's example of kindness and compassion, coupled with the contents of her 6 diaries, which have become the foundation of a life changing character education program for American schools, is always warmly received by students.
Final Reflections
As with all of my presentations, this character development initiative concludes with a tribute to our American military who serve our nation in harm's way, allowing us our liberty, democracy, and freedom.
Every educational community must be fully dedicated to character education. This philosophy is vital to reawakening the nation by giving hope, vision, and inspiration to our youth who must reignite America's torch of character, courage, and community.

Vincent J. Bove, CPP, is a national speaker and author on issues critical to America. Bove is a recipient of the FBI Director's Community Leadership Award for combating crime and violence and is a former confidant of the New York Yankees. His newest book is "Listen To Their Cries." For more information, see www.vincentbove.com
Disclaimer Text:
"Views expressed in this article are the opinions of the author and do not necessarily reflect the views of The Epoch Times."