A Pennsylvania woman died this week after she was reportedly swept out to sea in the Dominican Republic.
Surely Miller's body was recovered by a local fisherman on June 12, reported Dominican Today.
She vanished from a beach in Cabarete on Tuesday, Dominican Today reported.
Miller, a 42-year-old yoga teacher and mother of three, went swimming in Puerto Plata before she was dragged out to sea by a strong current, and she was carried more than two miles away from the coast, the report said.
Yoga teacher dragged out to sea is latest to die Dominican Republic https://t.co/AGXyZMzkUn pic.twitter.com/BaYzX5u7N1

— New York Post (@nypost) June 13, 2019
Miller's body will be examined by a medical examiner, identified in the report as Dr. Ruth Esther Rosario, before it will be taken to the National Institute of Forensic Sciences (INACIF) in Santiago de Los Caballeros.
A companion of Miller's reportedly saw her being dragged out by the current, and they weren't able to rescue her.
"We were playing around having fun," Karan Bindra told The Morning Call. "Before we knew it, we were both sucked into a current and were being swept away from the beach into a large coastline of sharp rocks."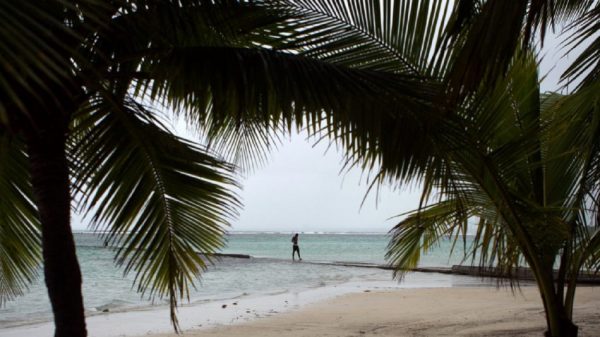 Bindra added that her body was found about 35 minutes away from where she went into the ocean.
"She's in my heart," he added to the news outlet. "She is no longer just a person. She is love. She is everything she manifested in this world."
He said that Miller and Bindra decided to move to the Dominican Republic about six months ago.
PA Yoga Teacher Surely Miller Becomes 9th America To Die At Dominican Hotel Tuesday https://t.co/QxBQX8f9Sm pic.twitter.com/1BjodKvnAC

— Siglov Freudivan (@DerangedRadio) June 13, 2019
"The plan was to follow our heart," he said, adding that they had about $5,000 between them before moving.
The deaths of several American tourists who have reportedly died in the Dominican Republic made headlines recently, but Miller's case appears to be different as she was swept out to sea. The other Americans allegedly died from mysterious illnesses.
Miller owned a studio named Surely Yoga in Slatington, Pennsylvania, and she taught classes, according to her biography. She had worked in Orlando, Mexico, the Dominican Republic, New York, and Miami.
A yoga local studio where she also taught, Tribe Yoga, confirmed her death Wednesday via Facebook.
"Honoring our beloved friend and teacher Surely Miller tomorrow," the studio said. They will hold a class "dedicated to her beautiful spirit."
"Just heartbreaking. Surely Miller was so full of love and life. She will be greatly missed," Rebecca Olesen wrote on Facebook.
A GoFundMe page was set up to help raise money for Miller's three children. "Our beloved Surely Miller passed on after a swimming accident in the Dominican Republic leaving behind her three sons, Dylan(15), Miles(11), and Preston (9)," the page says.
"Surely has blessed so many of us with her warm healing touch and the best thing we can do for her now is make sure her children are taken care of. Surely along with their father Donovan have done a wonderful job raising these boys to this point," the page added. "Lets give back to Surely and help in a way she no longer can by ensuring the well being of her children. Our goal is to provide financial support in whatever area they may need especially their educational and spiritual development."
Rip Currents: Silent but Deadly
According to The Weather Channel, at least 21 people in the United States have been killed by rip currents so far in 2019. A rip current is a strong and narrow stream of water that flows away from the beach back into the ocean (or the Great Lakes).
"Sometimes you can spot a rip current because it can look darker than surrounding waters. Another sign is an area where waves do not break, with breaking waves on either side. You can sometimes see water, or seaweed, moving away from the beach," the Weather Channel says, but it adds that they are hard to spot.
They're also strongest during low tide and stronger currents are likely to occur with strong winds.
In the United States, beaches usually have flags, and a green flag means low risk, a yellow flag means moderate risk, and a red flag means that strong rip currents are expected.
The National Weather Service noted that it's best to only swim at beaches with lifeguards present, don't assume that nice weather means it's always safe to swim at the beach, and always check water conditions before going out.