America must pause to reverently honor the lives of two high beloved students gone too soon.
These 15-year-old students from Marshall County High School in Benton, Kentucky were the latest victims of our school violence crisis, dead at the hands of a 15-year-old gunman.
The two students knew each other since kindergarten where they sat right beside one another. They grew up together, continually interacting with each other in their tight-knit community.
Bailey Nicole Holt was described by her aunt as the "salt of the earth."  Bailey loved wearing jeans, listening to classic rock, and college sports.

Preston Ryan Cope was on the school baseball team and loved the St. Louis Cardinals.  Preston was described by a family spokesperson as "caring, compassionate, with a gentle spirit, and the biggest heart."
America must pray for their families, friends, communities, classmates, and the 18 other victims of the tragedy.
We must also be fully dedicated to ending these tragedies through courage, commitment, and community.
Listen To Their Cries: America's Clarion Call
America must listen to the cries coming from Kentucky, and from communities throughout the nation that have suffered from tragedies.
The school violence crisis will continue unless we respond collaboratively.

America must not wait for the next school violence tragedy.  It is time to stand up and be counted as a dedicated member of the community and get involved with our youth through the schools.  Failure is not an option for the price is too great.  We must prevail in taking back America from the culture of violence which has become so massive, heartbreaking, and pervasive.
America must not be desensitized through a continuous, reprehensible, and intensifying bombardment of violence.  We must become and remain outraged and respond with full force determination and reawaken to a nation with a clear moral compass.
Our nation has suffered for too many years with a crisis of leadership.  We must dedicate ourselves to a renewal of character, courage, and compassion for a transformation of America, only possible through our homes and in our schools.
Preventing Violence: Empowering Communities
Just a few days prior to the Benton, Kentucky tragedy I addressed 100 members of the Bergen County Police Chiefs Association (BCPCA) on Jan. 18 in Old Tappan, New Jersey.  My remarks on school violence prevention crystalized my presentations and published works since the Columbine tragedy in 1999.
Although many programs are essential for a comprehensive school violence prevention program, these quick tips were shared with the BCPCA as critical initiatives for American schools:
School Vulnerability Assessments (SVA): these must be conducted by reputable, board certified professionals in security. They are much more comprehensive than security surveys and cover all issues relative to the school including physical, personal, and procedural security.  The importance of interviewing members throughout the school community is essential to the SVA.  These include administrators, mental health professionals, teachers, students, parents, school bus drivers, and vendors.
Professional Development Programs: these programs are important for all staff members and must include coaches, parents, cafeteria personnel, and all involved with the school. It should involve insights from U.S. Department of Education and U.S. Secret Service documents on school security that include Early Warning Timely Response: A Guide to Safe Schools, Practical Information on Crisis Planning: A Guide for Safe Schools and Communities, Helping Your Child Become a Responsible Citizen, The Final Report And Findings Of The Safe School Initiative: Implications For The Prevention Of School Attacks In The United States, Threat Assessment in Schools: A Guide To Managing Threatening Situations And To Creating Safe School Climates, and Character Education: Our Shared Responsibility.
Character Development Initiatives for Students: Schools must provide the leadership to instill a culture of character. Character is critical to America and we will only transform the nation from a culture of violence when it's importance is consistent, exemplified, and rewarded in our schools.
School Resource Officers (SRO): The document, "To Protect & Educate: The School Resource Officer and the Prevention of Violence in Schools," published by the National Association of School Resource Officers (NASRO) is recommended. The SRO is a priceless component of violence prevention and character education for our schools. This community policing initiative affords the opportunity not only for violence prevention and education but also promotes a positive rapport between law enforcement and students. Schools should do everything possible to have an SRO program and law enforcement should be fully committed with the most qualified, trained, certified, and dedicated professionals available.
Other important elements for school security include board certified security directors, bullying prevention programs, crisis management teams, threat assessment teams, and updated emergency plans.
Broken Communities: Lessons Learned
According to a published report in 2006, there were at least 25 security personnel protecting John McDonogh High School in New Orleans due to grave security concerns.
Many of the students at the school lived on their own or with other students since their parents were displaced due to Hurricane Katrina. The displacement has been a powder keg for anger continually manifested through violence.
During the first six weeks of the 2006 school year, a teacher and security guard were brutally beaten by students and hospitalized. Many other students attacked other security personnel, teachers, and a police officer. Over 20 students of the 775 faced expulsion and another 50 had already been suspended. The principal stated there were fights every day and there were six very serious assaults.
The grave security concerns at the high school where students displaced from their families were caught up in a battlefield of fights, assaults, and a dangerously distressing atmosphere offers a profound insight into the need for community. Whenever there is community brokenness, whether it is the community of the family, neighborhood, school, town, or city itself, this breakdown can contribute to inappropriate acting that includes numerous degrees of violence.
Community is part of the internal ticking clock of the human condition and vital for personal growth, health, safety, and welfare. Each and every human being is inherently social by nature. In light of this social dimension, the concept of community policing, such as the SRO program, and its proper implementation, is critical for school violence prevention.
Final Reflections
America must turn the tide from this scourge of school violence.
We must build on the pillars of courage, commitment, and community to secure our schools.
Every educational community must be fully dedicated to this mission and inspire our youth with a bright future for America, full of hope, security, and character.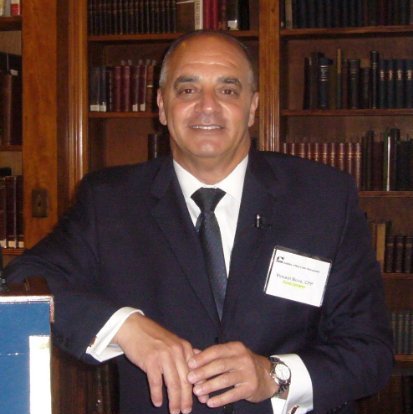 Vincent J. Bove, CPP, is a national speaker and author on issues critical to America. Bove is a recipient of the FBI Director's Community Leadership Award for combating crime and violence and is a former confidant of the New York Yankees. His newest book is "Listen to Their Cries." For more information, see www.vincentbove.com
Views expressed in this article are the opinions of the author and do not necessarily reflect the views of The Epoch Times.