Policing is critical to American society and must perpetually stand on the pillars of ethical leadership, trust, and community.
When these principles are honored, communities are safeguarded, and America's way of life is protected from discord, lawlessness, and turmoil.
Yet, one would be naïve to miss the challenges policing in America is experiencing.
The spotlight on policing illuminates the critical need for improving police-community cohesiveness. Society will thrive when character, moral courage, and respect are catalysts for police-community partnerships.
Effective policing in America is mission critical for a harmonious society. Strengthening this noble profession through police-community unity must be a priority for the country.
Our nation deserves a commitment to police-community collaboration, underscored by principles of justice, accountability, and transparency. These qualities are essential not only to law enforcement professionals but to everyone privileged to call America home.
Restoring Trust, Building Community
In my article titled "America Policing: Restoring Trust, Building Community," published in the Epoch Times on Oct. 20, 2016, police-community controversies are addressed.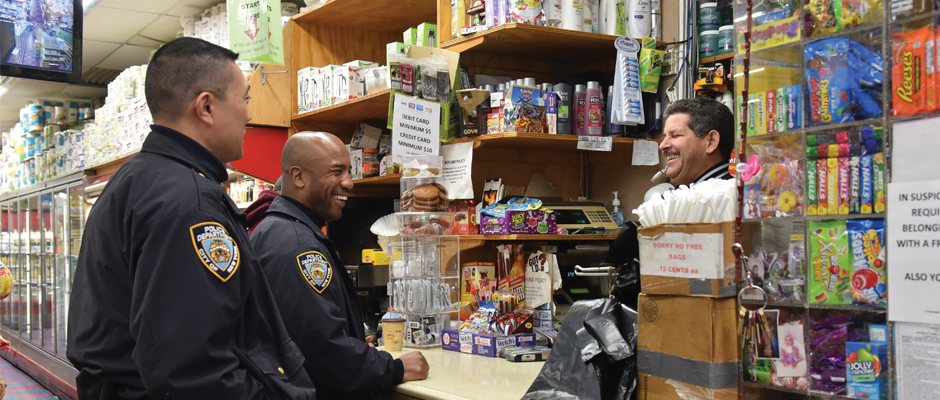 The article underscores America's need for a "clarion call to renew, restore, and rejuvenate police-community unity."
The indisputable reality of negative repercussions of police-community controversies are also addressed.
The article highlights that "any breakdown of trust between community and police demands an urgent, unwavering, and complete dedication to remedy the problem." Building trust and enhancing human contact with respect as its foundation is crystalized as mission critical.
Additionally, the article asserts that respect, the heart of policing, "must always be complemented by improving use of force standards, enhanced training and certification initiatives, transparency and accountability, and a renaissance of ethical values in policing and throughout all of society."
NYPD Chief of Patrol: Leadership, Trust, Community
The importance of leadership, trust, and community was stressed by Chief Rodney Harrison of the NYPD at an event I attended on Wednesday, Sept. 12, 2018 in lower Manhattan.
Read More
Chief Harrison was the featured speaker to a standing room only audience for the First Precinct Financial Area Security Council. The council is a partnership of law enforcement, private security professionals, and community leaders dedicated to safeguarding New York City.
Prior to his appointment as Chief of Patrol, Chief Harrison has worked in every borough of New York City in his well-decorated 27-year NYPD career.
As Chief of Patrol, Chief Harrison is responsible for over 17,000 members of the NYPD Patrol Bureau. This is the largest and most visible bureau in the NYPD.  It is divided into eight borough commands comprised of 77 police precincts throughout the city.
These precincts are comprised of diverse populations, and the typical NYPD precinct is the size of a midsize American city, ranging from 70,000 to 150,000 people.
During his presentation, Chief Harrison stressed that the record crime reduction trends in New York City are only possible through police-community collaboration.
He also stressed that the heart of this collaboration is a shared responsibility and bridges of trust between the police and community.
Chief Harrison also stated that shared responsibility and trust is the pillar of the extraordinary Neighborhood Policing commitment.
Neighborhood Policing is a comprehensive crime-prevention, and crime-fighting philosophy.  It is built on communication and collaboration between all members of the NYPD and the community.
Essential to Neighborhood Policing, as expressed by Chief Harrison, is the Neighborhood Coordination Officers (NCOs).  These are police officers who serve as liaisons with the community, and also serve as crime-fighters and problem solvers.
The NCOs work closely not only with community residents and leaders, but with local detective squads.   In their leadership roles for the NYPD, NCO's are able to effectively respond to incidents and issues due to their iron-clad community partnerships.
Belleville Police Department: A Shining Moment
The importance of leadership, trust, and community was also the focus of another law enforcement event I attended.  The event was summarized in my Sept. 10, 2017 article for the Epoch Times titled "Best Time to be a Cop in America."
On Thursday, Aug. 31, 2017, I had the privilege of attending the Belleville Police Department promotion ceremony at their New Jersey headquarters.
During the ceremony, a newly promoted captain, Nicholas G. Breiner, as with Chief Rodney Harrison, also represented the ideals of law enforcement. This was expressed through the introduction of his well-decorated career and through his inspirational remarks.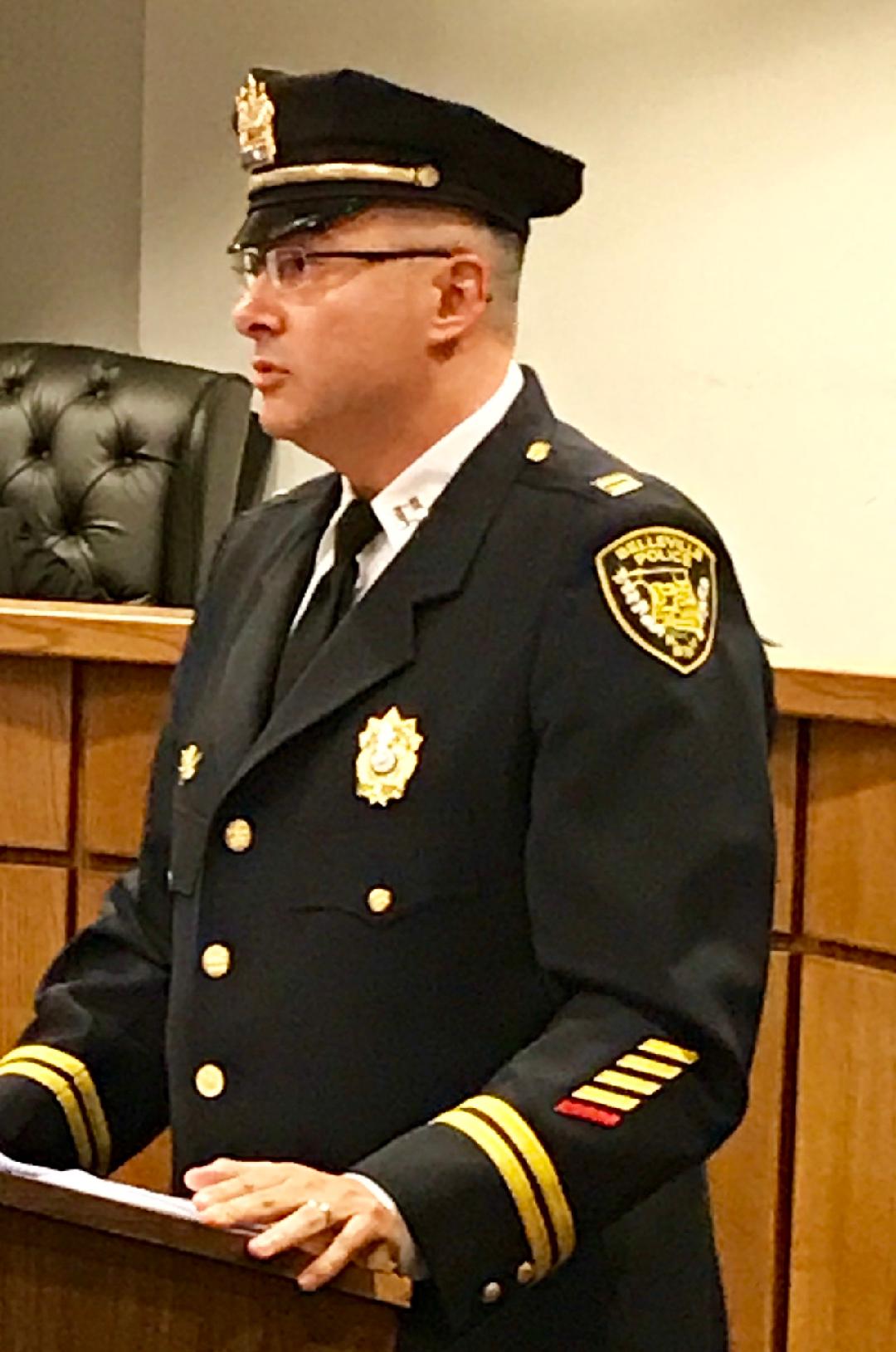 In short, Captain Breiner's illustrious career includes over twenty-five years of progressively responsible security, law enforcement, and military accomplishments.
Captain Breiner served as the Commander of the Professional Standards & Training Bureau for the Belleville Police. This role led to the Belleville Police Departments accreditation by the New Jersey State Association of Chiefs of Police on March 9, 2017.  The accreditation involved his service as the subject matter expert on departmental policies and procedures, and working with officers and supervisors to increase the efficiency of their organization.
Aside from law enforcement, he is also serving as a Major as well as Director of Operations for the 204th Intelligence Squadron of the New Jersey Air National Guard.
After honestly addressing contemporary policing challenges of mistrust in communities, Captain Breiner inspired his audience stating that this was the "best time to be a cop in America."
He first graciously acknowledged family, friends, and guests. Then, he called upon the future leaders of policing to understand the privilege of their profession. Captain Breiner urged them to lead by example, serve selflessly, and build bridges of trust with the people they serve.
As with Chief Harrison, his remarks to a standing room only audience, crystallized police professionalism, dignity, and respect.  Captain Breiner stressed that this is a time for law enforcement to build on the pillars of courage, innovation, dedication, and building bridges of trust.  These pillars, according to Captain Breiner, stand as the hallmarks of effective policing.
Final Reflections
These are indisputably challenging times for policing in America. Yet, as articulated by both Chief Harrison and Captain Breiner, it is the time for leadership, trust, and community.
In conclusion, I would humbly refer readers to my article titled "Principles of American Policing," published in the May 1, 2015 edition of the Epoch Times.
The first principle states that "Being pro-police and pro-community are inseparable, indefatigable, and pre-eminent. Police must at all times remain fully committed to protecting and serving the public through character, ethics, and leadership that is total and wholehearted. Police must be guided by a moral compass that honors the community, Constitution, and Bill of Rights."
America will be on the path of a reawakening when this principle, so alive by NYPD's Neighborhood Policing commitment, and at the Belleville Police Department's promotion ceremony, is imitated nationwide.  We must all be dedicated to ethical leadership, building trust, and a shared responsibility to safeguard communities across America.
Vincent J. Bove, CPP, is a national speaker and author on issues critical to America. Bove is a recipient of the FBI Director's Community Leadership Award for combating crime and violence, author of 275 works including four books, and former confidant of the New York Yankees. His newest book is "Reawakening America." For more information, see www.vincentbove.com, or twitter.com/vincentjbove
Views expressed in this article are the opinions of the author and do not necessarily reflect the views of The Epoch Times.