An American pilot died when a Ukrainian air force plane went down during a training exercise on Oct. 16, officials said.
Two pilots, including the American, died in the crash in the Khmelnytskyi region about 200 miles from Kyiv, the capital, according to the country's Defense Ministry, Radio Free Europe reported.
"A Sukhoi-27 plane crashed at around 5 p.m. local time during a training flight," the General Staff of the Armed Forces of Ukraine said. "The bodies of the two pilots have been found," it added.
"We are aware of a Ukrainian Su-27UB fighter aircraft that crashed in the Khmelnytskyi region during Clear Sky 2018 today. The incident is currently under investigation and do not have any other information to provide at this time. We will provide more information as soon as it becomes available," the U.S. Air Forces in Europe and Air Forces Africa said in a statement.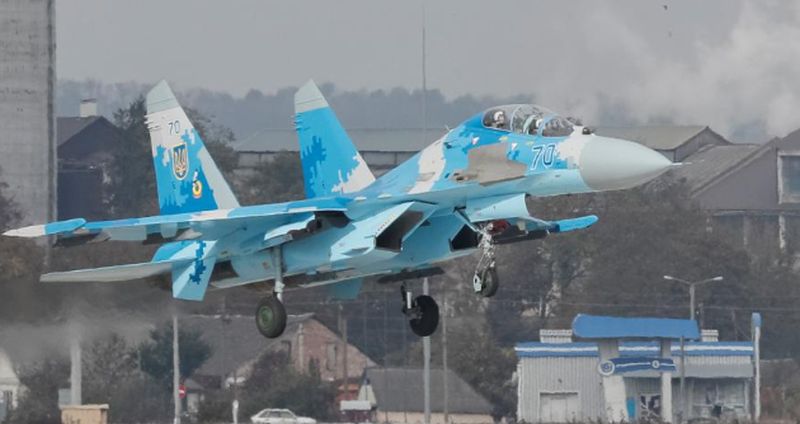 "We have seen reports claiming a U.S. casualty and can confirm a U.S. service member was involved in this incident. It is currently under investigation and we will continue to provide more information as it becomes available," it added.
Details of the plane crash, including the cause, are not clear.
The U.S. Air Force said last month that Ukrainian and U.S. military forces would take part in a joint exercise in mid-October 2018.
"This year marks the 25th anniversary of collaboration between the California Air National Guard and Ukraine as part of U.S. European Command's State Partnership Program, and this exercise will include robust participation of California ANG units. Aircraft from California units will include F-15C Eagles and a C-130J Super Hercules," said the Air Force.
"Training will focus on air sovereignty, air interdiction, air-to-ground integration, air mobility operations, aeromedical evacuation, cyber defense, and personnel recovery," it added. "This exercise aims to enhance regional capabilities to secure air sovereignty and promote peace and security through cooperation, collaboration and interoperability with NATO partners and other allies in the region."