American Joey Lane won his first professional title at the PGA China Series event, Dongguan Open which concluded at the Mission Hills Norman Course last Sunday. The tournament was deemed finished after just 36 holes of play following another weather delay. Earlier in the week the event had already been reduced to 54 holes.
Although about half of the field had to complete their second round on Sunday, Lane did not need to play a stroke as he concluded his round the day before. Lane carded an 8 under par 62 for round one and followed that with a 2 under par for round 2 setting a target of 130 strokes, 10 under par.
Yuwa Kosaihira of Japan had the best chance of catching Lane when sitting 3 shots off the pace with 6 holes still to play, but he was unable to catch up, finishing on 133,  7 under par to take 2nd place.
Richard Jung of Canada and Masamichi Uehira of Japan tied for third place on 6 under par with a further two players, American Charlie Netzel and France's Cyril Bouniol in a tie for fifth place
"It's a hard golf course, and there were some tough pins so from tee to green it was awesome, probably one of the best rounds I've ever played," said Lane.
"Inside of 10 feet, I made almost everything so it was just a great round and one that only happens every once in a while" Lane added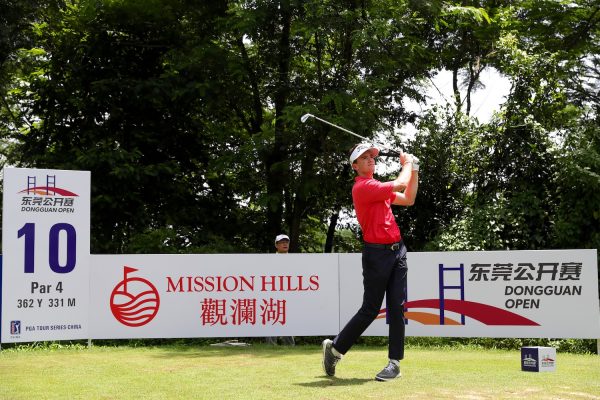 This is Lanes first year on the PGA Tour Series China and this win has moved him up 22 places into eighth place in the Order of Merit.
"It's an awesome feeling. This is actually my first professional win on any Tour, and this is the best Tour I've played on so it's an awesome week," said Lane,
"Top-10 has always been one of the main goals for this year, so to stay in the top 10 would be great. Obviously I have my eyes on a top-five (Order of Merit finish) also, and with four more events, hopefully I can play well and keep moving up."
Although the top three order of merit leaders Max McGreevy (US), Trevor Sluman (US), David Kocher (US) are over 300,000 Yuan ahead he is now in shooting distance of a top five finish.