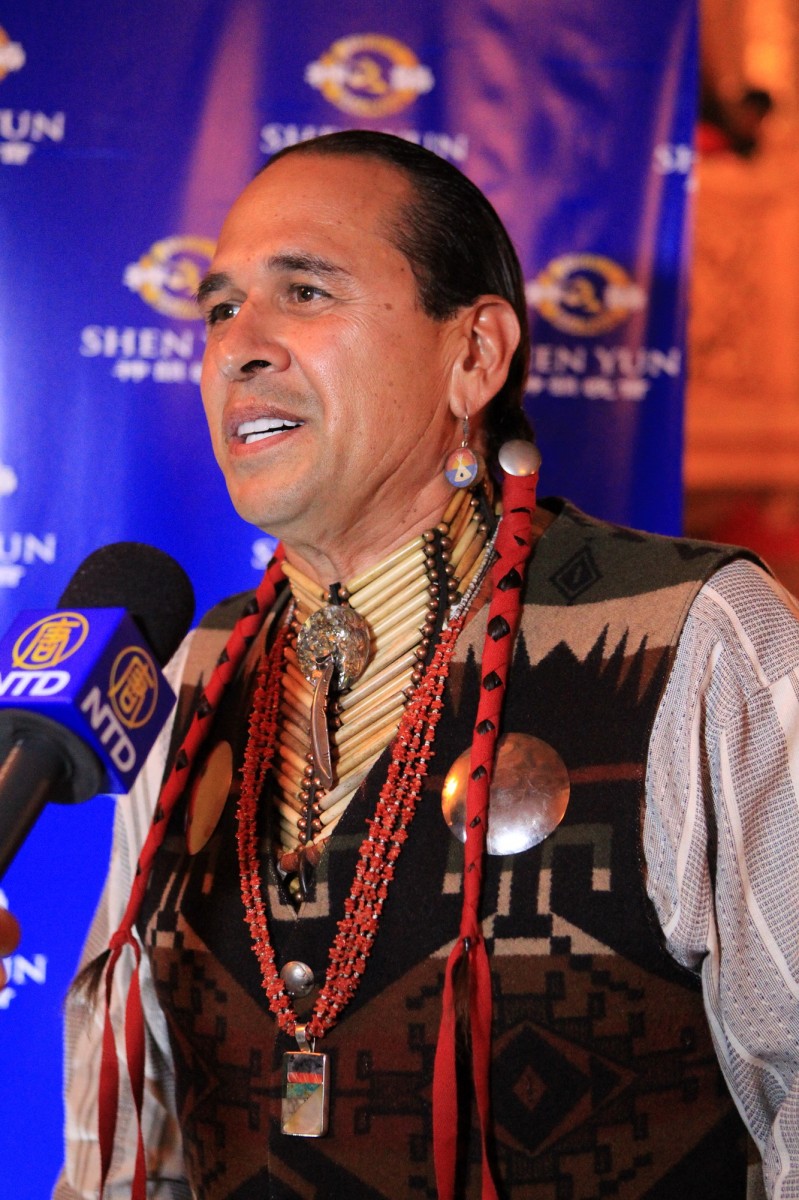 MELBOURNE, Australia—Shen Yun Performing Arts graced the stage at the Regent Theatre, giving a compelling look into the annals of civilization.
"Amazing," said Lakota John, an American Indian spiritual healer. "The spirit of the dancers—just off the chart."
At the heart of Shen Yun is classical Chinese dance, an ancient system that is both one of the most comprehensive and one of the hardest to master in the world, according to the company's website. It involves complete training in the fundamentals, and systematic training in movements and postures and very difficult jumping and tumbling techniques.
"When you see the dance and you feel the energy of it, immediately that sparks and ignites the heart," said Mr. John, describing the feeling as an awakening.
Shen Yun, based in New York, criss-crosses the globe reviving the 5,000 year-old, divinely-inspired Chinese culture after it was nearly decimated by communism, according to the company. This ancient culture is imbued with values such as "the concepts of 'man and nature must be in balance,' 'respect the heavens to know one's destiny,' and the five cardinal virtues of benevolence, righteousness, propriety, wisdom, and faithfulness."
Mr. John the Shen Yun messages carried a spiritual essence.
"Get out of yourself, look for that higher power, that power greater than yourself … raise your elevation, your vibration, whether through song, dance, fasting, prayer. That's what I got, the message I got."
These spiritual elements inherent in Chinese culture, he believed, were linked to his own ancestral Cheyenne traditions. "To me it was just reading between the lines and looking at the dance and the culture and I see our culture in the Asian culture.
"There is a disconnection there, we have fallen into this three dimensional world that's keeping us separate from what's true and the reality of what's out there when it comes down to spirituality."
Mr. John was leaving the venue prepared to tell his friends to come and witness what he had.
"I would say just open up your mind and heart and come and experience something that we call 'waken' which is sacred," he said. "I am just privileged, I feel great tonight. It was nice, it was nice being here."
Reporting by NTD Television and Zachary Stieber.
Shen Yun Performing Arts, based in New York, tours the world on a mission to revive traditional Chinese culture. Shen Yun Performing Arts New York Company will perform at the Canberra Theatre, in Canberra, April 17 and 18.
For more information, visit ShenYunPerformingArts.org.
The Epoch Times is a proud sponsor of Shen Yun Performing Arts