American Chris Horner Leads Halfway Through Vuelta a España
September 3, 2013 2:29 pm Last Updated: September 3, 2013 2:29 pm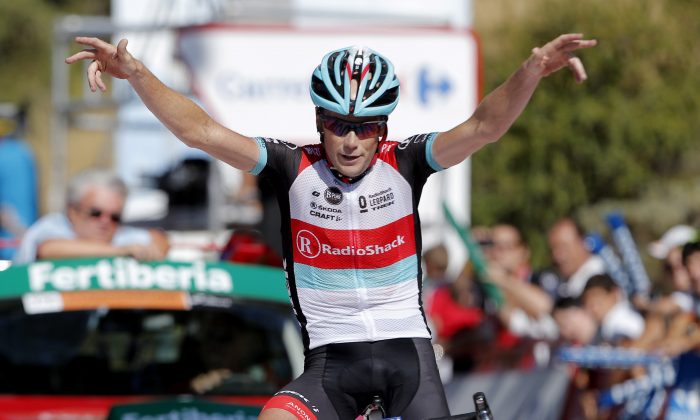 After ten of twenty-one stages of the 2013 Vuelta a España, 41-year-old American Chris Horner has almost a minute's lead on his much younger competitors.
Horner, riding for RadioShack-Leopard Trek, took the race lead with a solo attack in Stage Three, lost it by three seconds in Stage Four, and took it back with an even more impressive solo attack in Stage Ten.
Horner's two stage wins were his first and second in a Grand Tour in his 18 years as a pro. He has won plenty of stages and plenty of races, including the Vuelta al País Vasco in 2010 and the Tour of California in 2011, but nothing in cycling's three biggest races.
At 41, Horner is the oldest rider to have won a Grand Tour stage; if he wins overall, he will be the oldest Grand Tour winner in cycling history by half-a-dozen years.
"I love racing," Horner said on the RadioShack website. "Everyone keeps asking me when I am going to retire, but I won't do that until I feel like I'm just suffering all day on the bike and never winning bike races. At this moment I feel like I can keep racing forever."
Even more impressive than Horner doing this at age 41, is his doing it just a few months after knee surgery. He had to stop racing after the Tour of Catalunya in March with persistent pain, had surgery in the first week of June, and was back on the bike—and in shape—to win Stage Five in the Tour of Utah in early August.
"Utah was my first race since end of March but I'm back now and I feel good and motivated to win some races. I've trained very hard and now I'm back to work," Horner said. "I think I can win the Vuelta." He would not only be the oldest to win a grand Tour, he would be the only American to win the Vuelta.
Not bad for a guy just over a month away from his 42nd birthday.
His performances in the Vuelta show that Horner is at least as healthy as at any time in his career. He simply rode away from the field in the final kilometer of Stage Three, and his attack in Stage Ten was even more impressive.
Stage Ten was the first serious mountain day of the Vuelta, with a long Category One climb followed by the Beyond-Category Alto de Hazallanas, which started with a ridiculously steep 18-percent grade, dropped to 15 percent in the middle, and kicked up to 18 percent again before the finish.
Here Horner attacked 4.6 km from the finish, again just riding away from some of the best climbers in professional cycling. Astana's Vincenzo Nibali, winner of the 2013 Giro d'Italia and the favorite in Spain, tried to catch Horner in the final two kilometers but couldn't close the gap.
The RadioShack rider finished the day back in the lead by 43 seconds over Nibali, and another five seconds ahead of Saxo Tinkoff's Nicholas Roche. Movistar's Alejandro Valverde, the 2009 Vuelta winner, is 1:02 back, and Katusha's Joaquin Rodiguez is at 1:40. The rest of the field is more than two minutes behind.
The next stage will be a time trial, not Horner's favorite discipline, but it includes a climb in the middle, so he might manage to keep the race lead. If not, he plans to get it back on one of the upcoming mountain stages.
"I don't expect to hold the jersey after the time trial – that isn't my specialty and Nibali is a very good time trialist. I have a little bit of a time cushion now but I'm sure Nibali knew he could give me some time before the time trial and not worry about it. I can stay very close after that until we go to another mountain stage and that will decide this Vuelta."
Seven of the remaining eleven stages are in the mountains, and six of those feature summit finishes—exactly the type of terrain where Horner won in Utah, and both Vuelta stages. The race is only half over, and the competition is first-rate, but Chris Horner is climbing as well as or better than ever.
RadioShack will be withdrawing its sponsorship from the team after 2013, and Horner's contract there is up at the end of the year anyway. A Vuelta win would be a great way to end his Grand Tour season—and kick of the next phase of his career.
He can't really keep racing forever—can he?