A U.S.-born Muslim woman said on Saturday she regrets having joined the ISIS terrorist group and is appealing again to escape Syria and return to America to raise her young son.
The U.S. government has refused Hoda Muthana's plea, saying she's not an American citizen. Muthana was born to a Yemeni diplomat, and the children of foreign diplomats based in the United States are excluded from birthright citizenship.
In 2014, the New Jersey-born woman traveled to Syria using a U.S. passport, which she then burned.
"Bonfire soon, no need for these anymore, alhamdulliah [thanks be to God]," she wrote on Twitter, along with a photo of her passport burning along with other women's passports that showed they were from Western countries, according to a prior report from Al Jazeera.
I have instructed Secretary of State Mike Pompeo, and he fully agrees, not to allow Hoda Muthana back into the Country!

— Donald J. Trump (@realDonaldTrump) February 20, 2019
But Muthana insisted on Saturday that she "regrets every single thing" done by ISIS, according to several news outlets.
"Everyone deserves a second chance, no matter how harmful their sins were," Muthana added.
In her latest comments, the 25-year-old said the refugee camp where she resides is becoming increasingly unsafe for her and her child.
Muthana said she would be fine with facing justice if she returned to the United States.
"They can watch over me 24/7, I'd be OK with that," she said. "I want my son to be around my family, I want to go to school, I want to have a job and I want to have my own car."
"I did not support the beheadings from [ISIS] from day 1, until now I do not support any of their crimes and suicide attacks," Muthana added, according to France24. "I am a citizen and I have papers to prove it. I am as American as a blond-haired blue-eyed girl and I would like to stay in my country and do American things," she was quoted as saying by the same news outlet.
But Trump in February declared that she won't be allowed back in the country.
"I have instructed Secretary of State Mike Pompeo, and he fully agrees, not to allow Hoda Muthana back into the Country!" Trump wrote at the time.
In previous interviews, Muthana said that she settled in Raqqa, Syria, the former de facto capital of ISIS's claimed "caliphate." Then, she married an Australian ISIS recruit, Suhan Rahman, who was the first of her three husbands.
In one tweet several years ago, she also called for terrorist attacks on U.S. soil, calling the United States "our greatest enemy."
"Americans wake up! Men and women altogether. You have much to do while you live under our greatest enemy, enough of your sleeping! Go on drivebys, and spill all of their blood, or rent a big truck and drive all over them. Veterans, Patriots, Memorial, etc day … Kill them," she wrote.
Another ISIS Bride Faces Torture
Meanwhile, the lawyer of another high-profile ISIS bride, Shamima Begum, claimed that she is at risk of hanging or torture if her UK citizenship is revoked, it was reported.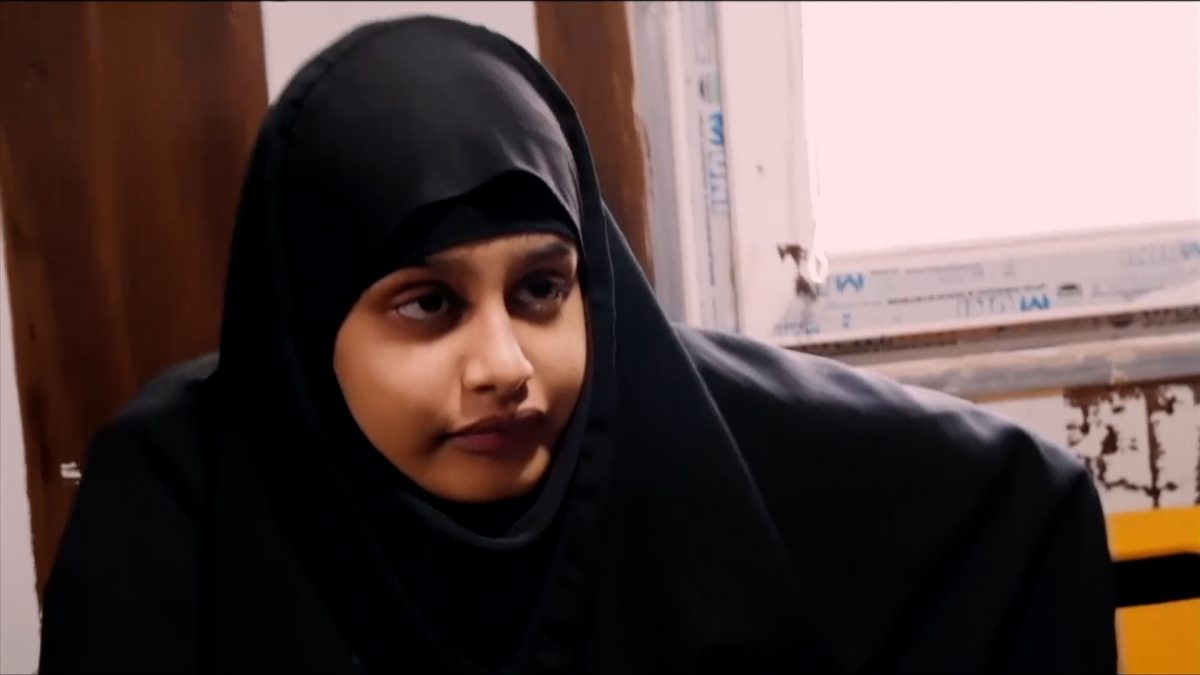 Shamima Begum, 20, is in "an incredibly fragile and dangerous" situation inside a Syrian refugee camp, The Week UK reported in late October.
Begum wanted to return to London but is now "stateless" after the UK's former home secretary, Sajid Javid, removed her citizenship while she was at a refugee camp, said an immigration court, as the Daily Mail reported.
Her lawyers added that she was left with no safe option, telling the Immigration Appeals Commission in London that Javid's actions were not lawful.
The lawyers said she is facing death threats from ISIS agents inside of Syria after she recanted her support for the terrorist organization. As such, she can now face torture and execution in other countries.