Commentary
In a previous piece, I asked if the Biden administration was actually enabling the Chinese regime. The answer, I concluded, was a rather resounding yes. The administration should be doing everything in its power to distance itself from a capricious, dangerous regime. Instead, it's busy buying surveillance equipment from the enemy.
What a Difference a Year Makes
Last year, the Senate Homeland Security Committee passed the American Security Drone Act. This vital piece of legislation prohibited federal departments and agencies from purchasing certain devices, including surveillance drones, manufactured in countries identified as national security threats. The bill, passed with unanimous bipartisan support, sent a clear message to China: The United States no longer wishes to purchase compromised equipment from you.
As Senator Josh Hawley commented at the time: "For decades, the Chinese Communist Party [CCP] and its companies have stolen America's sensitive technology and used it to boost their military and economy. It has to end. We must take this common-sense step of banning the federal acquisition of drones from nations like China to strengthen our supply chains and better protect our national security."
However, shortly after Joe Biden assumed his role as president, his administration played a key role in reversing the decision to ban compromised equipment. As the researchers John Venable and Lori Reis noted at the time, by "removing a bipartisan effort to restrict such drones," those in power "successfully thwarted their own best intentions." More recently, according to a rather sobering Axios report, the Biden administration fully intends to purchase surveillance drones from DJI, a Chinese company that the Pentagon once deemed a "potential national security threat."
By now, it is common knowledge that the Chinese regime uses technology, including surveillance drones, to spy on its own citizens, as well as the citizens of other countries. Beijing's techno-authoritarianism has gone global and the Biden administration appears eager to finance it.
As the Axios report outlines, during Biden's tenure, any efforts "to purge military and law enforcement agencies of potentially compromised Chinese technology have stalled." Why? Because of "bureaucratic red tape."
In July of this year, somewhat comically, as Biden criticized hackers with ties to China's intelligence agency for hacking Microsoft Corp., the Secret Service was busy buying eight drones from DJI. The FBI, meanwhile, bought 19. These purchases came less than 72 hours after the Defense Department released a statement warning about the "potential threats to national security" posed by DJI.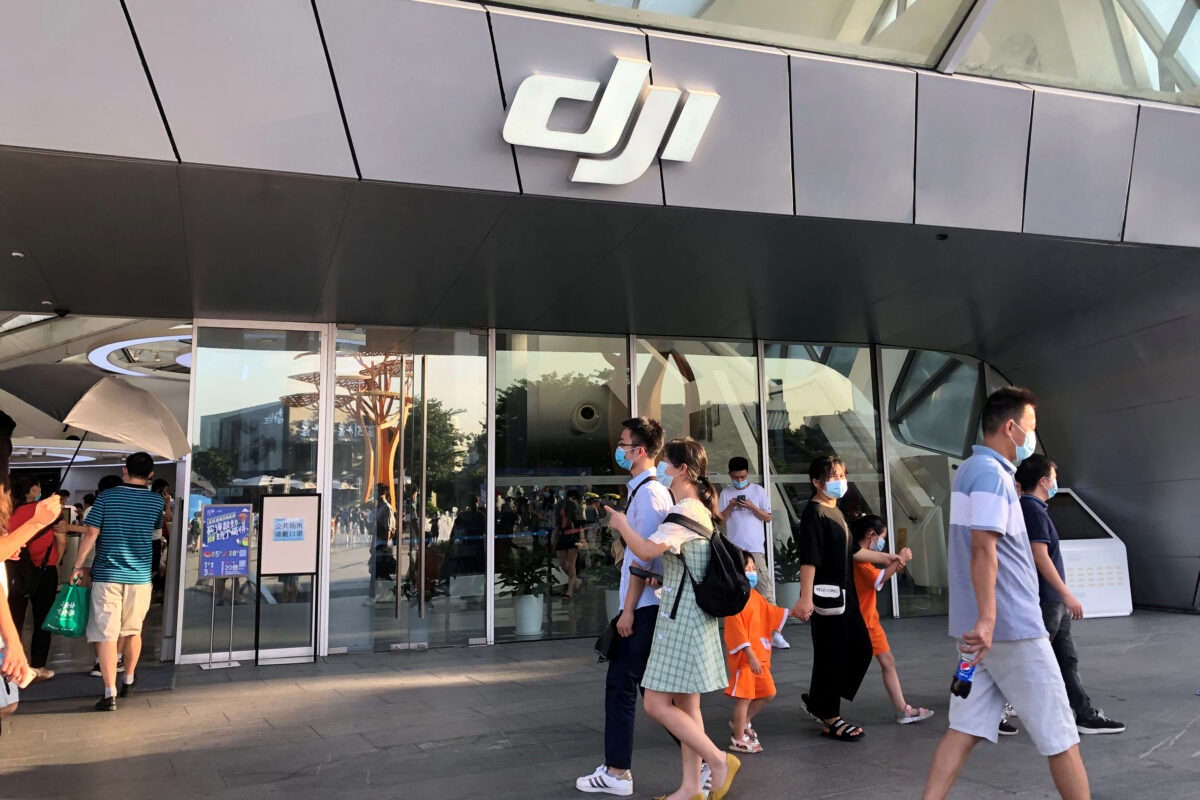 In 2016, according to a New York Times report, Zhang Fanxi, then a spokesman for DJI, admitted that the company regularly handed over data to members of the CCP. Five years on, as tensions rise between Beijing and Washington, there is little reason to believe that anything has changed.
Shortly after Zhang's comments, the Department of Homeland Security released a statement declaring with "moderate confidence" that DJI was collaborating with the Chinese regime. The Chinese company, according to the statement, was most probably "providing U.S. critical infrastructure and law enforcement data" to the country's most powerful politicians. In 2020, shortly after Bloomberg reported that DJI had supplied drone technology to security officials in Xinjiang, the Commerce Department added DJI to its blacklist.
Today, however, the DJI is free to sell more compromised machinery to the United States. Sen. Marco Rubio (R-Fla.), one of the Chinese regime's biggest critics, told Axios that "there is absolutely no excuse for any government agency to use DJI drones, or any other drones manufactured in countries identified as national security threats." Regardless of your political affiliations (or lack thereof), only the most deluded of individuals would disagree with Mr. Rubio.
The United States' reliance on China for surveillance technology is as regrettable as it is criminal. As the aforementioned Venable and Reis noted, 80 percent of all commercial drones sold in the United States come from China. "American manufacturers," according to the authors, "account for a paltry 8 percent of the market."
By purchasing dangerous equipment from Beijing, the Biden administration is playing the most dangerous of games imaginable. Instead of lining the pockets of despots in China, how about financing drone manufacturing in the United States? An obvious question, no doubt. Nevertheless, it could prove to be one of vital importance.
Views expressed in this article are the opinions of the author and do not necessarily reflect the views of The Epoch Times.