The Niagara Regional Police in Canada issued an Amber Alert after five children were apparently abducted from the Niagara Region on Tuesday, Oct. 1.
The Niagara Region in Ontario, Canada, is located near the U.S.-Canada border between Toronto and Buffalo, New York.
According to City News, the five children are named as Magnus, 14, Eska, 13, Sovereign, 11, Mattias, 10, and Evalyn, 5.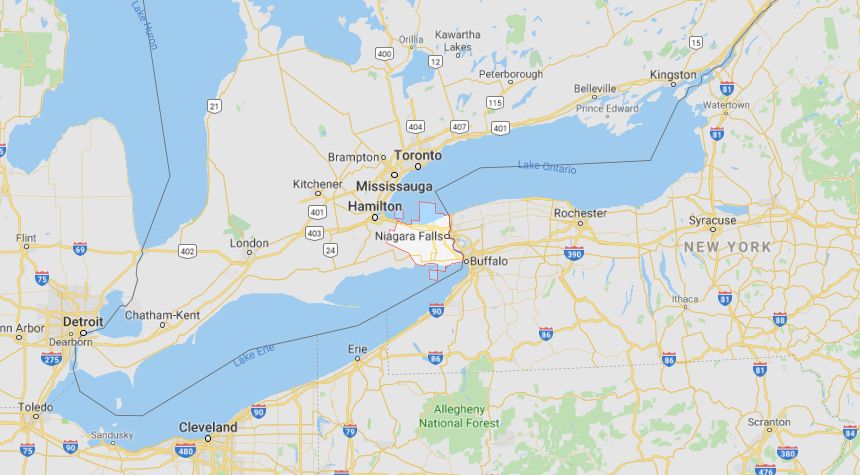 They are believed to be with their father, Ian MacDermid, and police said that they were reported missing in the past 24 hours by local family and child services.
MacDermid is described as six feet tall, 280 pounds, blue eyes, and brown hair. He was seen driving a gold or beige pickup truck and was possibly going to Toronto.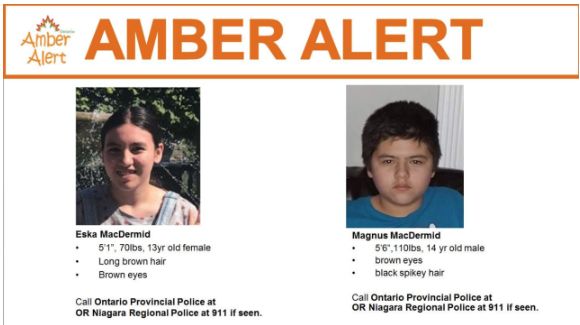 Officials said the children were taken from their home in Jordan, Ontario, between Sept. 19 and Sept. 25, according to Yahoo Canada.
The five kids are subject to a temporary custody order after their father failed to return them home, officials said.
Police said that they are concerned about the wellbeing of the children.
Those with information about the case are asked to call 911 or their local police department.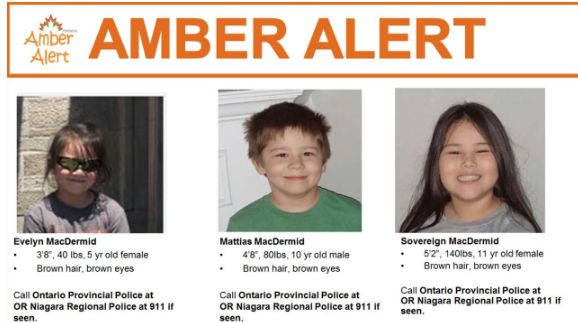 Officials said that all of the MacDermid children are Asian and were described as follows in an alert, according to the CBC:
-Magnus, 14, black spiky hair, glasses, with a medium build.
-Eska, 13, 5'1, with a medium build and long brown hair.
-Sovereign, 11, 5'2, heavyset, with long black hair.
-Mattias, 10, 4'8, with light brown caramel hair and a small/medium build.
-Evalyn, 5, 3'8, with long black hair, and a medium build.
Missing Children
There were 424,066 missing children reported in the FBI's National Crime Information Center in 2018, according to the National Center for Missing and Exploited Children (NCMEC). Under federal law, when a child is reported missing to law enforcement they must be entered into the database. In 2017, there were 464,324 entries.
"This number represents reports of missing children. That means if a child runs away multiple times in a year, each instance would be entered into NCIC separately and counted in the yearly total. Likewise, if an entry is withdrawn and amended or updated, that would also be reflected in the total," the center notes on its website.
"Unfortunately, since many children are never reported missing, there is no reliable way to determine the total number of children who are actually missing in the U.S.," NCMEC (National Center for Missing & Exploited Children) added.
In 2018, the center said it assisted officers and families with the cases of more than 25,000 missing children. In those cases, 92 percent were endangered runaways, and 4 percent were family abductions.
The center said that it participates in the Amber Alert Program, which is a voluntary partnership between numerous entities including broadcasters, transportation agencies, and law enforcement agencies. The Amber Alert Program issues urgent bulletins in the most serious child abduction cases.
According to the NCMEC, to date, 941 children have been successfully recovered as a result of the Amber Alert Program.
The center notes that of the more than 23,500 runaways reported in 2018, about one in seven were likely victims of child sex trafficking.