Authorities have issued an amber alert in connection with a missing 15-year-old girl believed to be in the company of two murder suspects.
Alora Benitez was last seen in Torrance, California, at about 9 a.m. on Wednesday, April 17, the Los Angeles County Sheriff's Department said in a statement.
Sheriff's officials said Benitez was last spotted in the company of her mother and a man, both of whom are suspected of killing a man.
The alleged murder the two are suspected of having committed took place in Carson on Tuesday morning, according to KTLA.
"Alora Benitez's mother and the adult male are murder suspects in an investigation of a male who was found dead in the front seat of a White Audi that was parked behind 400 Block of East Carson Plaza Drive in the city Carson on (Tuesday)," according to the statement.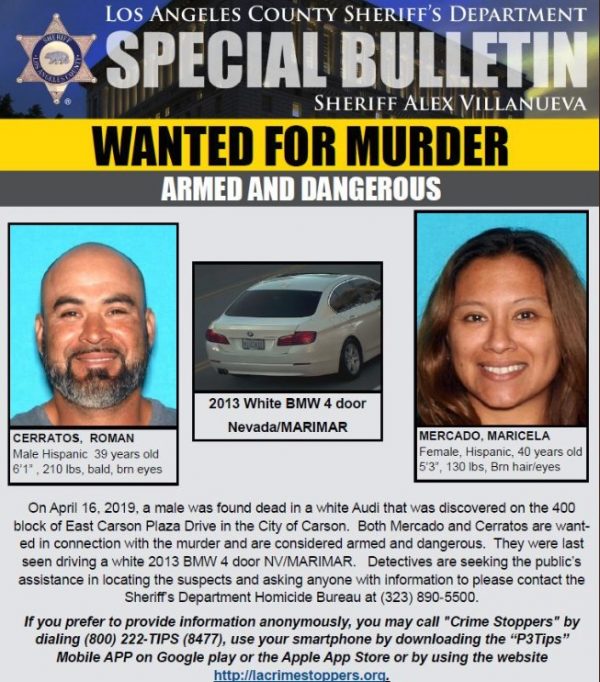 Lt. Brandon Dean told KTLA reporters that the victim's cause of death was still pending, while an earlier sheriff's department news release described the crime as a deadly stabbing.
Officials said the two murder suspects "are considered armed and dangerous."
The level of severity of the amber alert is "Extreme—Extraordinary threat to life or property."
Deputies described Benitez as Latina, 5 feet 2 inches tall, about 100 pounds, with brown hair and brown eyes.
"Her family is concerned for her safety," the statement added.
The teen was last seen with her mother and the man in a white, four-door, 2013 BMW sedan with a Nevada license plate of "MARIMAR," officials said in the statement.
Authorities have appealed to the public for help locating the missing teen.
#AmberAlert – Alora Benitez last Seen in a Wht, 2013 BMW 4-door sedan, Nevada Lic. Plate "MARIMAR" with mother and an adult Male. Both are murder suspects and are considered armed and dangerous. Visit the link for more info… https://t.co/ehkfDbW6Rz pic.twitter.com/mS8eMvm7BT

— LASD Norwalk Station (@NorwalkLASD) April 18, 2019
Facts About Crime in the United States
Violent crime in the United States has fallen sharply over the past 25 years, according to both the FBI's Uniform Crime Reports (UCR) and the Bureau of Justice Statistics (BJS) National Crime Victimization Survey (NCVS).
The rate of violent crimes fell by 49 percent between 1993 and 2017, according to the FBI's UCR, which only reflects crimes reported to the police.
The violent crime rate dropped by 74 percent between 1993 and 2017, according to the BJS's NCVS, which takes into account both crimes that have been reported to the police and those that have not.
"From 1993 to 2017, the rate of violent victimization declined 74 percent, from 79.8 to 20.6 victimizations per 1,000 persons age 12 or older," the U.S. Department of Justice stated.
Both studies are based on data up to and including 2017, the most recent year for which complete figures are available.
The FBI recently released preliminary data for 2018. According to the Preliminary Semiannual Uniform Crime Report, January to June 2018, violent crime rates in the United States dropped by 4.3 percent compared to the same six-month period in 2017.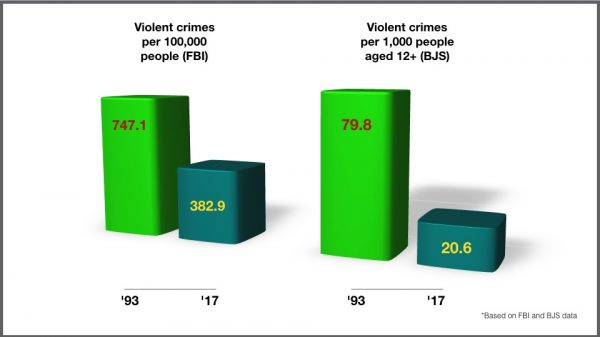 While the overall rate of violent crime has seen a steady downward drop since its peak in the 1990s, there have been several upticks that bucked the trend.
Between 2014 and 2016, the murder rate increased by more than 20 percent, to 5.4 per 100,000 residents, from 4.4, according to an Epoch Times analysis of FBI data. The last two-year period that the rate soared so quickly was between 1966 and 1968.
Property Crime
The property crime rate fell by 50 percent between 1993 and 2017, according to the FBI, and by 69 percent according to BJS.
According to the FBI's preliminary figures for the first half of 2018, property crime rates in the United States dropped by 7.2 percent compared to the same six-month period in 2017.
As with violent crime, the FBI survey only takes into account crime reported to the police, while the BJS figures include reported and nonreported crime.
Public Perception About Crime
Despite falling long-term trends in both violent crime and property crime, opinion surveys repeatedly show Americans believe that crime is up.
The vast majority of Gallup polls taken since 1993 show that over 60 percent of Americans believe there is more crime in the United States on a national scale compared to the previous year.
Pew Research Surveys show similar findings. A survey in late 2016 revealed that 57 percent of registered voters said crime in the nation as a whole increased since 2008, despite both FBI and BJS data showing double-digit drops in violent and property crimes.
Perceptions differed on a national versus local level.
Surveys of perceptions of crime levels on a local scale showed that fewer than 50 percent of respondents in every single Gallup survey done since 1996 believed that crime in their area had risen compared to the previous year.
Methodology
The BJS National Crime Victimization Survey (NCVS) is the nation's primary source of information on criminal victimization.
According to the BSJ, data for the NCVS is obtained annually from "a nationally representative sample of about 135,000 household interviews, composed of nearly 225,000 interviews of persons within those households, on the frequency, characteristics, and consequences of criminal victimization in the United States."
The NCVS collects information on crimes both reported and not reported to police.
The FBI's annual Uniform Crime Report (UCR) is based on crimes reported to police in approximately 18,000 jurisdictions around the country.
"The UCR Program compiles data from monthly law enforcement reports or individual crime incident records transmitted directly to the FBI or to centralized agencies that then report to the FBI," according to the U.S. Department of Justice.