Amazon will no longer require vaccinated U.S. warehouse employees to wear masks at work starting on Tuesday unless they are mandated to do so by state or local laws, a spokesperson confirmed.
"Throughout the COVID-19 pandemic, the health and safety of our employees has been our number one priority," an Amazon spokesperson told The Epoch Times via email.
"As of Tuesday, Nov. 2, fully vaccinated U.S. field Operations employees will no longer be required to wear face coverings at work, unless otherwise mandated by federal, state, or local regulations. We continue to evaluate all of our temporary COVID-19 safety measures, making adjustments in alignment with public health authority guidance and our own medical experts to prioritize the health and safety of employees."
Amazon's announcement comes ahead of the peak holiday season and as the United States is in the midst of a supply chain crisis.
The online retailer said it plans to fill 150,000 jobs in the United States to meet increased demand for holiday shopping and that it would be "offering a huge range of full-time, part-time, and now seasonal jobs with great pay and benefits," in an effort to attract more workers.
In August, Amazon ordered all U.S. employees to wear a mask at work regardless of their vaccination status due to the spread of the Delta variant of COVID-19.
Other major tech companies followed suit in tightening COVID-19 policies including Google, Microsoft, and Facebook, which postponed workers' return to the office until early next year.
Prior to that, Amazon had begun relaxing some of its COVID-19 protocols in warehouses, including allowing employees who had been vaccinated to ditch masks in areas where local regulations did not require them to do so.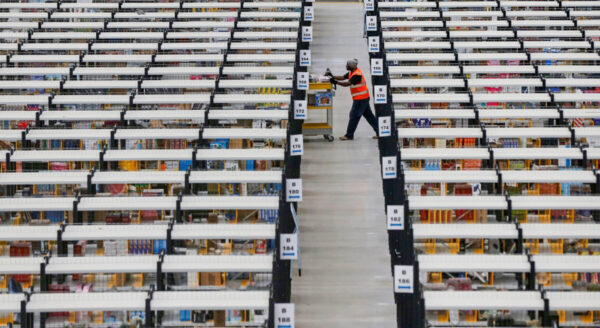 More recently, Amazon told workers it would no longer be offering on-site COVID-19 testing at its U.S. warehouses after July 30, according to The Information.
In October, the company issued updated guidance in a memo to employees stating that it is allowing company managers to decide when corporate employees return to the office after they began working remotely due to the COVID-19 pandemic.
The company said it was leaving the decision as to when employees return to the office in the hands of the directors of individual teams.
"For our corporate roles, instead of specifying that people work a baseline of three days a week in the office, we're going to leave this decision up to individual teams. This decision will be made team by team at the Director level," Amazon CEO Andy Jassy said in the message to employees.
"We expect that there will be teams that continue working mostly remotely, others that will work some combination of remotely and in the office, and still others that will decide customers are best served having the team work mostly in the office," the updated guidance reads.
"We're intentionally not prescribing how many days or which days—this is for Directors to determine with their senior leaders and teams. The decisions should be guided by what will be most effective for our customers; and not surprisingly, we will all continue to be evaluated by how we deliver for customers, regardless of where the work is performed," the message continued.
As part of the policy change, Amazon will also give corporate employees who can work effectively away from the office the option to work up to four weeks per year fully remotely from any location within the country they're employed, noting that it wants to support "flexibility."
Amazon has not mandated vaccines for its workers but has instead introduced a number of incentives in an effort to get workers vaccinated, including cash bonuses and prizes such as cars and vacation packages.