ANAHEIM, Calif.—Under the lights at Angel Stadium in Anaheim on Feb. 10, tears rolled down the cheeks of many there to remember the Altobelli family. Laughter rang out too, as friends and family shared memories of funny times and the family's quirks.
College baseball coach John Altobelli, along with his wife, Keri, and his 14-year-old daughter, Alyssa, died in the helicopter crash that killed nine people altogether near Calabasas, Calif., on Jan. 26.
John and Keri are survived by two children, Lexi, 16, and J.J., 29. At the memorial, J.J. spoke of the support they've received since losing their parents and sister.
"The amount of love and support we've received these past few weeks has been truly amazing," J.J. said. "Each text, call, donation, or act of kindness has not gone unnoticed and it really shows the impact that my dad, Keri, and Alyssa had on everyone here."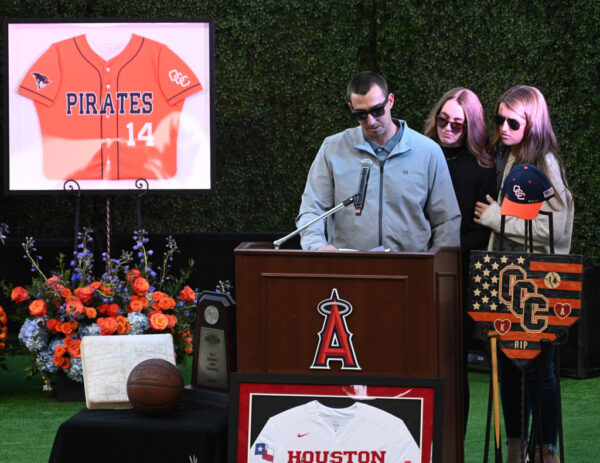 Alyssa was headed to the Mamba Sports Academy in Thousand Oaks to play basketball. She was a teammate of Gianna Bryant, who also died in the crash with her father, famed basketball player Kobe Bryant.
Alyssa was remembered as an "always smiling, hard-working, and happy girl." Sammy Forbath, Alyssa's best friend and lifelong neighbor, said she would often turn down social plans to keep practicing basketball. She was always outside practicing.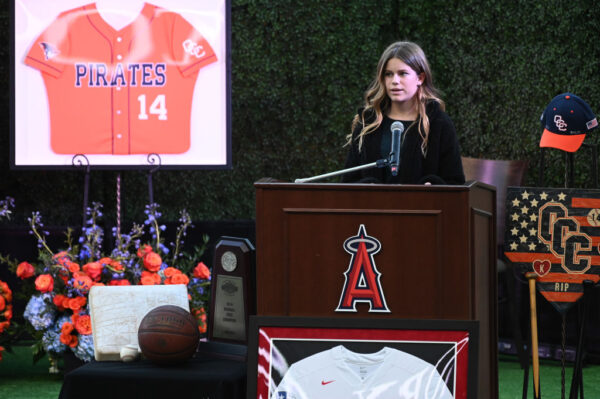 She was a determined point guard with dreams of attending the University of Oregon and becoming a Duck.
"She never stopped," Forbath said. "Alyssa had the hardest work ethic out of anyone I've ever known. She always worked 110 percent even when no one was watching. She was dedicated to the game and always played with purpose."
Forbath recalled how Alyssa—an avid animal lover, "except for hairless cats"—thought the turtles in their sixth grade science class were being mistreated, so she took them home and kept them as her pets. The crowd let out a soft laugh.
"She had the biggest heart," Forbath said. "I already miss her so much."
John Altobelli, known as "Alto," was a beloved baseball coach for 27 seasons at the Orange Coast College. With four state junior titles under his belt, he was named National Coach of the Year by the American Baseball Coaches Association last year.
"He loved helping his players learn about life off the field," said family friend and pastor Erik Rees. "Sure, Alto loved to win, but he also loved to teach—and he used every moment to teach his team that the greatest way to define success is by what you give, not by what you get. And that's what Alto did all the time—give."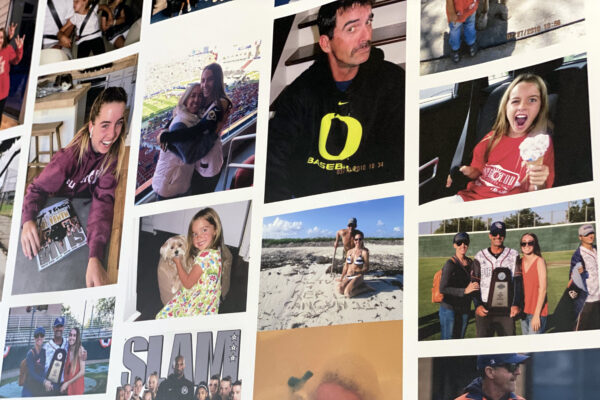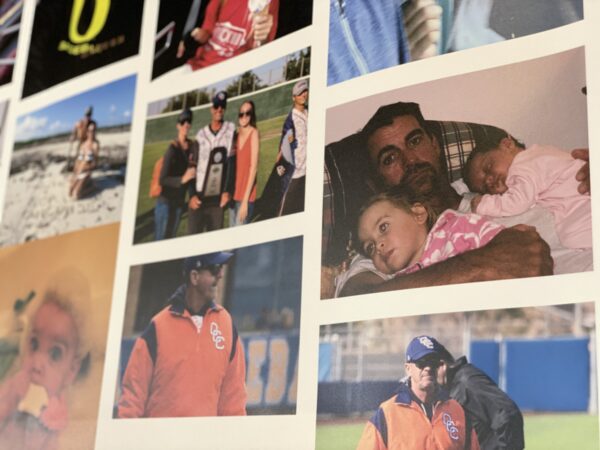 His lifelong friend and rival coach Buck Taylor said he was a "man of high character" and "selfless."
Taylor shared memories of how they got kicked out of baseball games they were coaching multiple times for getting too riled up. So they would then sit outside the stadium in the parking lot and watch their teams compete against each other online.
Keri, who owned her own business, was endeared as "extremely loyal" by close friends. She always put her family first and supported their athletic endeavors, they said.
"Through her example, she taught me how to live with conviction and how not to fall prey to being the victim, ever," said Lori Lever, Keri's best friend of over 30 years.
"There's one particular instance, or actually probably multiple, when I know I failed Keri and I really let her down," Lever said. "In spite of that, she was still there for me when I needed her—that's the thing about friendship—you can laugh, support, fight, and fail each other, yet the love and bond forever stays intact."
As the memorial came to a close, Rees encouraged attendees to hug the people next to them because "it's what Alto would do best."
Kobe and Gianna Bryant's memorial will be held at the Staples Center on Feb. 24.