Alonso Wins Formula One Chinese Grand Prix
April 14, 2013 2:23 pm Last Updated: November 2, 2017 8:01 am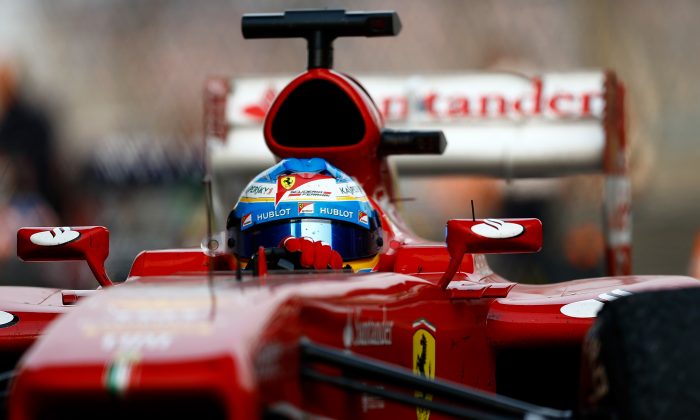 Ferrari's Fernando Alonso scored a dominant win in the Formula One Chinese Grand Prix on Sunday, crossing the finish line 10 seconds ahead of his nearest competitors.
After qualifying third, the Ferrari driver took second at the start, then passed pole-sitter Lewis Hamilton's Mercedes on Lap 5.
The rest of the race was a balance between saving and pushing the tires; Alonso's deft touch kept his rubber fresher, while his pace kept him far ahead of the field.
Most teams started on the softer yellow Pirelli Option tires; Alonso made his set last a lap longer. He then got two extra laps out of his first set of Prime Mediums. This tire conservation didn't cost him speed; the two-time world champion still managed to set several fastest laps. This let Alonso open enough of a gap by the end of each stint that he could pit without losing much track position.
After passing Sebastian Vettel for the lead on Lap 30, the Ferrari driver only surrendered the lead for one more lap, when he pitted for the final time on Lap 41. He rejoined right behind Vettel, passed the Red Bull driver easily with his fresh rubber, and stretched his lead by a second a lap, until it was clear no one could catch him.
The win, which ended a 12-race winless streak, was Alonso's 31st. He is now tied with Nigel Mansell for fourth in most Grand Prix victories. Alonso now sits third in the Driver Championship, nine points behind the leader, Sebastian Vettel.
The Field
Kimi Raikkonen got off to a terrible start, dropping from second to fourth; the Lotus driver then collided with McLaren's Sergio Perez, breaking the Lotus' front wing. This didn't seem to slow the fast Finn; Raikkonen ran in the top three for the second half of the race, moving to second when Vettel pitted five laps from the end, and then had enough tire left to hold off Hamilton.
Raikkonen is now second in points, three behind Vettel.
Hamilton earned his second podium as well, and his second with his new team Mercedes. The former McLaren driver drove a technically sound race, making no errors, but he couldn't match the smoother driving styles of Alonso and Raikkonen. He couldn't get quite the same life out of his tires as the other front-runners.
Hamilton nearly caught the Lotus driver in the closing laps before his abused tires stopped cooperating; on the final lap he barely managed to hold off Vettel to keep third.
Hamilton lies fourth in points, 12 behind Vettel.
Vettel started on Medium tires; only he and McLaren's Jenson Button of the top 10 drivers took this gamble, and for Vettel it nearly paid off. Vettel managed to make two sets of medium tires last until Lap 52, when he swapped for the softer, stickier Options, he was by far the fastest car on the course.
Not quite fast enough, however. By the time he caught Hamilton with a lap to go, Vettel's Options were past their prime. The Red Bull driver was able to catch Hamilton, but couldn't get by; he ended up finishing two-tenths of a second behind. Vettel retains his lead in championship points, but it is clear that Red Bull will not dominate easily in 2013.
Tough Day for Webber
Vettel's team mate Mark Webber, still angry over Vettel ignoring team orders to take the win at Malaysia, was tested even more sorely at China.
First, his team sent him out with insufficient fuel in his second qualifying session. He ran dry on track, and had to be towed home. The resulting penalty put him at the back of the grid, so the team took advantage and changed the gearbox and set-up, hoping to give him an edge in traffic. Because of this he had to start from pit lane.
Webber did only one lap on his Option tires before pitting for Primes, planning to do a two-stop race apparently. He never got the chance; Webber got overeager trying to pass Toro Rosso driver Jean-Eric Vergne on Lap 15 and had to pit for repairs.
Somehow, his team sent him out with his right rear wheel unsecured, or with damage; in any case, the wheel came off halfway through the next lap, ending Webber's day. The Australian veteran seemed calm in his postrace interview, but inside he had to be seething; for the second race in a row the Red Bull team had totally let him down.
With four winners in four races and the top four drivers—all championship winners—within a dozen points, the 2013 F1 season is starting out as close and as unpredictably as 2012. There have been no surprise winners; it would seem as though the eventual champion will come from one of the top four teams—a top four which no longer includes McLaren, though that could change with a single set of updates.
Which of these former world champions will have the edge in November cannot be guessed. Outside contenders would be Jenson Button (if McLaren can find its form), Ferrari's Felipe Massa, and Nico Rosberg, who ran as high as fifth before his Mercedes retired with mechanical failure.
It is impossible even to predict who might have the edge at next week's Grand Prix of Bahrain. Vettel won there in 2012; Alonso has won there three times. His Ferrari teammate Felipe Massa has a pair of wins there, and Jenson Button took victory there in 2009. Lewis Hamilton has never won, but he has a second and a third.
The 2013 Formula 1 Gulf Air Bahrain Grand Prix starts at 3 p.m. local time on Sunday, April 21. Tickets and travel packages are available through formula1.com.