Alonso Takes Chequered Flag at the Chinese Grand Prix
Motorsport—F1
April 18, 2013 6:38 am Last Updated: April 18, 2013 6:38 am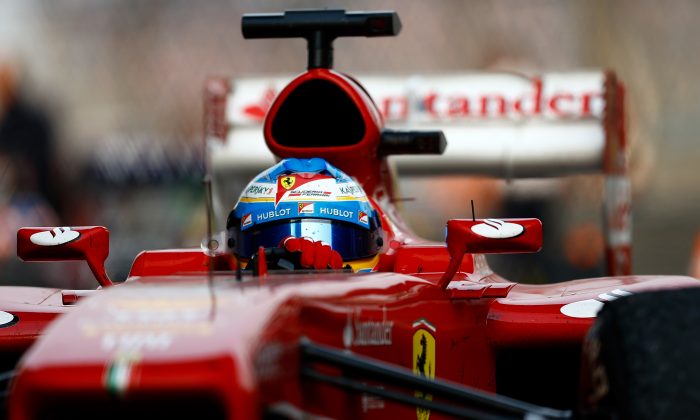 The two-time world champion Fernando Alonso was in imperious form storming home for an historic victory in his Ferrari, after an immaculate drive on Sunday (April 14) in a highly strategic Chinese Grand Prix in Shanghai.
The Spaniard took his first chequered flag for Ferrari this season, with Kimi Raikkonen in second despite some front wing damage, while Lewis Hamilton rounded off in third. Hamilton held off the stampeding defending world champion, Sabastein Vettel.
Jenson Button finished fifth and Felipe Massa sixth. Daniel Ricciardo had a stable race and secured seventh position, ahead of Paul di Resta, Romain Grosjean and Nico Hulkenburg.
The championship leader, Sabastian Vettel is currently on 52 points, ahead of Kimi Raikkonen (49 points) and Alonso (43) in third and three points ahead of Lewis Hamilton.
This sterling and dominating win is Alonso's 31st victory in his career—putting him equal to Nigel Marshall in the all-time winners list behind Michael Schumacher (91), Allan Prost (51) and Ayron Senna (41).
Alonso told reporters in a press conference after the race that he is very pleased with the result.
"Thank you for the support all weekend. Amazing fans all weekend and it's very nice to race here," reported formula1.com.
"It was a fantastic race for us, from the start to the end, without big problems with the car.
"The tyre degradation was better than expected probably, so we managed more or less the pace."
"It feels great after the retirement in Malaysia, we had some pressure to finish the race," said Alonso, referring to the contact that was made with Vettel last weekend in Malaysia where he suffered from front wing damage that forced him into the gravel runoff. He was unable to budge and his race came to an end.
Following the victory, Alonso is looking ahead to a good season, but first there is this weekend's Bahrain Grand Prix (April 19 to 21).
"The two races we finished this year: one second place and today, the victory, so definitely the start of this 2013 campaign is looking good, so we are very optimistic.
"We need to keep going like that in this direction, with good weekends, with not any extra risk and hopefully in Bahrain we can score some good points again."

Mark Webber from bad to worse
A catastrophic 2013 Chinese F1 weekend for Mark Webber. The penalised Australian, started from the pits due to not putting enough fuel into his car for Saturday's qualifying in Shanghai.
In a short time he had pitted twice and an unfortunate collision with Frenchman Jean-Eric Vergne of Torro Rosso on Sunday broke his front wing.
Webber's right back wheel detached from the car and caused him to retire in the 16th lap of the race.
The race Steward investigated the situation and fined Red Bull 5000 Euros due to it being the team's responsibility after four tyres had been changed earlier in the race.
Webber will also drop three places on the grid in Bahrain next weekend due to the collision.
According to some rumours, Mark Webber is going to quit Formula 1 and join Porsche in enduro sportscars after his contract expires with Red Bull at the end of 2013. Porsche have denied reports that they have signed a 5-year deal with the 36-year-old Australian.
Vincent P. Potgieter is a sports writer from South Africa based in Hong Kong.