ALMS: Muscle Milk Picket Racing Gets Fourth in Row at Mosport
July 21, 2013 9:48 pm Last Updated: July 21, 2013 10:56 pm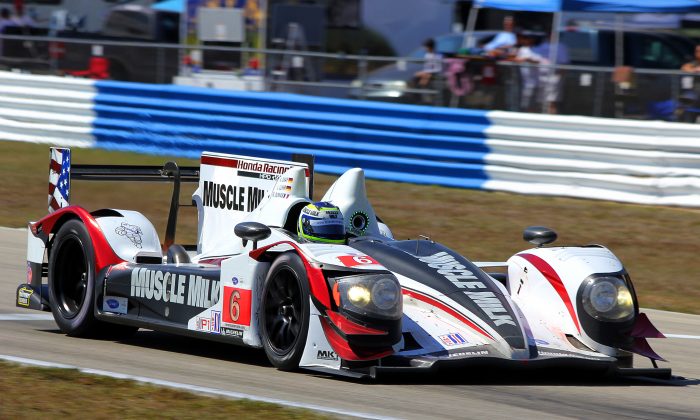 Muscle Milk Pickett racing scored its fourth win in a row at the American Le Mans Series Mobil 1 SportsCar Grand Prix at Canadian Tire Motorsport Park at Bowmanville, Ontario Canada on Sunday, July 21.
Sunday's win was also the team's fourth consecutive win at the track known to fans as "Mosport." Muscle Milk has led every practice session, won every pole, and won every race since 2010.
The win, while no surprise, was a pleasant birthday present for Muscle Milk's two drivers. Klaus Graf turned 44 on race day, and Lucas Luhr turned 34 the day after.  
"We had a really, really good car today. The Muscle Milk guys prepared a great car. It was very strong from the beginning," Graf said in a team press release. "I had a good start and was able to build a good lead. I just tried to maintain my speed and make sure I made no mistakes in traffic.
"Traffic is very bad here, it makes it difficult. Everybody is hanging on to their car and it can be tough for some of the classes. You have to be careful with where you overtake and how you do it. Managing the traffic was my biggest task today.
"To win here four times in a row is very special. I really like this place. Every year, Lucas and I pretty much celebrate our birthdays here and every year we get pole position and win the race. It's not bad!"
Lucas Luhr "I had the easy part today. Klaus did a long first stint and I just cruised around and brought it home. There was nothing for me to gain anymore. It's very tough though to keep your concentration and be focused if you don't really have anybody to race against.
"I think our Muscle Milk HPD was the best we've had it all year long. From a driving point of view it was very consistent. Overall it was a good day for Muscle Milk Pickett Racing and a great birthday present for both Klaus and myself."
Graf and Luhr didn't face much competition. Only three cars started in theP1 class, and one of these, the DeltaWing, retired after an oil sensor failed after only 16 laps. The other, Dyson Racing's Mazda-powered Lola coupe, was well off the pace; in fact, some of the best competition early in the race was Dyson driver Tony Burgess fighting hard to stay ahead of the P2 HPDS of ESM's Guy Cosmo and Level 5's Mike Conway.
Burgess missed his pit box on his first stop and had to do another lap, losing all the time it took him to enter and exit the pits; after that the car really had no chance even for a podium. The Dyson Racing Lola finished seven laps behind the Muscle Milk HPD.
None of this means the Muscle Milk crew didn't go all-out. The team recently switched to the ARX-03C configuration, with the wider front tires and bodywork. The team planned to run the whole season in that configuration, but decided they needed development time before taking to the track with the new build. Thus they ran the old reliable ARX-03b suspension and bodywork until the American Le Mans Northeast Grand Prix at Lime Rock in the first week of July.
Muscle Milk wants to learn everything it can about the new configuration before the next race, the Orion Energy Systems 245at Road America on August 11. Rebellion Racing, which has been sitting out a few rounds this season to better prepare for its all-new LMP1 campaign in 2014, will be back for Road America, and Muscle Milk badly wants to beat the Swiss-based team.
Franchitti, Tucker Earn Level 5 P2 Class Win
Marino Franchitti and team owner and driver Scott Tucker beat Scott Sharp by just a few car lengths to win the P2 class art Mosport. Tucker split his time between the #551 Level 5 HPD-03b with Franchitti and the #552 HPD he shared with Mike Conway; he drove the #551 for the first 66 laps, falling two laps behind Conway, in part because Tucker had to stop once for fuel and once to switch cars.
Marino Franchitti took over and got one lap back by lap 90. A caution on lap 92 let Franchitti get back to the front of the field, where Tucker, now in the #552, led Scott Sharp in the #01 ESM HPD by 1.5 seconds.
The race went green on lap 99, and Franchitti took eight laps to get past Sharp. Tucker let Franchitti by on the next lap; since Tucker was scoring points in the #551, the better it finished, the more he scored.
Sharp got past Tucker on lap 110, which left him only a few seconds behind Franchitti, but Sharp couldn't get by. His best chance came on the final lap, when he got right onto Franchitti's wing, but unfortunately Lucas Luhr in the Muscle Milk car was coming through on its way to taking the checkered flag. Luhr passed Sharp in the last corner but couldn't get by Franchitti before the finish line; thus, Sharp lost his shot at the class win.
Scott Tucker, in the #552 car he was sharing with Mike Conway, finished third, 13 seconds back.
Tickets for the Orion Energy Systems 245at Road America, August 9–11, are available through the RoadAmerica.com website.