Almost 2 Million Chinese Students Unable to Afford College Tuition
July 10, 2006 12:00 am Last Updated: July 10, 2006 12:00 am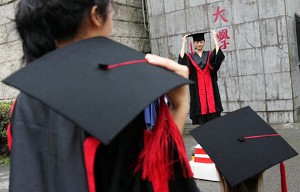 A father in a rural village in China recently committed suicide after hearing the news that his son had just passed his college entrance examination. The farmer father despaired at his inability to pay for his son's college tuition fees. According to a survey by China Youth Development Foundation (CYDF), there are approximately 1.78 million impoverished students in China today who are unable to pay college tuition fees.
According to the Central News Agency , a survey published on July 2 by the CYDF reported that the average annual tuition cost including living expenses for a needy college student is approximately 6,780 yuan (US$849). About two-thirds of China's needy families can not afford these high fees. The cost of higher education is often regarded as the primary reason for a family living at the poverty level.
The survey was conducted among 16 high schools in 11 provinces, municipalities and autonomous regions including Beijing, Hebei, Anhui, Hunan, Chongqing and Guangxi.
The Beijing Evening News quoted this survey as saying that among the poor families, 81 percent could not afford their children's education, while 10.2 percent invested 79.8 percent of their total annual income on a college education for their children.
The survey indicated that 60 percent of the needy students could not pay the required tuition fees for their freshman year. Due to the high cost of tuition, about 15.9 percent of the poorest students could give up the idea of college and choose rather to find a job out of hometown, to live by farming or to learn a trade.
The survey showed that as of August 2005 there were 15.6 million full-time students in colleges and universities. Among these students, 4.05 million or 26 percent were from impoverished families.
However, by the end of 2005, only about 2.27 million needy students, which accounted for 14.6 percent of all the full-time students, received state-sponsored tuition loans to support their education. Loans were refused to 1.78 million students who need financial assistance. The total amount of government sponsored student loans does not meet the actual requirements for assisting students from needy families in the country.
It was reported that over 5 million new students would be enrolled in colleges and universities in China this year. For most students from poor families, an admission notice would bring hope mixed with fear to them. In recent years tuition fees have continued to rise. Such suicides, committed by parents unable to pay these rising tuition fees, have also been heard.