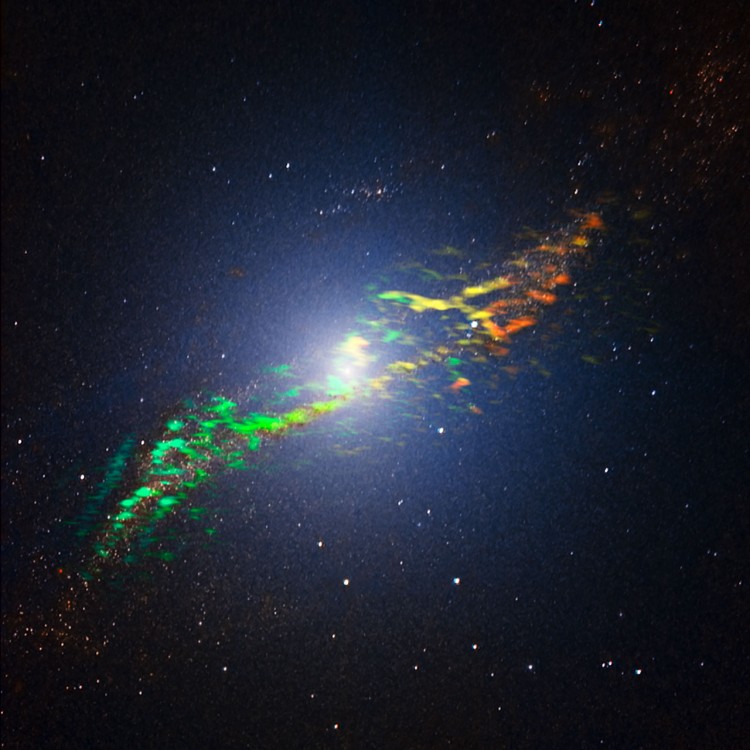 The Atacama Large Millimeter/submillimeter Array (ALMA) has captured this new image of Centaurus A or NGC 5128, showing the motion of carbon monoxide gas in this massive elliptical galaxy's center.
Centaurus A is located about 12 million light-years away in the southern constellation of Centaurus, and is a radio galaxy with powerful radiation emanating from its supermassive black hole with a mass around 100 million times that of our sun.
When viewed in visible light, a dark band obscures the galaxy, containing dust, gas and infant stars, and is probably all that remains of a smaller spiral galaxy following an intergalactic collision.
ALMA can pierce the dust by detecting longer light wavelengths. The different colors show movement of carbon monoxide with green coming towards us and orange moving away as the gas orbits the galaxy.
The golden color shows a ring of stars from the smaller destroyed galaxy as seen in near-infrared using the SOFI instrument on the ESO New Technology Telescope (NTT).
Sited up in the Chilean Andes, ALMA will be fully operational by 2013, when all 66 antennae have been installed. Currently, only half are in place, and the partial array is still in its Early Science observation cycle with the next phase being planned as its capabilities increase.
The Epoch Times publishes in 35 countries and in 19 languages. Subscribe to our e-newsletter.