U.S. Olympic sprinter Allyson Felix has become a new world record holder after winning her 12th gold medal. In doing so, she broke a record previously held by retired Jamaican sprinter Usain Bolt, for the most gold medals won at the track and field World Championships.
The 33-year-old athlete, who is considered one of the most decorated U.S. female track and field Olympians of all time, won the record-breaking gold in Doha, Qatar, on Sept. 29 in the first-ever mixed-gender 4×400-meter relay race.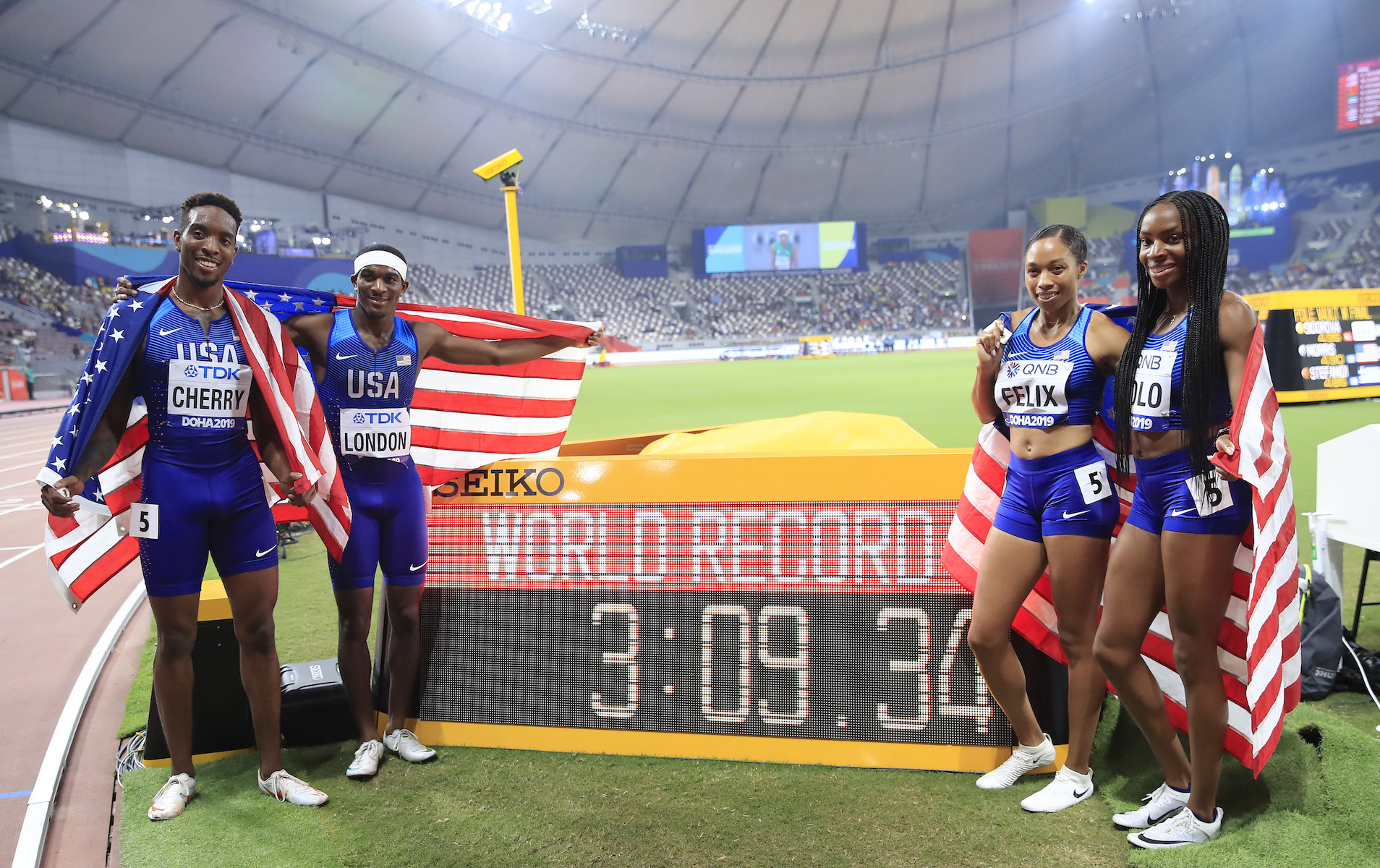 The U.S. national team, which featured Felix, Wilbert London, Courtney Okolo, and Michael Cherry, set a world record time of 3:09.34.
Felix is already the holder of the record for most medals in track and field in world championships, with a current total of 17. Having become the official new world record holder for most world gold medals, Felix wrote on Twitter, "Humbled."
This is also the first season that Felix has competed as a mother. She gave birth 10 months ago and had to deliver her daughter by an emergency cesarean section at 32 weeks in November 2018 due to severe preeclampsia, a condition that threatened her and her baby's lives. Her daughter, Camryn, was born at just 3 pounds and spent almost a month in the neonatal intensive care unit.
"It's definitely an inspiration to all women," teammate Okolo said of Felix. "You see the journey she's been on this year, and now you're seeing a lot of women can do that and come back successfully. I know that when the time comes for me to have kids, it's something I can do, as well."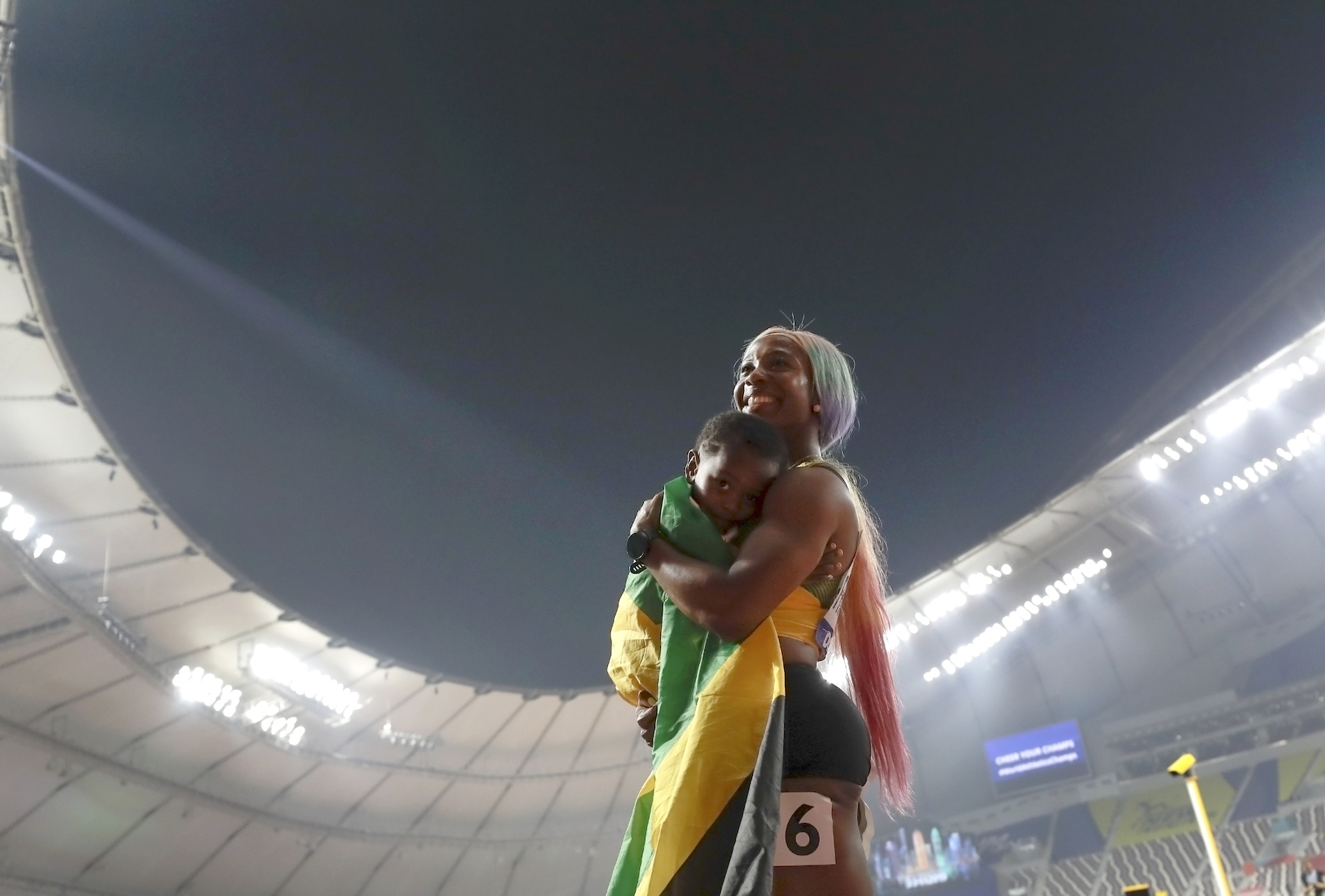 Another mother and sprinter, Shelly-Ann Fraser-Pryce of Jamaica, also won a gold medal, clocking at 10.71 seconds in the women's 100 meters race on Sept. 29.
"A victory for motherhood!" she said.
Pregnancy
Felix shared with ESPN in December 2018 about the attitude she decided to take toward her future goals after her pregnancy.
"If I come back and I'm just not the same, if I can't make a fifth Olympic team, I'm gonna know that I fought, that I was determined, and that I gave it my absolute all," she told ESPN. "And if it doesn't end up the way I imagined in my head, it'll be OK. I just have to go for it, because that's just simply who we are now."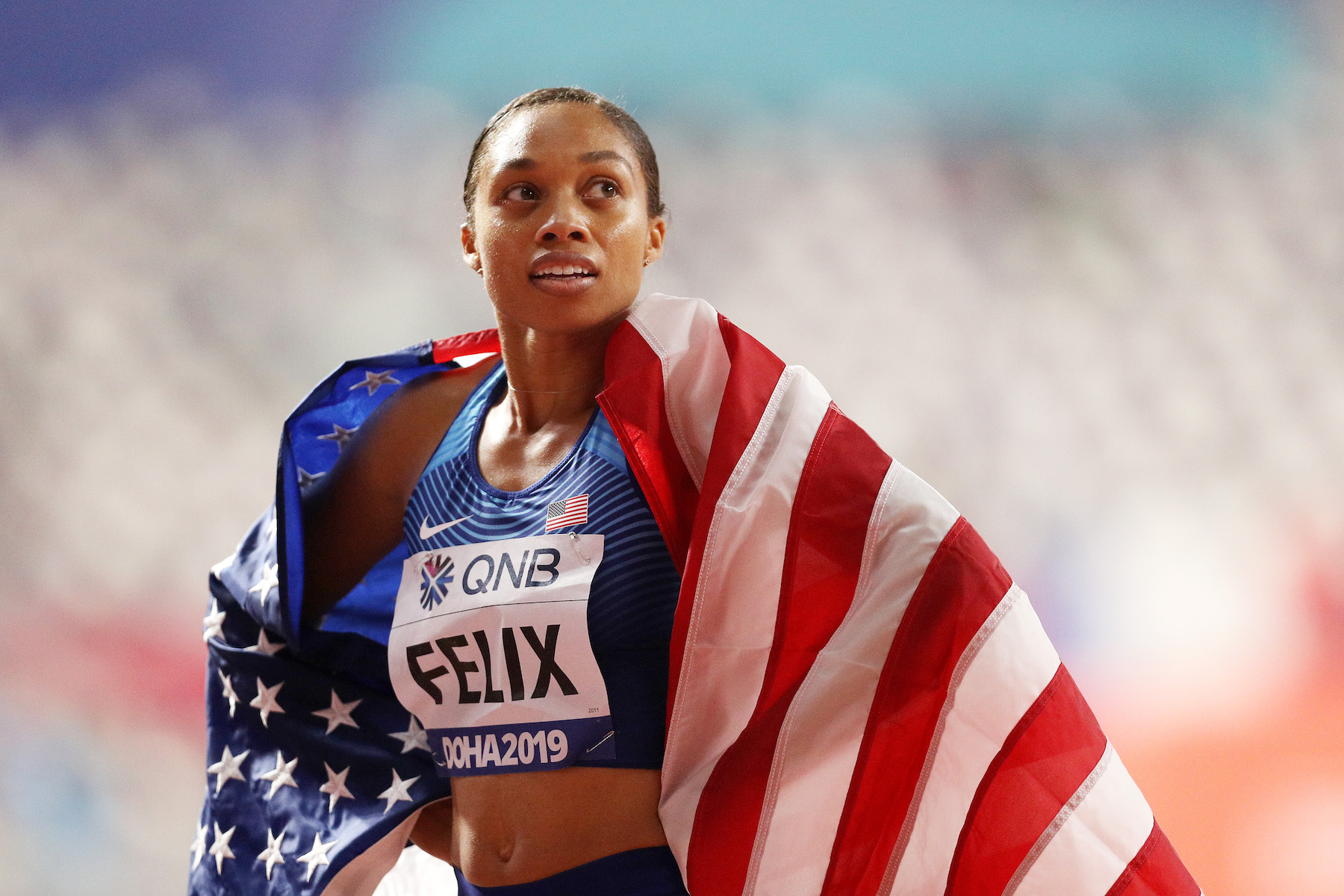 In late July, Felix also became the first athlete to be sponsored by Athleta, a women's athletic wear company owned by Gap. She had declined to renew her sponsorship contract with Nike because the company had at the time refused to contractually guarantee that she wouldn't be financially punished if she didn't perform at her best in the months after childbirth, according to an op-ed Felix wrote in May, published by The New York Times.
In August, Nike adapted its policy that stated that if an athlete became pregnant, the company would "not apply any performance-related reductions" for 18 months, which is six months more than under the previous policy.
Felix is expected to compete in her fifth Olympics in 2020, and if she does, she would set another new "record" for being the oldest athlete to do so. The mixed 4×400 meter relay race will also be making its debut at the Olympics in Tokyo next summer.
The Associated Press contributed to this report.