Supreme Court Justice Ketanji Brown Jackson was the only dissenter in a high court decision that vacated a lower court ruling earlier this week allowing minors the right to go to court to get permission to seek an abortion.
The top U.S. court overturned a ruling issued by the U.S. Court of Appeals for the Eighth Circuit and remanded the case to the court with instructions to dismiss. The appeals court ruling in April (pdf) said a state court clerk could face a lawsuit for telling a pregnant teenager that the court must inform her parents of her bid to obtain a court order to receive an abortion without her parents' approval.
In its order Monday (pdf), the Supreme Court issued no opinion or explanation for why. No other justice issued any objection to the high court's action, which was announced as part of its routine slate of orders that were handed down.
But Jackson wrote a four-page dissent that argued justices have been too accepting in granting requests from parties who seek to nullify rulings from lower courts. She criticized the Supreme Court's use of Munsingwear vacatur, a legal doctrine that is sometimes used to clear away lower court decisions.
The Munsingwear doctrine allows appeals courts, including the Supreme Court, to erase a precedent if it becomes moot while a losing party is appealing the decision and a higher court is reviewing the case.
"I am concerned that contemporary practice related to so called 'Munsingwear vacaturs' has drifted away from the doctrine's foundational moorings," Jackson wrote Monday.
In the case, Jane Doe, a pregnant minor, visited a local Missouri courthouse to apply for a dispensation allowing her to not receive consent from her parents for an abortion. But the office of the petitioner, Michelle Chapman—a clerk for Randolph County—told Doe that she couldn't do so without notifying a parent.
Ultimately, Doe got an abortion in Illinois after a court in the state authorized it without her parents' knowledge. She later filed a civil rights lawsuit in federal district court targeting Chapman and claimed the clerk violated her 14th Amendment rights, although Chapman argued that she was immune to lawsuits because she followed a Missouri statute and a judge's directions.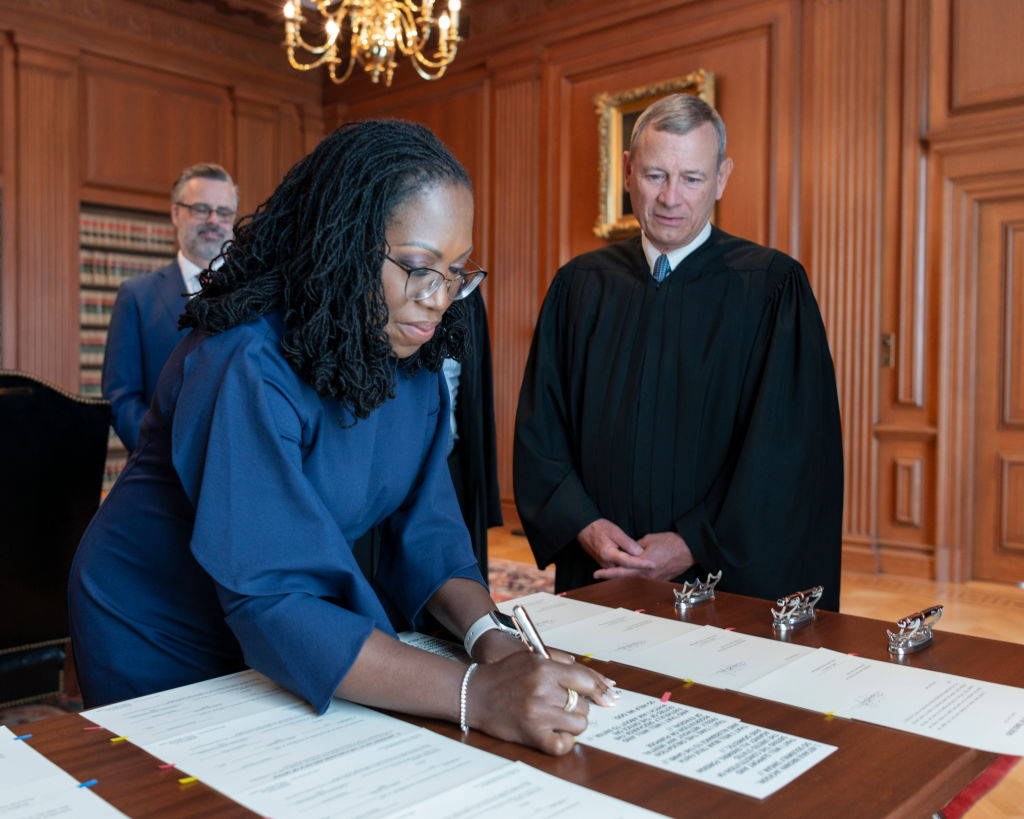 The U.S. Appeals Court for the Eighth Circuit later determined that Doe should be allowed to proceed and said that under the 14th Amendment, Doe had the right to bypass her parents' consent. But Chapman last September asked the Supreme Court to review the case after the court overturned Roe v. Wade over the summer and said the regulation of abortions should be performed by states.
Chapman's lawyers argued that the ruling should have been tossed because the case was rendered moot by the overturning of Roe v. Wade, a landmark 1973 law that effectively treated a women's obtaining an abortion as a constitutional right, in its decision in Dobbs vs. Jackson Women's Health Organization.
Also in her dissent, Jackson wrote that Munsingwear vacatur should only be used in "extraordinary" or "exceptional" cases, while arguing that the case was rendered moot when Chapman and the teenager agreed to have the case in Missouri dismissed. "Chapman contributed to the mootness of this case insofar as she stipulated to its dismissal," she wrote.
"Indeed, Chapman's only argument in support of vacatur is that the Eighth Circuit's opinion was wrongly decided. But mere disagreement with the decision that one seeks to have vacated cannot suffice to warrant equitable relief under Munsingwear," Jackson wrote.
Based on Chapman's actions, Jackson contended that "it is crucial that we hold the line and limit the availability of Munsingwear vacatur to truly exceptional cases" and called Chapman's a "far-from-exceptional" case.
"To do otherwise risks considerable damage to first principles of appellate review," she continued. In recent years, there has been a "sharp uptick" in the Supreme Court using the legal doctrine, she said.
"Munsingwear vacatur is an exception to the statutorily prescribed path for obtaining relief from adverse judgments" and that "our common-law system assumes that judicial decisions are valuable and should not be cast aside lightly, especially because judicial precedents 'are not merely the property of private litigants,' but also belong to the public and 'legal community as a whole,'" wrote Jackson. "An appellate court generally does not have jurisdiction to review a moot case, much less issue an order awarding relief in the matter," she added.