The governors of New York, Connecticut, and New Jersey announced measures to curb the spread of the coronavirus, including no gatherings or crowds of 50 or more people.
Meanwhile, movie theaters will close starting at 8 p.m. on Monday, casinos will close at 8 p.m. on Monday, gyms will close at 8 p.m. and bars and restaurants will shut down at 8 p.m. Monday and offer only takeout and delivery services, according to Govs. Andrew Cuomo, Phil Murphy, and Ned Lamont.
#BREAKING: NY, CT and NJ are taking joint regional action to reduce the spread of #COVID19:

Effective 8PM TONIGHT:

-Crowd capacity reduced to 50
-Restaurants/bars will be takeout/delivery ONLY
-Gyms closed
-Movie theaters closed
-Casinos closed

— Andrew Cuomo (@NYGovCuomo) March 16, 2020
On Sunday evening, New York City Mayor Bill de Blasio announced that all schools in the city will be closed down while announcing restrictions on restaurants and bars, saying that schools could be closed down until the end of the academic year. Schools in Westchester County and Long Island were also shuttered, said Cuomo.
In New Jersey, restrictions have been placed in Hoboken, Teaneck, Jersey City, and more towns and cities. Schools in Connecticut were closed for weeks.
New York has become a COVID-19 hotspot in recent days after a dramatic rise in cases around the New York City suburbs. More than 700 cases have been confirmed in the state as of Monday morning.
"The more you test, the more positives you will find," Gov. Cuomo said Sunday, adding that more than 5,000 people have been tested in the state to date. Three people have died from the virus.
He said New York has just over 53,000 hospital beds, of which about 3,100 are capable of serving intensive-care patients with ventilators and other medical devices. About 80 percent of those beds are currently being occupied, he remarked.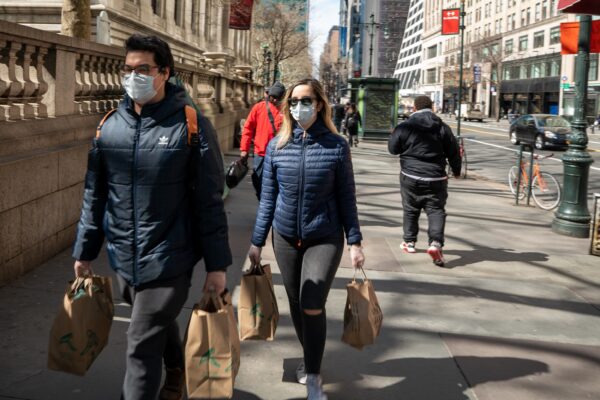 Earlier in the day, Cuomo called on the Trump administration to bring in the Army Corps of Engineers to provide more facilities with equipment and allow public facilities such as college dormitories or military bases to serve COVID-19 patients.
He told ABC's "Good Morning America" on Monday that he sent President Donald Trump a letter via the New York Times on Sunday and asked for the "federal government to get out of the testing business and allow the states to take it over."
"He allowed us to take over the testing and we've made great progress on testing," Cuomo told the news outlet.
In his editorial, Cuomo complained about bureaucratic red tape around the testing process.
"State and local governments alone simply do not have the capacity or resources to do what is necessary, and we don't want a patchwork quilt of policies," he opined in the NY Times article. "There is now only one question your team must answer for you: Can we slow the spread of the disease to a rate that our state health care systems can handle? The answer increasingly looks like no."
According to Johns Hopkins University, more than 3,700 people in the United States have been infected. Sixty-nine deaths have been reported.