InfoWars host Alex Jones was booked into a Travis County Jail on a charge of driving while intoxicated at around midnight on Tuesday, said the Travis County Sheriff's Office, but his website said he was "cleared of a DWI."
Jones, 46, was taken into police custody at around 12:37 a.m., according to a spokesperson for the office, Kristen Dark, reported the Austin American-Statesman. It's a class B misdemeanor, she said.
Jones' bail was set at $3,000 and he was released on bond about three hours later, Dark confirmed.
An article posted on the InfoWars website wrote that Jones blew less than a 0.08, which is less than the legal limit in Texas. It said he was pulled over for driving 45 mph in a 40 mph zone.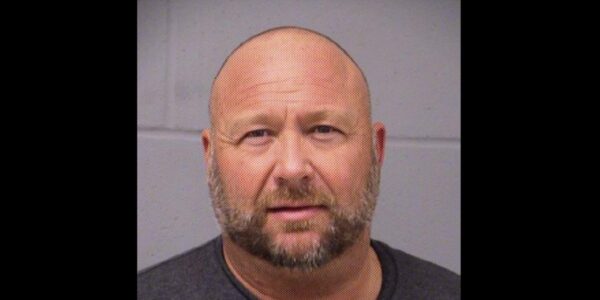 Court documents show that "Jones admitted to drinking a small amount of sake at a Japanese restaurant hours before with his wife, which was proven truthful after the breathalyzer test showed a tiny amount of alcohol–well under the legal limit in the Lone Star State," according to the site.
"It was quite the experience to see what was going on in this country and to experience it myself," Jones said on his show Tuesday. He said the officer didn't perform the "stand on one leg" test to determine whether he is sober.
According to the site, "Jones wanted to get out in front of this to show he has nothing to hide and to point out that legal experts are confident the case will be quickly dropped because he didn't violate the law."
A police mug shot showed Jones looking at the camera.