An Alaska Airlines flight made an emergency landing on Sept. 26 after a passenger said he would rush into the cockpit because he couldn't use a first-class bathroom, it was reported.
The flight from John F. Kennedy International Airport in New York to Los Angeles was forced to land in Kansas City when he tried to enter the cockpit and made a threat against the aircraft, according to CBS News.
The report said that he wasn't able to use the first-class lavatory when the others on the plane full.
Local Kansas City-based KCTV reported that the passenger was identified as Jwan Curry, 41.

According to the report, he remains in jail in Platte County on a 24-hour investigative hold. He is facing charges of disturbing the peace with excessive noise.
Alaska Airlines said the passenger was "combative" and "unruly" before he was restrained and the plane was diverted, KCTV reported. When the plane landed, he was taken into custody by law enforcement.
Video footage showed a person on the flight wearing a New York Jets jersey in the middle of a commotion, the report noted.
A pilot is heard over the loudspeaker speaking to the passengers and saying a man in the aisle was causing a disturbance.
The flight later continued to Los Angeles after it was diverted. There were 177 passengers and six crew members on board.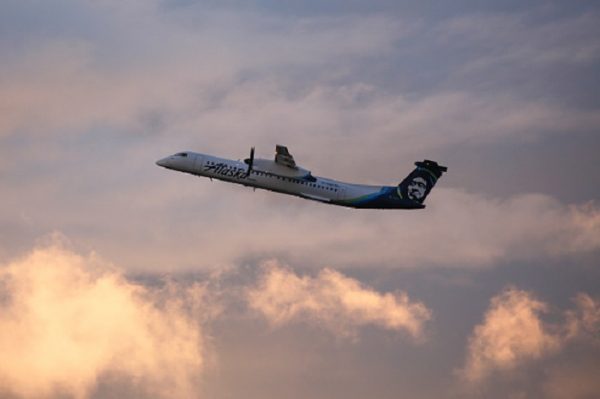 Federal investigators were notified about the incident, KCTV reported.
The Federal Aviation Administration released a statement, saying "Alaska Airlines Flight 411, a Boeing 737 flying from JFK to LAX, diverted to Kansas City International Airport due to a passenger disturbance. The plane landed without incident around 4 p.m. local time," CBS New York reported.
Alaska Airline also issued a statement, confirming the incident.
"Alaska Airlines Flight 411 from JFK to LAX diverted to Kansas City yesterday afternoon due to a combative, unruly passenger onboard the aircraft, a Boeing 737-900. The passenger threatened crew members, and at one point threatened the safety of the aircraft," the airline told Fox News. "We have no indication from our crew that the passenger attempted to breach the flight deck. The threat was a verbal one to do harm to the plane."