Health officials in Montana said there were at least eight fatal drug overdoses between May 22 and June 1 in the state, blaming them all on fentanyl and calling the recent trend an "alarming number of fatal overdoses."
Officials found blue M30 pills near those who died, which they said are likely counterfeit pills that contain the synthetic opioid fentanyl. The drug, which is 50 to 100 times more powerful than morphine, is responsible for hundreds of thousands of fatal overdoses across the United States in recent years.
"Counterfeit pills containing fentanyl are becoming increasingly common nationally, and in Montana are taken by people who misuse diverted prescription opioids as well as those who inject, smoke, or snort drugs," the state's Department of Health said on June 7.
Montana Gov. Greg Gianforte said the increase in likely fentanyl overdoses can be attributed to drugs being transported across the U.S.–Mexico border.
"These tragic events serve as another reminder of the deadly consequences of illegal drugs funneled across our nation's porous and insecure southern border," Gianforte, a Republican, said in a statement. "In Montana, we remain focused on getting drugs off the street, holding drug dealers accountable, increasing treatment options, and ultimately, saving lives."
Montana recorded 87 fentanyl-related deaths in 2021, which is more than double that of the 41 fentanyl-related deaths the previous year, officials said.
In the first three months of this year, state law enforcement officials have confiscated more fentanyl than during the previous four years combined, the statement said.
"The Department of Justice is working to get fentanyl off the streets and continuing to track the crisis closely," Montana Attorney General Austin Knudsen said. "Please, do not take pills that were not prescribed to you and talk to your children about the extreme risk associated with opioids and drug abuse."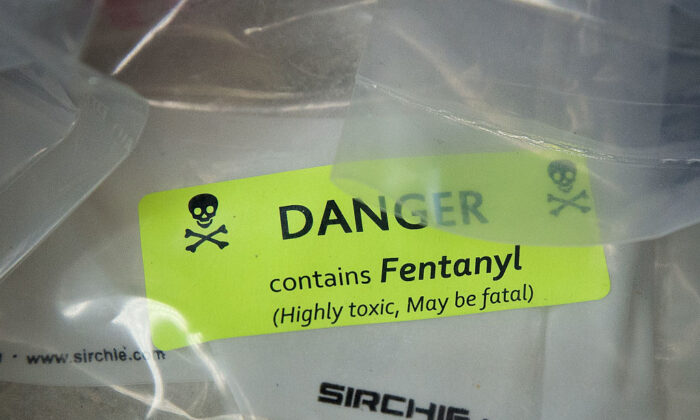 In May, the U.S. Centers for Disease Control and Prevention (CDC) released provisional data suggesting that 106,700 people died from drug overdoses last year, setting a U.S. record. Overdose deaths also surged 15 percent from 2020 to 2021, the agency said.
The CDC's report stated that data suggests fentanyl, the precursors for which are often manufactured in mainland China and shipped across the border, was connected to the most overdose deaths in 2021, at 71,238. Methamphetamine was linked to 32,856 overdose deaths, cocaine to 24,538 deaths, and prescription painkillers were connected to 13,503 deaths.
While some experts have noted that overdoses have been increasing nearly every single year for decades, fentanyl—which is often illegally transported into the United States via Mexican cartels—has triggered a recent spike in deaths.
"The DEA is seeing a nationwide spike in fentanyl-related mass-overdose events involving three or more overdoses occurring close in time at the same location," the Drug Enforcement Administration said in a March report. "In just the past two months, there have been at least 7 confirmed mass overdose events across the United States resulting in 58 overdoses and 29 overdose deaths.
"Many of the victims of these mass overdose events thought they were ingesting cocaine and had no idea that they were in fact ingesting fentanyl."