A tornado that tore through parts of Alabama, killing at least 23 people, was so powerful it plucked a billboard and blew it 20 miles into the neighboring state of Georgia.
The huge sign—advertising Lee County Flea Market—was sent airborne by the devastating twisters that pounded parts the state on Sunday, March 3.
Lee County Flea market posted on Facebook saying, "Our sign on the billboard located at Buckwild Saloon landed intact in Hamilton, Georgia, in a friends yard."
Sharon Bruce Treadway Smith found the sign on her property. "I can't imagine how a sign this big could travel 20 miles during a terrible storm…slightly tattered and land on our property," she said on Facebook.
Aside from a few minor tears and holes, the green and blue sign weathered the journey in one piece.
From Richard Jacks

Posted on Twitter:
We have found evidence that the Lee Co. Flea Market billboard along US Hwy. 280 traveled 20 miles(!) in today's Lee County, GA Tornado. It was torn off N of Smith Station, AL and landed 20 miles to the NE in Hamilton,GA. #alwx #gawx

— Cullman Weather (@cullmanweather1) March 4, 2019
Community Struggles to Cope With Devastation
Residents and rescue teams on Monday sifted through the splintered remnants of homes torn apart by a string of devastating tornadoes that killed at least 23 people, including three children.
Bill Harris, the Lee County coroner, said at a news conference on Monday, "I'm not going to be surprised if we don't come up with some more deceased. Hopefully we won't."
Sheriff Jay Jones of Lee County told a press conference it was as if someone "took a giant knife and just scraped the ground."
"Like a bomb went off": At least 23 killed, including 3 children, as tornadoes devastate Alabama town. https://t.co/4FRZtKVV3I pic.twitter.com/D9St0MB510

— ABC News (@ABC) March 4, 2019
Jones said that several people were still unaccounted for and that crews were sorting through the debris in hopes of finding survivors.
"I have not seen this level of destruction ever in my time in Lee County," said Jones, who has been sheriff since 1998.
"Ten seconds in, the tornado comes and everything is gone"

People in Alabama describe the impact of two tornadoes, which have left at least 23 people dead and caused extensive damage

[tap to expand] https://t.co/y27tgSYj91 pic.twitter.com/56aXdetKWc

— BBC News (World) (@BBCWorld) March 5, 2019
'My Life Is Gone'
The trail of destruction was at least half a mile wide and overwhelmed rural Lee County's coroners' office, forcing it to call in help from the state.
The Sunday tornado, which had winds that appeared to be around 160 mph or greater, was part of a powerful storm system that also slashed its way across parts of Georgia, South Carolina, and Florida.
Beauregard resident David Dean was one of those killed as the powerful winds slammed into his home. His body was found on the other side of an embankment in the neighbor's yard.
"Our son found him," wife Carol Dean told The Associated Press. "He was done and gone before we got to him. My life is gone. He was the reason I lived, the reason that I got up."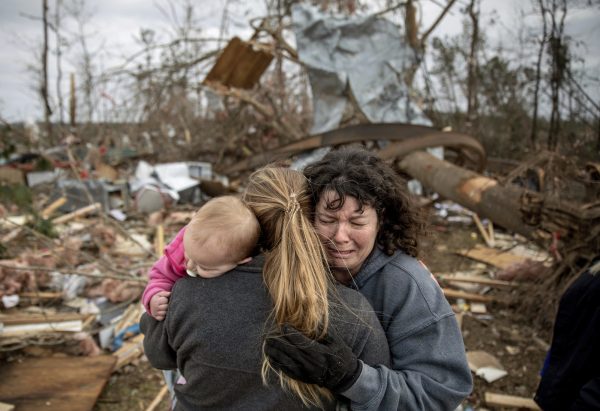 'Just Destruction'
Levi Baker, who lives near the hard-hit area in Alabama, took a chain saw to help clear a path for ambulances and other first-responder vehicles. He said he saw bodies of dead people and dead animals.
He said some houses were demolished and trees were uprooted or snapped in half. One house was swept off its foundation and was sitting in the middle of the road.
"It was just destruction," Baker said. "There were mobile homes gone. Frames on the other side of the road."

'It Picked the House Up'
Julie Morrison and her daughter-in-law picked through the remnants of Morrison's home, looking for keys and a wallet. They managed to salvage the couple's safe, her husband's motorcycle boots and her embossed Bible.
Morrison said she and her husband took shelter in the bathtub—her husband jumping in at the last minute—as the twister lifted their house off its foundation and swept it into the woods.
"We knew we were flying because it picked the house up," Morrison said, figuring that the shower's fiberglass enclosure helped them survive.
Jones said the twister traveled straight down a county road in the rural community of Beauregard reducing homes to slabs.
'Nothing but Black'
Scott Fillmer was at home when the storm hit in Lee County.
"I looked out the window and it was nothing but black, but you could hear that freight train noise," Fillmer said.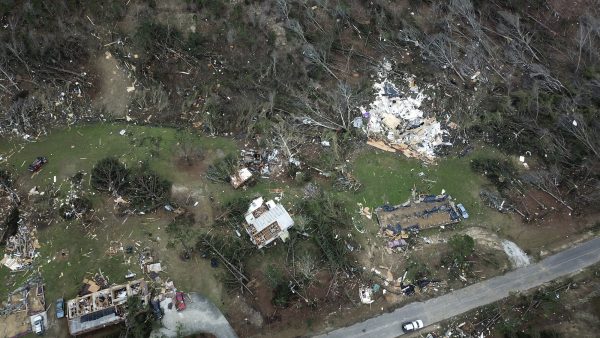 The National Weather Service confirmed late Sunday a tornado with at least an F3 rating caused the destruction in Alabama. Although the statement did not give exact wind estimates, F3 storms typically are gauged at wind speeds of between 158-206 mph.
The dozen or so tornados that hit Lee County were deadliest twisters to hit the U.S. since 2013.
The Associated Press contributed to this report.