On the Ball: AL Wild Card Preview
September 30, 2014 6:15 am Last Updated: April 24, 2016 6:31 am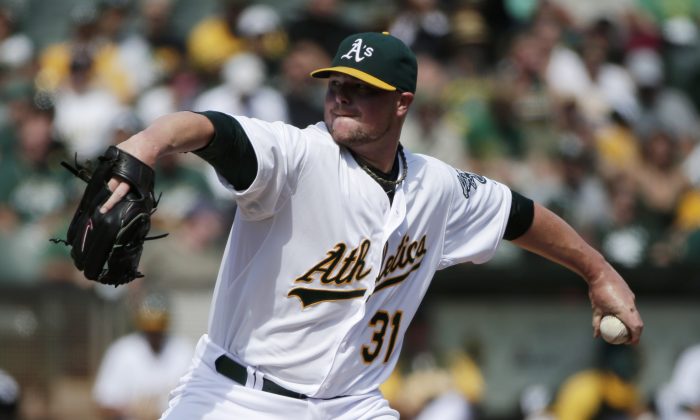 Before we start with the previews, let's get one thing straight: These one-game wild card "teases" are baseball's silliest idea since granting the winner of the All-Star exhibition home-field advantage in the World Series.
Why? One game is not enough to determine who the better team is in baseball—generally, it only determines who has the better ace.
Aside from that, so many things can happen in a baseball game. Each ballpark has unique dimensions, each infield plays differently depending on the height and thickness of the grass or turf, and even the pitchers' mounds can have different compositions.
This is why they have a 162-game schedule.
Anyway, enough with my rant. Onto the preview:
Kansas City versus Oakland—Kansas City's James Shields will face off against Oakland's Jon Lester as each team has their ace on the mound.
For Kansas City, not only is this their first taste of the postseason since 1985, it's the culmination of a gamble that sent top prospect Wil Myers in a trade to Tampa Bay for Shields back in December 2012 and instantly turned them into playoff contenders.
Shields, who is scheduled to become a free agent after the season, was brought in to be the workhorse ace who would lead the pitching staff and ultimately the team. It came at quite a price, though, as Myers, who won Rookie of the Year last season, is a power-hitting outfielder, which is something the offense-starved Royals could really use.
Getting to the playoffs validates the trade, but advancing would certainly be a nice bonus for a team that probably can't afford him after he hits free agency this offseason.
For Oakland, the A's were sitting pretty with the best record at the trade deadline at 66–41, before they dealt slugging outfielder Yoenis Cespedes for Jon Lester and saw their scoring plummet. Though they still have sluggers like Josh Donaldson (29 home runs, 98 RBIs) and Brandon Moss (25 home runs, 81 RBIs), the team went from averaging 5.0 runs before the trade to just 3.5 after.
The result was a 22–33 record since that time and a subsequent trade for slugger Adam Dunn to fill the void.
Dunn has actually struggled in his short time with Oakland, hitting .212 with just 2 home runs in 25 games. But this will be the first postseason for the 35-year-old Dunn, who's been in the majors since 2001, and he should be reinvigorated for it.
Though Oakland has struggled without Cespedes, the power-starved Royals have had to invent new ways to score. They ranked last in the majors with 95 home runs, becoming the first AL team in 22 years to fail to reach the 100 mark—yet they ranked 14th overall in runs. How?
Though they also drew the fewest walks, they also struck out the least amount, stole more bases than any other team, and ranked fourth in batting average at .263.
Pitching-wise, they have an exceptional back-end of the bullpen with Kelvin Herrera (1.41 ERA), Wade Davis (1.00 ERA), and Greg Holland (1.44 ERA, 46 saves). If they have the lead after six, watch out.
Lester is the key here, though. He has absolutely owned the Royals over his career with a 9–3 record and a 1.84 ERA in 13 starts—including a no-hitter in 2008 with Boston.
His dominance has even continued with Oakland. The A's went just 2–5 against the Royals this season, but both wins were by Lester in August and represented Kansas City's only defeats over a 17-day period from July 30 to August 15.
Prediction: Oakland 3, Kansas City 2.