The underwear of ISIS leader Abu Bakr al-Baghdadi was reportedly stolen by a spy loyal to the Kurdish-led Syrian Democratic Forces before his death.
Polat Can, a commander with the Kurds, said a source stole the article of clothing to help prove his identity after he was killed, according to a Twitter thread that he posted on Monday.
During the U.S.-led raid, al-Baghdadi was cornered in a tunnel before blowing himself up with a suicide vest. He also killed three of his children, said President Donald Trump in a Sunday morning press conference.
3 – Our own source, who had been able to reach Al Baghdadi, brought Al Baghdadi's underwear to conduct a DNA test and make sure (100%) that the person in question was Al Baghdadi himself.

— بولات جان Polat Can (@PolatCanRojava) October 28, 2019
Can said the Kurdish forces played an important role in the raid.
"All intelligence and access to al-Baghdadi as well as the identification of his place were the result of our own work. Our intelligence source was involved in sending coordinates, directing the airdrop, participating in and making the operation a success until the last minute," he wrote on Twitter.
Can added that the Kurds were working with the CIA to track down al-Baghdadi since May of this year, saying he was found in northern Syria's Idlib Province, where the raid occurred.
1- Through our own sources, we managed to confirm that Al Baghdadi had moved from Al Dashisha area in Deir Al Zor to Idlib. Since 15 May, we have been working together with the CIA to track Al Baghdadi and monitor him closely.

— بولات جان Polat Can (@PolatCanRojava) October 28, 2019
Baghdadi, an Iraqi jihadist who rose from obscurity to declare himself "caliph" of all Muslims as the leader of the ISIS terrorist network, died by detonating a suicide vest after fleeing into a dead-end tunnel as elite U.S. special operations forces closed in over the weekend, according to the U.S. government.
ISIS has no declared successor as leader. But the group has in the past proved resilient, continuing to mount or inspire attacks in the region and beyond despite losing most of its territory in recent years.
Trump on Monday, speaking in Chicago, said that the United States may release the video of the raid to kill al-Baghdadi.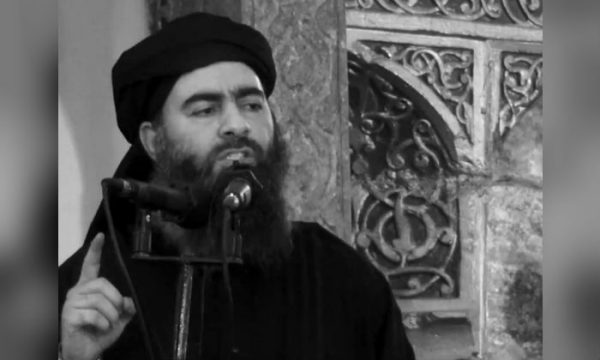 "We're thinking about it. We may," he said, speaking to reporters at Joint Base Andrews, ABC reported. "The question was: Am I considering releasing video footage of the raid? And we may take certain parts of it and release it, yes," he said.
"We had a great weekend for our country. We captured a man that should've been caught a long time ago. Unfortunately, he wasn't," Trump said. "He's done tremendous damage. But it was an amazing display of intelligence and military power and coordination, and getting along with people. Lots of great things happened. So that was a big, big day and a big weekend, and we're very happy about it."
Reuters contributed to this report.