By Amanda Luong
ATLANTA—Americans Joining in Action! (AJA!) is an all-female, multicultural, multigenerational drumming troupe that performs Korean percussion while incorporating song and dance elements. The troupe formed a little over a year ago, and is based in the The Center for Pan Asian Community Services (CPACS) in Atlanta.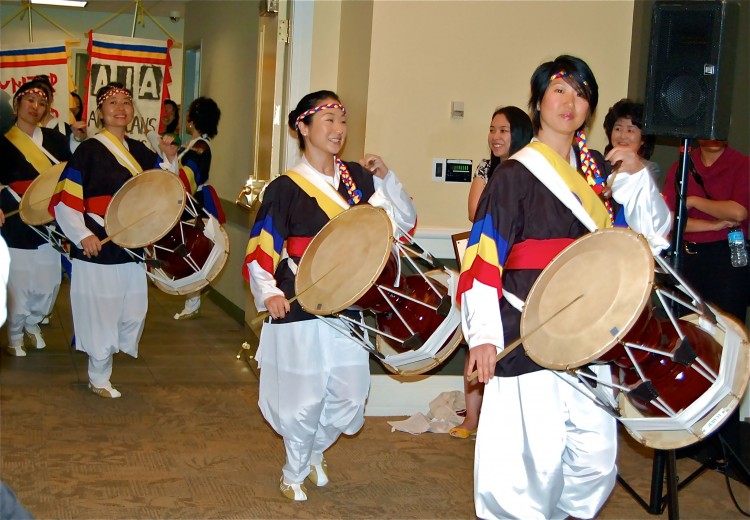 The National Korean American Service & Education Consortium (NAKASEC) in Chicago is a mentor organization for the group. NAKASEC helped the members of AJA! learn the skills of Korean drumming, also known as poongmul.
Director Judy Yi spoke about the vision of AJA! "Our name is a Korean saying that reflects togetherness, hopefulness, and taking action. When someone says "Aja!" they are spurring one another and energizing each other and themselves to complete the mission successfully. It is to mobilize, show commitment, and build from one another. AJA!'s mission is Americans Joining in Action to mobilize our collective voice for social change."
They have performed at different community events, most recently at the White House Initiative on Asian Americans and Pacific Islander (WHIAAPI) Southeastern Regional Summit at Emory University on March 16, and the Selma to Montgomery March in Alabama from March 4 to March 9.
Yi said, "We were there [at the Selma to Montgomery March] to support voting and immigrant rights, echoing the same spirit of Dr. Martin Luther King Jr.'s efforts during the civil rights movements."
The annual event commemorates one of the most famous turning points in the American civil rights movement. On "Bloody Sunday," March 7, 1965, a group of about 600 marchers, including future congressman John Lewis, were attacked by state troopers on the Edmund Pettus Bridge in Selma, Alabama. A larger group returned two days later, and an even larger group of 25,000 people completed the 54 mile march to the state capital of Montgomery, according to the National Park Service.
President Lyndon Johnson signed the Voting Rights Act five months later.
In addition to showing support at important community events, the ladies of AJA! started a mentoring program for high school girls who are refugees from Nepal. Yi said, "Drumming teaches and builds leadership [for the girls], and is good for the mind, body, and soul." Yi said because the girls are mentored by the ladies of AJA!, they are at the heart of the community, and are aware of the challenges that the community may face.